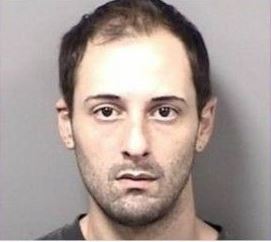 A man residing in Petersburg was sentenced to eight years in jail for possessing child pornography. The sentencing for Kanin Robert Grant took place in Petersburg Trial Court Tuesday afternoon. KFSK's Angela Denning has more:
Kanin Robert Grant was charged with 12 counts of possessing child pornography, which are all class C felonies. In a plea deal, Grant pleaded guilty to one consolidated count.
The 32-year-old lived in Petersburg in January of 2017, when the child pornography was found by the Alaska State Troopers' Bureau of Investigation's Technical Crimes Unit. A grand jury in Juneau indicted Grant in December of 2017. Investigators say Grant used a Twitter account to upload images of child pornography. Some images involved young children being molested.
Superior Court Judge William Carey presided over the sentencing. He said the facts of the case are "deeply troubling on a number of levels". He told Grant that the amount and the nature of the content are "very concerning". He said possessing child pornography is not a victim-less crime.
"They're real people," Carey said. "They are young people who have been forced or placed into this terrible position by people with bad intentions for the gratification for people like Grant."
The plea deal the State and the public defender came up with is eight years of jail time with no probation. Grant will be eligible for parole. In court, the state called the agreement "lenient" and the public defender called it a "stiff sentence" but Judge Carey ultimately accepted it.
It's not Grant's first felony. He was convicted in Texas over ten years ago for possessing methamphetamine.
Grant also has a record in Florida for animal cruelty charges. In 2015, he was arrested twice: once for allegedly kicking a dog and breaking its leg and a second time for allegedly killing a puppy by throwing it against a brick. Those cases are still ongoing.
Judge Carey also referenced past convictions of a DUI in California and theft.

Grant was not present in the Petersburg Courthouse for the sentencing but he appeared by video conference from the Lemon Creek Correction Center in Juneau. He addressed the court briefly through the video conference although the sound quality had some feedback. Grant told the judge that he "would never revert back to any of that kind of behavior again."
"I regret a lot of what's happened in my past and I'm paying a heavy price for it now," he said.
Judge Carey told Grant that he has a lot of work to do on his own. There is no rehabilitation included in his sentence.
"It's not given a lot of weight here because there's no mechanism for me to require him to do a particular treatment program or engage in certain types of treatment designed to dissuade people who are otherwise inclined to engage in this behavior," Carey said.
Because Grant now has two felonies Judge Carey said he could be jailed for the rest of life if he offends a third time.
As part of the sentence, Grant has to register as a sex offender for 15 years after he gets out of jail.