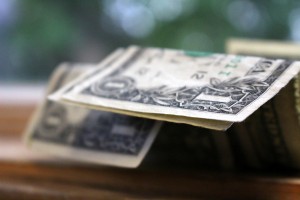 So far this year, the numbers are down a little bit for Petersburg residents 65 and older applying for an exemption from the borough's six percent sales tax. It's the first year that seniors have to pay a fee for that exemption.
The borough assembly last year voted to start charging the annual administrative fee of $100 for seniors to get a sales tax exemption card. Seniors who meet low income standards can apply for a waiver to avoid that fee.
As of the middle of March, the borough had 373 applications for the senior exemptions, including 27 who had the fee waived. The borough's finance director Jody Tow said that's a little lower than she expected.
"Last year we had 584 cards," Tow said. "But also people are still coming in and filling out applications. People are coming back from the winter you know down south and getting cards. Or perhaps someone didn't get a card and got carded somewhere, at the grocery store, and they came in right away. Perhaps they didn't know about it. So it's a little bit lower but I think it will at least get up above 400 cards this year."
That number of 400 exemptions was the estimate Tow made when the new fee was debated last year. So far that fee has raised $34,600 for the borough's general fund. Along with money from sales and property taxes and other revenue, it goes to pay for many functions of the borough government outside of the borough's utilities.  Before this change, cards were issued for free and were good for three years.
During debate last year, some seniors questioned why the fee had to be charged each year, instead of a one-time payment. Tow said it is helpful to the borough to require the annual application.
"It makes it able for us to track the number of cards that are out there," she explained. "If people don't come in once a year, I mean we can't track from our office who has moved, who has perhaps passed away, perhaps someone that's not using their card anymore. There are a lot of people that have gotten the card that just said, hey you know what, I'm not going to use this anymore and so this is a good way to track it. And then if we're going to print all these cards and do all this work, it costs money."
The size of the administrative fee was also debate. It was initially proposed at just $50-60, the estimated first-year cost of issuing the tax cards. However, the assembly decided to increase the amount to $100.
Only residents of the borough 65 and older can apply for the exemption and the application can be in person or by mail.
"We sent out letters in November to all of the seniors, the current seniors for 2018 with the application and said OK you can fill this out and send it in and we can send you the card so you don't have to come in at all," Tow said. "A lot of times people will just come in and bring their form and they'll get their card right then. We try to make, recreate the cards for 2019 and have them ready in our system so all we have to do is print them so they won't have to wait for very long and it seemed to go very smoothly."
Last year, local voters overwhelming supported keeping the senior tax exemption by a nearly 3-1 margin. The borough assembly has been interested in implementing new or increased existing charges to bring in more money for the local government. A cruise ship passenger fee also starts this year and ambulance fees are going up April 1st.