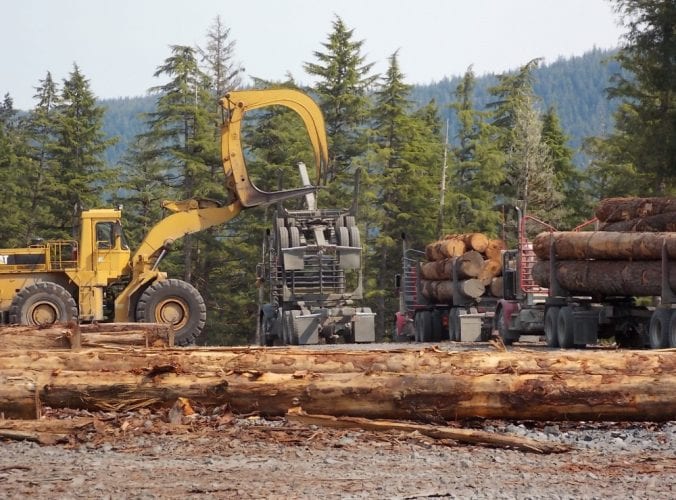 More than five months after it sent a letter seeking information on Tongass National Forest timber oversight the Petersburg borough has yet to receive a response.
The borough assembly approved a letter November 6th asking for information on follow up action the agency has taken to respond to a 2016 internal agency review of the Big Thorne timber sale on Prince of Wales Island and the Tonka sale on Kupreanof Island near Petersburg.
Borough clerk Debra Thompson emailed the letter that day. With no response, she followed up with an email on January 14. The letter was addressed to Forest Service chief Vicki Christiansen and was sent to top officials with the agency in the Alaska as well. The borough did receive an answer from one Forest Service employee who wanted to clarify she is no longer the district ranger in Thorne Bay. Other than that – nothing.
This month local resident Becky Knight asked the assembly to take follow up action on their November 6th letter.
"Specifically the letter requested quote any information related to follow up actions by the Forest Service on the high level and internal June 2016 Washington Office activity review," Knight said. "Clearly the agency has no will to provide transparent information or any information at all regarding the issue. They've hid behind the bureaucratic veil far too long."
That Washington Office review was released in 2017 by the Public Employees for Environmental Responsibility, or PEER, a nationwide watchdog group based in Silver Spring, Maryland. That report noted timber companies did not cut lower value trees resulting in millions of dollars lost that could have gone toward habitat restoration, stream work, culvert repair or other contract work on the Tongass.
PEER published the 2016 Forest Service review of the sales and sued the agency for documents relating to Tongass timber sale administration and appraisal. PEER said it received thousands of pages of Forest Service documents and communications but says it hasn't seen evidence of change in sale oversight.
Petersburg's assembly approved sending the letter after voting down a more strongly worded resolution asking for an audit of the sales by the Department of Agriculture's inspector general.
Alaska regional forester Dave Schmid told Coastalaska's Jacob Resneck in December that the agency has responded and is taking the concerns seriously.
"I would suggest that maybe PEER's characterization may not be exactly right or in line with where we're at," Schmid said. "I take that very seriously as did the chief, as did the agency and the department. And we have, we initiated an internal review, an internal audit process to take a very objective look at all that. That is still in progress and we have responded to the Petersburg assembly letter with just the exact same that we will, like I say, take that very seriously and the results of that will certainly drive actions going into the future."
The Petersburg borough hasn't received any response. This week Forest Service officials in the Alaska Region office and in Washington D.C. did not respond to calls and emails about the Petersburg borough letter other than to say they were looking for an answer. The topic may be on the assembly's agenda for the April 15th meeting.