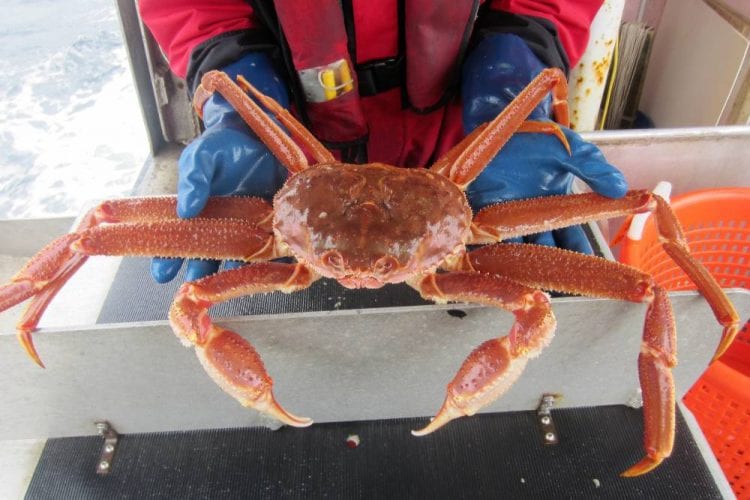 The commercial Tanner crab fishery in Southeast Alaska wrapped up last month and saw a harvest that was the third highest in the last 15 seasons. KFSK's Angela Denning reports:
The commercial Tanner crab fishery started February 12 and was open for a week in the main areas and other areas were open until March 10.
According to the Alaska Department of Fish and Game, the overall harvest was 1.29 million pounds, which is considered good and about what was expected. Tanner crab have been on an upward trend for about a decade.
The effort in the fishery was 69 permit holders, which is about average for recent years.
The fishery was valued at $4.2 million with an average price of $3.19 per pound. Several factors go into the price but it's influenced by the economy in Japan. Bitter crab is also a factor. Bitter crab is caused by a parasite that infects the crab and makes it taste bad.
The percent of bitter crab this season was ten percent, which is about average. Bitter crab was most concentrated in District 15, which includes Northern Lynn Canal. That area saw 37 percent bitter crab, which is a bit more than the previous year. A few other areas had less bitter crab than last year. District 11 near Juneau had 11 percent bitter, down from 14 percent. District 8 near Petersburg and Wrangell had five percent bitter crab, which was half of what the area had last year.
The commercial Tanner crab fishery is considered a stable one with surveys showing consistent growth. The biomass managers calculated before the fishery was the second highest in the last 15 seasons. Biomass is the amount of male crab large enough to be harvested in the commercial fishery.
"The survey biomass estimates look good," said April Rebert, a Fisheries Biologist with Fish and Game based in Douglas. "Generally speaking those males are abundant compared to the last 10 years or so."
The largest harvest by far was in District 11, the Northeastern part of Southeast near Juneau. 35 permit holders there harvested 609,000 pounds.
District 14, in the Northwestern part of Southeast near Icy Straight and Glacier Bay, had the second highest harvest with 361,000 pounds.
District 6 in the upper Clarence Straight area had some of the lowest harvest.
Off-shore fishing for Tanner crab was open in some areas but no permit holders participated in that during the fishery.