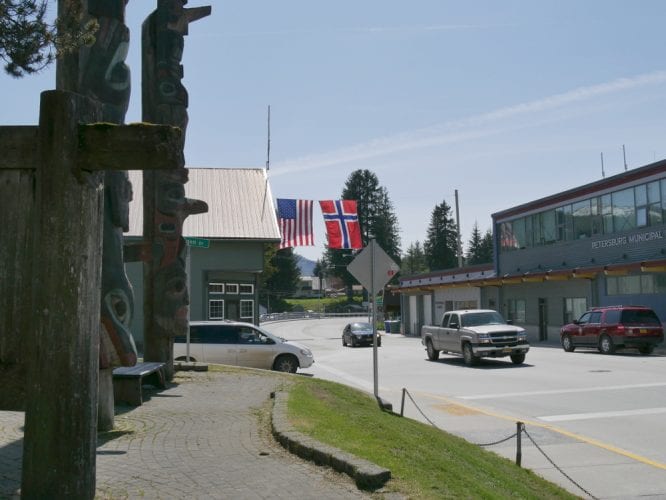 Petersburg borough officials are proposing a budget that would slightly increase spending for next fiscal year, despite months of discussions about budget cuts. The borough assembly starts its review of the spending plan April 17 and will start voting on it in May. However, it's expected this budget will have to be revised significantly once state law makers decide on funding levels for municipalities.
This year's budget process for the borough will look a little different this spring, because of the uncertainty with state funding decisions.
"I think this is a place holder," said borough manager Steve Giesbrecht. "I think this is definitely not how the budget's going to look by the time it gets to implementation."
He's expecting that the borough assembly will vote on some version of a spending plan this spring and then will have to revisit that budget this fall, once the borough knows more about decisions from the state government.
The proposed placeholder budget would increase spending in the general fund just over one percent, to more than nine and a half million dollars. The budget is balanced but it assumes that state funding and other revenue remains around this year's levels. The manager and assembly have been discussing the possibility of spending cuts for months to prepare for that loss of state money. Giesbrecht said this spending plan includes unfilled jobs he expects won't be funded in the end.
"You know there's the police sergeant position, there's a new EMS coordinator," the manager explained. "It's not a new position but it's not one we have filled at the moment. There's a part-time IT (information technology) person and several other folks, people and situations in there that by the way I don't think will make the final cut, but we really don't know at this point what the assembly wants to do."
The budget proposal eliminates 80,000 dollars in contingency money used for unforeseen expenses in past years. Community service grants would be cut 10 percent. That's for KFSK, the Clausen Museum and Mountain View food service. Funding to the Chamber of Commerce would also be cut 10 percent.
The local contribution to the school district would be flat funded at 1.8 million dollars. And as drafted, the budget does not reduce hours at the library or community gym and pool.
"We have not put in any kind of expectation that we will reduce hours in facilities although I expect that to be a conversation that the assembly has, either Wednesday or in the future when we get down to going back through it again," Giesbrecht said.
The budget ends snow removal outside of the old city limits. It also would cut some travel for the assembly and borough manager. And it would cut a payment of over four thousand dollars to the city of Kupreanof.
However, under the proposed budget spending would be up in many general fund departments, including police and fire, public works, community development, the library, parks and recreation and the borough attorney. For the second year in a row the general fund would pay out 150-thousand dollars to the assisted living facility.
From the municipality's standpoint, the two biggest question marks for state funding are raw fish tax and school bond debt reimbursement. If the state ends those payments to municipalities, Giesbrecht explained the borough's budget may end up looking a lot different.
"If we have to go down that one and that's the biggest threat right now for us to have to do massive spending cuts, my guess is some of these open positions would be permanently removed from the budget and that gets us part of the way there," Giesbrecht said. "Then we're looking at lots of little stuff. I would assume the assembly would give us kind of carte blanche to go figure this out and then bring something back to them. Internally we've talked about reduction in hours, all over the borough and small, incremental stuff that adds up enough to get us close. We have a little bit of room on raising the mill rate but we again do not know from the assembly if that's an alternative they want us to consider."
Property taxes could be raised to pay for school projects no longer reimbursed by the state. And the end of raw fish tax would also impact the budget in the harbor department which could mean rate hikes there.
In addition, the cost for service with local utilities like water, sewer and electrical service could be on the rise in future years. Some have had built-in on going annual rate hikes already. Giesbrecht said those will be looked again.
"All of our enterprise funds except for assisted living and elderly housing will be going through rate studies next year," he said. "That will determine in the future if we are looking at rate increases. I would say we're concerned about sanitation, because of recycling. It's going to be a big topic at some point. It's not turning around. It's very popular here in town but it's also, if we're trying to cut money, it's a cost for us. And so we're going to have to take a hard look at that at some point."
In addition, the borough has started charging a fee for customers paying their property tax using a credit card. It's possible those fees could be extended to other borough services, depending on a number of factors.
Meanwhile, capital project spending would be relatively limited, with most of the proposed projects in repairs or upgrades to for the electrical grid and water and sewer systems. Some of those will be paid for with reserves or state loans. A covered shelter at the library could be built using donations to the new library project. Repairs and maintenance at the community gym and pool will be paid for with money from the borough's property development fund. The borough is also budgeting for further design work and construction documents for upgrades and repairs at the Blind Slough hydroelectric plant along with replacing the trash and solid waste baler.
This budget proposal is posted on the borough's website. The borough assembly will hear a presentation on it April 17 at 6 p.m. in assembly chambers. It's scheduled for its first of three votes on May 6th.