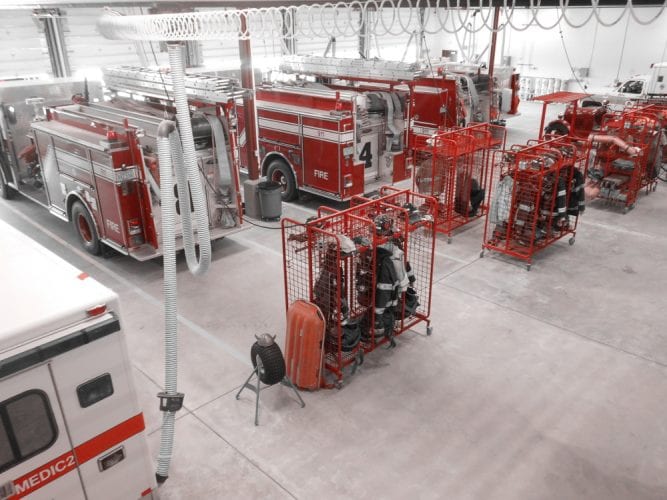 Members of the Petersburg Volunteer Fire Department turned out to the borough assembly meeting Monday night to honor retiring chief Doug Welde and to ask the assembly to fill a vacant paid position. The volunteers say the emergency medical services coordinator is needed to help respond on ambulance calls and train volunteers to do the same.
The timing was perfect as pagers went off for more than a dozen volunteers in the assembly chambers with the nightly 6:30 test call… right as assistant chief Dave Berg addressed the assembly. Berg submitted a petition from volunteers asking the borough to fill the coordinator's position. He explained that night coverage with the ambulance has been suffering for some time. Berg said the department is sometimes left without a volunteer trained as an emergency medical technician signed up to be on call. That means sending out multiple emergency pager calls to find available volunteers who are trained to respond.
"Code reds means delays to patient care," Berg said. "No one likes to wait when they call an ambulance. Remember an ambulance call needs at least two crew and one must be an EMT to respond. So hiring an EMS coordinator/fire fighter could make a big difference. It means fewer code red calls and maintaining a dependable ambulance service for the community."
Fire and EMS director Sandy Dixson responds for the department when volunteers are not available. Berg told the assembly that the department has 22 regular emergency medical services volunteers. Some are only trained as emergency trauma technicians (ETT) and can't respond on a medical call without someone trained to a higher level as an emergency medical technician (EMT). Rexanne Stafford is one of those EMTs and has been with the department for 27 years.
"When I first started we had 35 active EMTs and we did for quite a few years," Stafford told the assembly. "Now we're down to I don't know probably between 12-15 active EMTs. And so it's difficult. The last year especially the nights with the code reds have gotten more and more frequent and sometimes it's quite a delay in response. And I'm really afraid at some point, it's going to matter, that delay, that 7-8 minute delay."
Volunteers also said filling the position could help get some of the ETTs trained as EMTs and help with the shortfall.
The EMS coordinator's job is funded in a draft budget that borough staff has proposed as a placeholder. But assembly members have been reluctant to give the borough the go ahead to fill that position until there's a better understanding of state budget impacts on the local government.
Here's assembly member Jeigh Stanton Gregor on a radio call in show earlier the day, addressing the EMS job and a vacant police sergeant's position.
"When filling a position, let's say you get worst case scenario you don't want to have to fire somebody six months later because they're the junior employee," Stanton Gregor said. "It impacts real life and leaving that open right now although we need those positions like, it wouldn't be prudent to go ahead and do that and negatively impact somebody's life that way. I think playing the patience game is the hardest part."
The assembly has a special meeting Wednesday at 6 p.m. for their first review of the draft borough budget. They also unanimously passed a resolution last night opposing Governor Dunleavy's budget proposal, joining other municipalities in making that formal statement