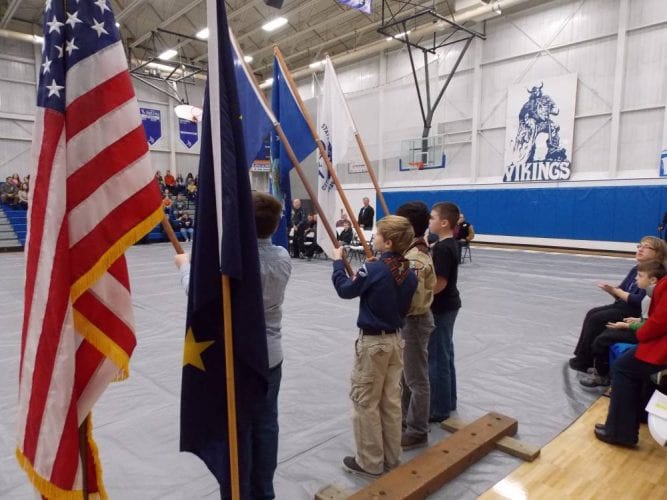 The Boy Scouts of America will be honoring a local scout in Petersburg Friday, May 10 for saving a life.
Alaska's chief scout executive Clifford Chrissmore of Anchorage will be presenting an honor medal award to scout Sean Spigelmyre at the Presbyterian Church.
Reverend Robert Nicholson is with the Presbyterian Church in Petersburg.
"It shows how important it is to single out a young person who has developed a swimming live saving emergency preparedness and took action to safe a life," Nicholson said.
Local scout leader Jason Anderson says Spigelmyre is being honored for saving his father Don while the family was vacationing in Hawaii. Spigelmyre pulled his father to safety after he had been caught in waves and riptide and thought he was going to drown.
The honor medal is given to scouts who demonstrate unusual heroism and skill in saving or attempting to save a life at considerable risk to them.
That court of honor is at 7 p.m. at the Presbyterian Church at 206 Haugen Drive and the community is welcome. It's not the only scouting event planned this month at the church. On Sunday, May 19th at 11 a.m. there's a celebration of scouting planned. Nicholson says that will feature the scout oath, songs, a life saving skit and presentation of a special patch just in time for the Little Norway Festival.
"I've communicated with the Boy Scouts of Norway and that being Little Norway weekend, each scout cub will be given a patch that they are sending me, a cloth patch from Scouts of Norway, to symbolize scouting is an international program in 67 nations," Nicholson said.
Both events will be followed by a reception. Nicholson also hopes the community will turn out to thank local scout leaders Jason and Julie Anderson.