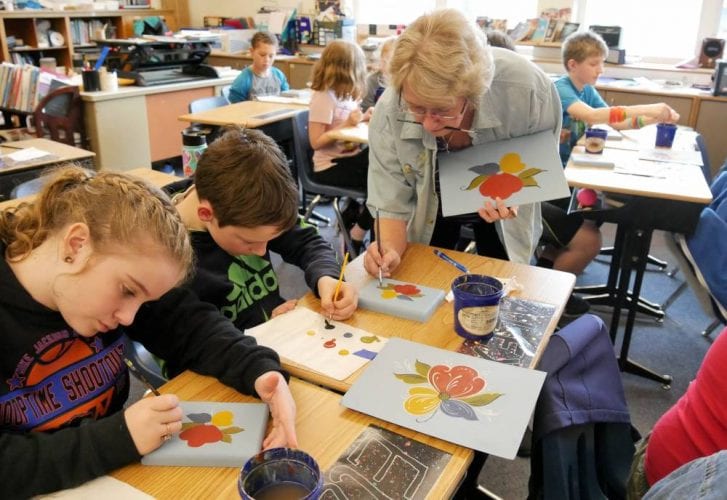 Petersburg's fifth grade class has gotten a hands-on lesson in the Norwegian folk art painting known as rosemaling. KFSK's Angela Denning stopped by the classroom and has this report:
Students are hunched over their desks concentrating while painting on small blue wooden blocks. They're using fine bristled brushes to outline flowers in blues, reds, and greens.
Naomi Welde is standing at the front of the classroom modeling the project.
"Okay, now we are going to have fun," she said.
She's teaching the students the basic techniques of the art. She's kind of a local rosemaling expert having practiced the craft for 40 years. She has three assistants helping students throughout the room.
She cleans out her brush and addresses the class.
"Watch up here because we're going to do liner work now," Welde said, "and if you're paint is a little thick we go into our water and thin it out a little bit."
Rosemaling painting includes a lot of decorative flowers with wispy-looking leaves. It lines the doorways and windows of old buildings in downtown Petersburg. And it decorates souvenir items in the gift shops.
"We're going to get right up here by that flower," Welde said, "and I'm going to bring my brush right down along side of it and I'm going to curl it up a little bit."
5th grade teacher, Dan Sullivan, donated the wooden blocks for the student project.
Welde donated the paint and her time. She says she does it because she likes teaching the kids.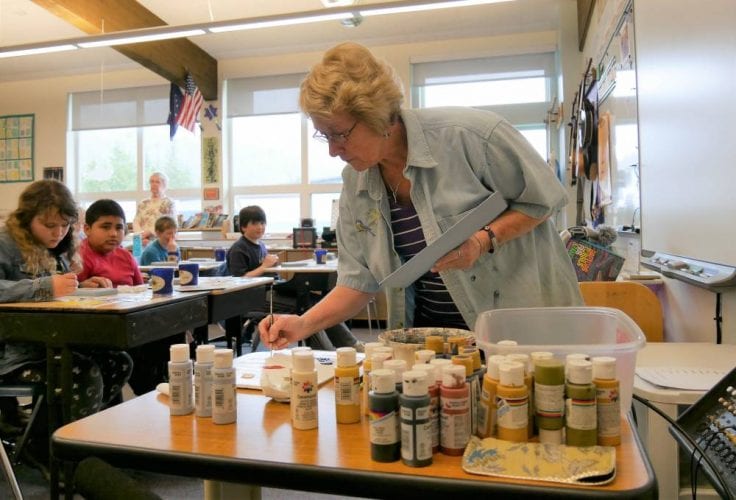 "It is fun spending time with them and we kind of enjoy it but I'm not sure how much longer we're going to be doing it," Welde said.
This might be Welde's last time teaching students, she says. A few of her assistants might be retiring. But she believes in teaching the craft. She says rosemaling is something that can be learned.
"You actually learn the strokes and how to hold your brush and the colors, what goes together," she said.
The different patterns in rosemaling come from different parts of Norway.
"Basically, what we do around here is Telemark, and there's Os," Welde said. "My favorite is Valdres, Telemark, and Rogaland. And it's just fun to learn all the different types and what background they have and everything. I've just been doing it for years and I didn't even think I could paint."
Welde along with other painters in Petersburg sometimes donate their rosemaled artwork to non-profits for fundraising. Welde says she just paints because it makes her feel good.
"I don't even turn on music half the time because I'm thinking," Welde said. "You have to do the design, think about the background color, and then when it comes to liner work you really have to have good steady hands and know how to hold the brush. So, you're constantly thinking about that.  I don't know, I just love it. And I never was artistic. So, anybody can do it."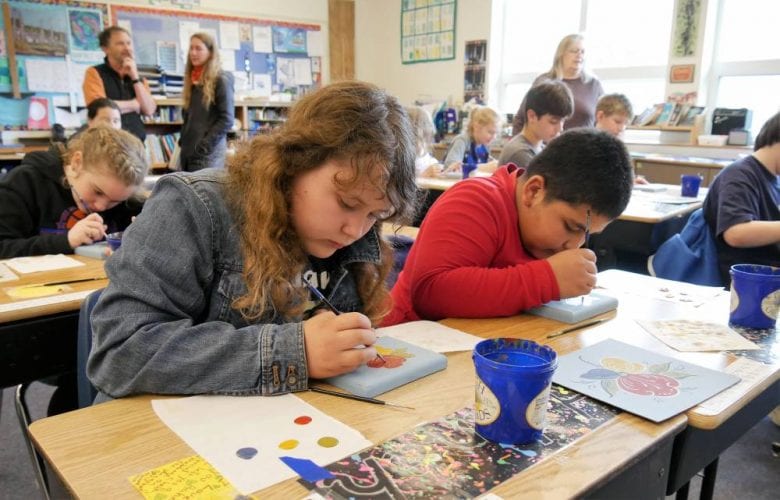 Even these 5th graders, she says.
The painting project is just in time for Mother's Day. And it appears that most students really want to get the details right.
Within an hour, the blue blocks have been transformed into decorative flowers.
As for whether Welde will teach the class again next spring, she says she'll see what she feels like then. But for now, she'll continue to do rosemaling at home and share her work with the community.