A Petersburg High School senior is working with a carver to create a wooden sculpture of an eagle and killer whale. The contemporary totem pole will be a gift to the Rae C. Stedman Elementary School. The school's mascot is an eagle and the sculpture will be placed near the school's entrance. KFSK's Angela Denning reports:
The sculpture is about seven feet tall and carved out of a large yellow cedar log. The top is a life-sized eagle. About halfway down the log is a killer whale carved into the side. And that's what George Skeek has been working on this spring.
He's been carving outdoors near the high school's shop often working amidst the building's loud venting system.
"I chose the killer whale because it's kind of in honor of my dad," Skeek said, "because he's from Kake and in Kake the symbol of the Tlingit people of Kake was the killer whale."
Skeek is Tlingit and is using the Native Formline design for the killer whale. He's made Tlingit-style paddles, halibut hooks, and spoons before but this is his largest project. He calls the piece a contemporary totem pole. He's been carving it with traditional tools like a crooked knife, baby straight knife, and a Sitka adze.
"It's a part of my history, my culture, my heritage," he said. "Really carving for me isn't like a pastime or a hobby, it's like therapy."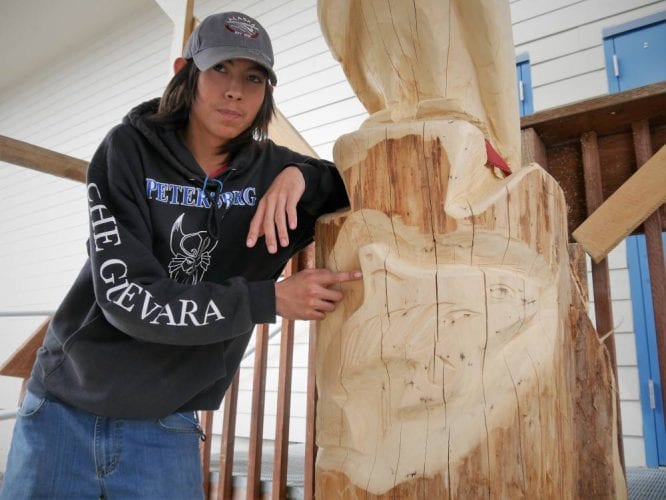 Skeek isn't the only artist involved in the pole. The eagle was sculpted by Denny Leak, who has been carving for about eight years. He mostly uses a chainsaw and says he works off of photographs.
"Then I've made cardboard templates," Leak said. "One for the front side and one for the side. And just tracing off those templates and carving around them. And then coming back with an angle grinder to start creating the rounded shape."
Leak also happens to be a school psychologist contracted with the Petersburg School District. He's based out of Wrangell but has visited Petersburg a handful of times.
He says creating the eagle sculpture is a way of saying thank you for having me.
"I just like to do something to give back when I can," Leak said. "But it really depends on having support from a local community. I've offered at several schools to do some carvings but Petersburg was the only one that got it together because of Cyndy."
That's Cyndy Fry, who works in the school's special education program. She and her husband, Chris, donated the log, which came from their yard. Leak says it is very high quality.
"This yellow cedar that Cyndy got for me here is just fabulous," Leak said. "This is the nicest piece of wood I've ever had carved. It just has such smooth color and nice grain, there's no knots. This really is the most beautiful log I've cut into. It really is."
Fry says she wanted to help because she knew Skeek was very interested in Native art.
"George is really passionate about carving and has done a paddle and has done some halibut hooks and some other pieces and so I think it's an opportunity to showcase one of our students," Fry said.
Skeek worked with Leak on how the sculpture would come together but Leak says the Petersburg student had his own vision all along.
"He's my specialist for the Formline," Leak said, "the Native art style."
The eagle is the mascot for Petersburg's elementary school and the sculpture will be permanently housed outside of the school.
After graduation, Skeek plans to attend the University of Alaska Southeast Sitka to pursue an Associates Degree in Northwest Coast Native Arts. He says he wants to learn more about carving.
"I taught myself from books," Skeek said. "My brother Joe sort of taught me but mostly I taught myself."
Leak is planning on returning to Petersburg this summer to do some finishing work on the eagle.
Skeek says the sculpture will be painted in the traditional colors of the Tlingit people: red, turquoise, and black.