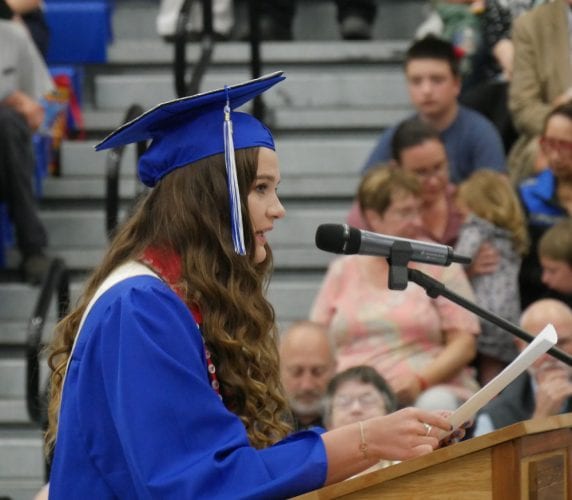 Families, friends and faculty wished well to the graduating class of 2019 at Petersburg High School Tuesday night. 30 seniors received diplomas and marked the end of their journey in the local school system.
This year's keynote speaker, science teacher Victor Trautman is retiring this year after 29 years teaching in Petersburg and 45 overall. He highlighted the parents, teachers and community members who turned out for the graduates. Trautman encouraged the grads to seek advice from those people rather than opinions on social media.
"The people that just stood up for you I call have a vested interest in you," Trautman said. "That means when you do well they get a little twitch of happiness in their heart. And when you make a wrong choice, and you will, they get a little twitch of sorrow and they ask themselves what could we have done to help you make a better choice. These people will give you advice. You may not want to hear it. Opinions are easy. Advice may be hard. So my advice to the class of 2019, when you find yourself in that corner and you don't know how to get out ask these people for advice."
The class valedictorian is Alyssa Guthrie, who plans to attend Duke University. She spoke of the opportunity ahead of them.
"The people of Petersburg have taken us this far but now it's up to us to go find ourselves and the people we want to be," Guthrie said. "We will all take different directions, some similar to one another and some completely different. But no matter where we end up in life or how far away from one another we are this small Southeast Alaskan graduating class of 2019 will always be connected. When it comes down to it we will all share the memories of this small town, the people who live here and one another. Our lives may not go exactly how we have planned but that's the beauty of it. Life is unexpected and full of surprises."
This year's salutatorian is Gillian Wittstock and the class history was presented by Lora O'Brocta (oh- BROCK-tuh) and Clair Byrer (buyer). The class of 2019 gift goes to pay for plywood for wooden puzzle kits being made in the high school shop. Those kits will be donated to kids at the Seattle Children's Hospital.
Students were awarded $85,400 dollars in local scholarship money.