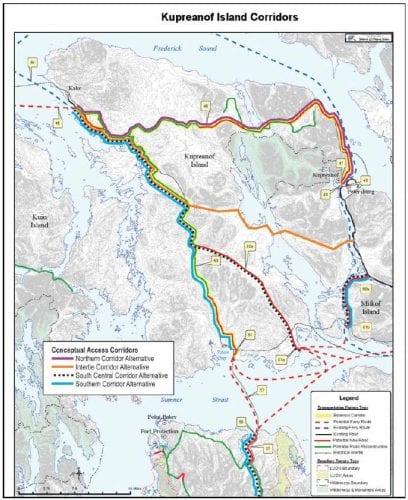 Elected officials at the local, state and federal level this spring explained their support for a road project on northern Kupreanof Island to the Southeast Alaska community of Kake. It's a controversial project that the state Department of Transportation is studying again this year.
In 2012 Sitka Republican state senator Bert Stedman secured 40 million dollars in state money to build that road. Most of it remains unspent. In 2016 Governor Walker put this and seven other state-funded road projects on hold until the state came up with a balanced budget fiscal plan.
Under a new administration this spring, the state Department of Transportation resumed work to on the Kake road, flying over potential routes and examining the existing logging roads that could be connected for a route between Petersburg and Kake. Stedman has been a supporter of building a one-lane gravel road along the northern end of Kupreanof Island, linking some existing forest roads and using a road corridor approved by Congress across National Forest land. He thinks the medevac plane that crashed in January on the way to Kake could have been avoided with that road in place.
"About a week before that plane went down as I recall the city administrator of Kake wrote a letter to the governor expressing that this is Kake's version of the King Cove Road and there's dangers there getting medevacs, safety issues, for the community," Stedman said, adding, "week before that plane went down. As far as maintenance on that particular road or any other state road, the more remote roads, it depends on the traffic level. And if the traffic level is high there's more maintenance if it's low there's less maintenance. There's enough maintenance money in DOT's (Alaska Department of Transportation) budget to do the maintenance. It's a matter of priorities and what roads you're going to get opened and which roads aren't."
U.S. Senator Dan Sullivan also likened this project to the proposed road between Cold Bay and King Cove.
"It's a similar situation," Sullivan said. "A 12 mile single lane gravel road that is not going to hurt the environment. Nobody wants to harm environmentally sensitive areas. But time and time again it's been proven that you can do both. You can build low impact infrastructure like a 12 mile road."
That road project would go through the Izembek National Wildlife Refuge and has opposition from environmental groups. Likewise, the road to Kake has opposition from the city of Kupreanof and some Petersburg residents. But Petersburg's mayor Mark Jensen supports the project.
"I think it's going to be something we're going to need in the future for a transportation corridor," Jensen said. "It could also open up potential hydro line which would help Kake with their power issues and maybe even create some logging sales. It's just jobs, you have to have jobs."
State planners looked into a road link and ferry connection but scaled back that project in 2016 over concerns about the cost of operating a ferry and maintaining the road. Senator Stedman wants to make clear that it's only a basic gravel road under consideration now, without a ferry. He thinks it will be similar to a boat launch ramp on southern Mitkof Island.
"When you look at Blaquiere Point, I see no difference between going to Blaquiere Point and taking a skiff over to Wrangell then taking a skiff across Wrangell Narrows and maybe down the beach a little bit or wherever the landing's going to be and driving to Kake," Stedman said. "And the people of Kake deserve and have just as much right to the state treasury as any other community in the state. And look at the highways that the state has built here."
He also thinks the road can be used for law enforcement response from Petersburg. And he points to efforts to revitalize the economy in the town of around 600 people and thinks the road could add to that. Kake has an airport but doesn't enjoy the twice a day jet service that Petersburg has. The project could mean construction of 22 miles of new road and improvement of 23 miles of existing logging road.
Stedman, Sullivan and Jensen sat down for an interview with KFSK about the Kake Road in May. Here's the full interview: