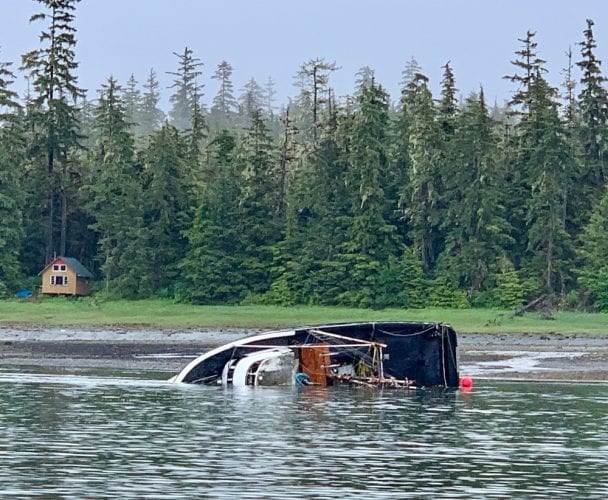 The fishing vessel Heather Ann ran aground and sank in the Wrangell Narrows south of Petersburg Friday morning.
The crew of the vessel notified the U.S. Coast Guard of the grounding just before 7 a.m. Friday, June 14. The Heather Ann is on its side just north of Beecher Pass. The Coast Guard says four people onboard were able to make it off the 52-foot boat and get to shore on a skiff.
The Coast Guard cutter Bailey Barco responded before 9 oclock Friday morning and attempted to pump out the Heather Ann but were unsuccessful. The Coast Guard remained on scene throughout Friday to help out.
The boat initially had around 200 gallons of diesel fuel and hydraulic fluid on board. The Coast Guard reported a minor sheen around the Heather Ann but no signs of impact to the salmon hatchery at Blind Slough. Hatchery king salmon are returning to that facility nearby and there's a popular sport fishery in full swing around those returning fish.
The Coast Guard and Alaska Department of Environmental Conservation are working to mitigate any pollution threat. Alaska Commercial Divers have been contracted to stabilize the boat. It has two fuel tanks. The Coast Guard says one was filled with salt water and responders recovered about five gallons of oily sludge from the other. They are unable to get to a hydraulic tank because of the position of the boat.