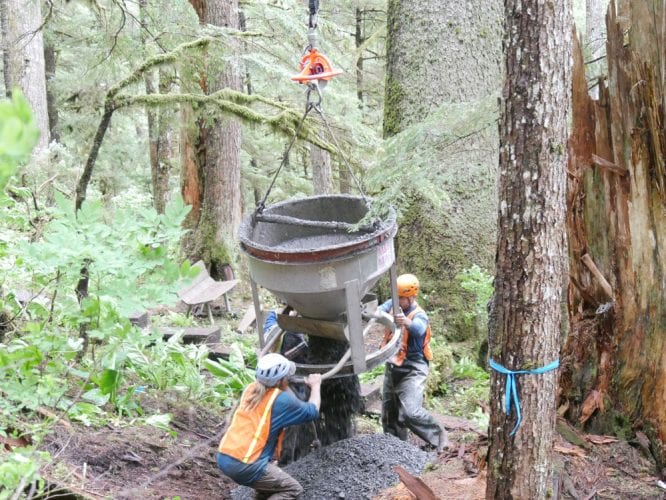 What does it take to rebuild a hiking trail? In the case of the popular Raven Trail in Petersburg, the answer is pretty simple: A helicopter, a work crew, and a whole lot of gravel. But building a trail on steep, densely forested terrain is not easy. Ari Snider has this behind-the-scenes report from the mountainside.
If you live in Petersburg, or if you spent any time here during the first couple weeks of June, you're probably familiar with the sound of a low-flying helicopter.
That's the helicopter from the Ketchikan-based SOF Air. Owner and pilot Ken Batten was contracted by the Forest Service to sling rock, concrete steps, and gravel up to the Raven Trail.
The operation is straightforward, but certainly not easy. The helicopter is dangling a long cable with a hook on the end, allowing it to lift up pallets, bags, and hoppers full of material. Down in the rock pit, Sam Brietzmann is in charge of rigging — connecting the cable to the goods.
"And then making sure the hoppers are filled, making sure there's gravel bags, and just staying on schedule with everyone on the hill," he said.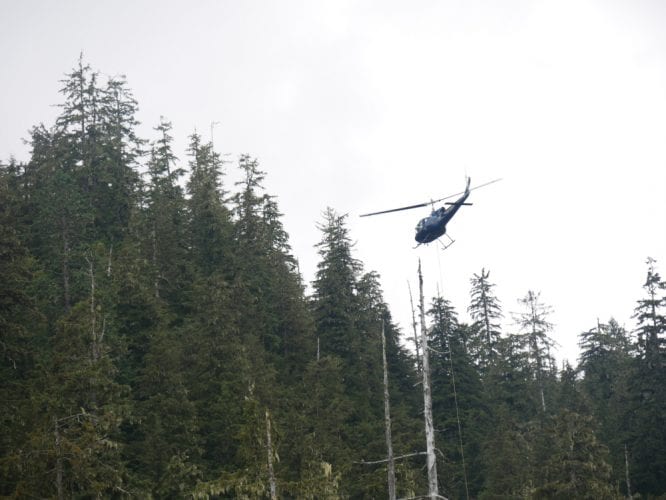 Getting the material out of the rockpit is the easy part, relatively speaking. Lowering several tons of material through dense, tall forest is a whole other matter. That's where crew leader Jon Swada comes in. Fortunately, this isn't his first rodeo. He's been doing trail work for a long time.
"Yup just celebrated my 30 year anniversary about a month ago," Swada said.
Swada, of Ketchikan, oversees several employees from Oregon Woods, the company contracted to rebuild the trail. Lee Fouste, one of those workers, says he's been with the company for 15 years. It's intense work to be sure, spreading out gravel dumped from a helicopter, but Fouste says that's all part of the appeal.
"Oh yeah that's what we love though," Fouste said. "We love the energy, jumping in and spreading it real quick and looking out for hazards above. You know we like to stay safe but have a good time."
Hunter Hanson, another crew member, says it's good to be back working in Southeast Alaska.
"Oh I love it. I've been up a couple times before, we worked on the White Sulphur Hot Springs job four or five years ago," he said. "It's not my first time but I love it up here."
Finally, there's Nick Shondell. This is his first major trail project.
"I'm just trying to, you know, take advice from these guys, kinda do what they tell me cause like I said I'm new to it. Trying to stay productive and stay out of the way if necessary," Shondell said.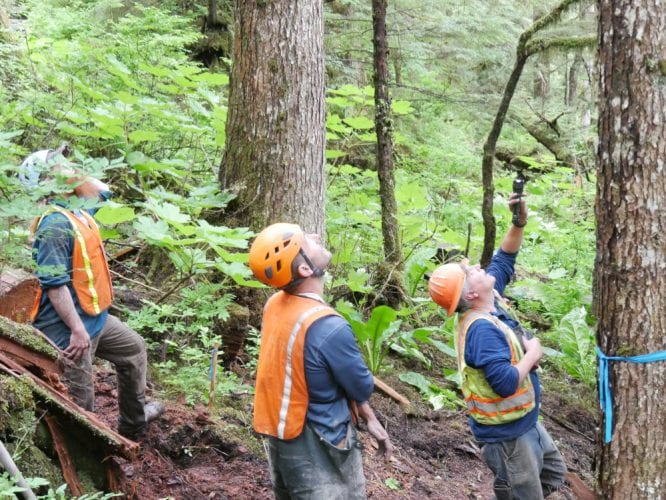 Up on the trail, the atmosphere is lighthearted as the crew jokes around while working. But as soon as the roar of the helicopter approaches, everyone snaps to attention. This is the most delicate, and most dangerous, part of the process. First, Jon Swada hails the chopper with a super bright flashing light. The pilot then does his best to lower down directly onto the light, in this case inching a hopper filled with about 2,200 pounds of gravel through a narrow opening in the spruce and hemlock canopy. The hopper snaps off a couple branches on the way down, and the rotors kick up a small windstorm, blowing moss off tree limbs and sending the devil's club flailing around like a bunch of spiky whips.
Once the load gets low enough to grab, Swada, Hanson, and Foust rush in and swing it into position while Shondell, the spotter, keeps his eyes up. Hanson hauls on the trigger, using his full body weight to release the gravel, which comes rushing out in a matter of seconds. Then, Swada radios the all-clear and the three of them dive for cover as the hopper swings back up into the sky.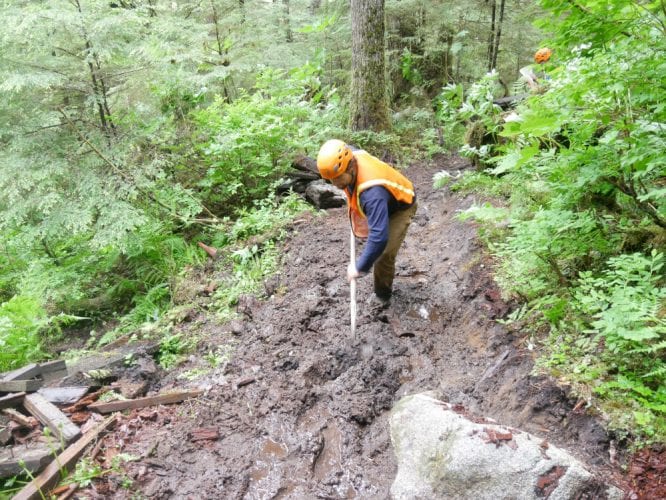 With the helicopter clear, the crew has a few short minutes to rake the gravel into place before the next load arrives.
It's an intense and potentially dangerous maneuver, but Shondell says the project is in good hands.
"Usually it goes pretty smooth but then when there's big trees it can be a little hairy," Shondell said. "But these guys are pros."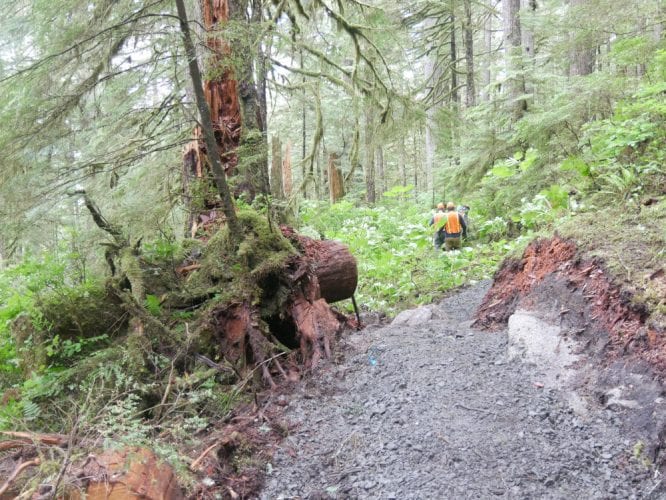 The crew will repeat this maneuver every four minutes or so, all day long, with a few longer breaks thrown in when the helicopter pauses to refuel. They're on one of those breaks now, and they rush to get a snack in while they can.
They usually get about nine feet of gravel per hopper, and they're hoping to cover around 800 feet of trail today. That works out to about 90 helicopter trips. But they're getting close to the one mile marker, meaning they've only got a few more days of flying left. After that, they'll continue putting the stones, concrete steps, and other elements into place. The trail work is expected to continue next summer.
But the crew still has a lot of work left today, and they can hear the helicopter cranking up again. They quickly stuff their snacks and get back into position. Swada flashes the light, the trees start shaking, and another 2,000 pounds of gravel comes swinging down through the canopy.