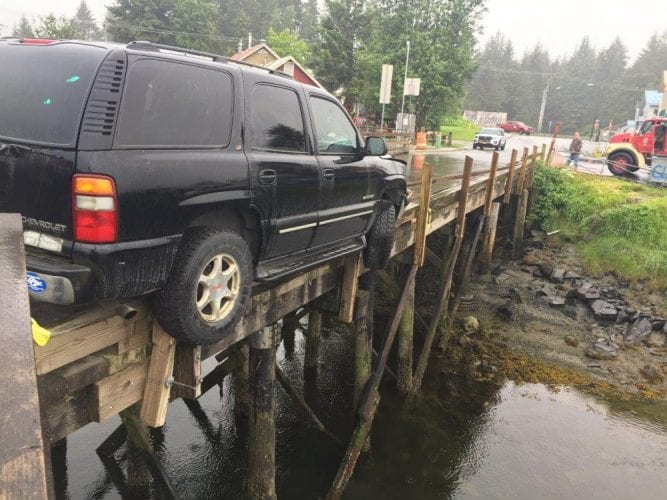 A sport utility vehicle broke through the guardrail and may have narrowly missed falling off the wooden bridge over Hammer Slough in Petersburg early Sunday morning.
It's nearly the same spot that saw a vehicle accident that claimed the lives of two young Petersburg residents in January of 2003.
The Rasmus Enge Bridge is on Sing Lee Alley and the incident happened just past a former restaurant on the one-way wooden trestle structure. Police officer Eric Wolf was patrolling Sunday morning around 2 a.m. and found a black Chevrolet SUV that had hit the guardrail and was straddling the bull rail, with front and back passenger side tires hanging off the bridge. Petersburg police sergeant Derek Thorsen explained.
"The investigation revealed it appears that part of the bull rail of the restaurant actually kept the vehicle from going over the actual railing," Thorsen said Monday. "It does appear to be some damage to that bull rail and it appears it kept the vehicle from going too far off the edge and ending up in the water."
The SUV broke off the handrail and some of the uprights for that railing. 34-year-old John Paul Akers of Florida was arrested on the scene. He's being charged with driving under the influence and refusing a breath test. Thorsen said it appears the driver was the only person in the SUV. He thinks a wet surface and speed were factors in the crash.
"The surface was wet but it really came down to excessive speed it appears that that was the defining factor of why the vehicle wasn't able to maintain control on the corner," Thorsen said. "Of course you lose the contact with the roadway and you start to slide. We have to reduce our speed on that road."
Cement barriers were installed along the parking area of that now-closed restaurant following the 2003 accident. The bridge was also the site of a 1969 vehicle death that generated a lawsuit against the city. Local residents petitioned the city for speed bumps following two accidents there in 1984. Others in the community have asked for the bridge to be closed to vehicles altogether. The borough did extensive repairs on it in 2014, replacing planks and the bull rail.
The roadway was closed to vehicles and walkers but reopened by Monday afternoon following repairs by the borough's public works department.