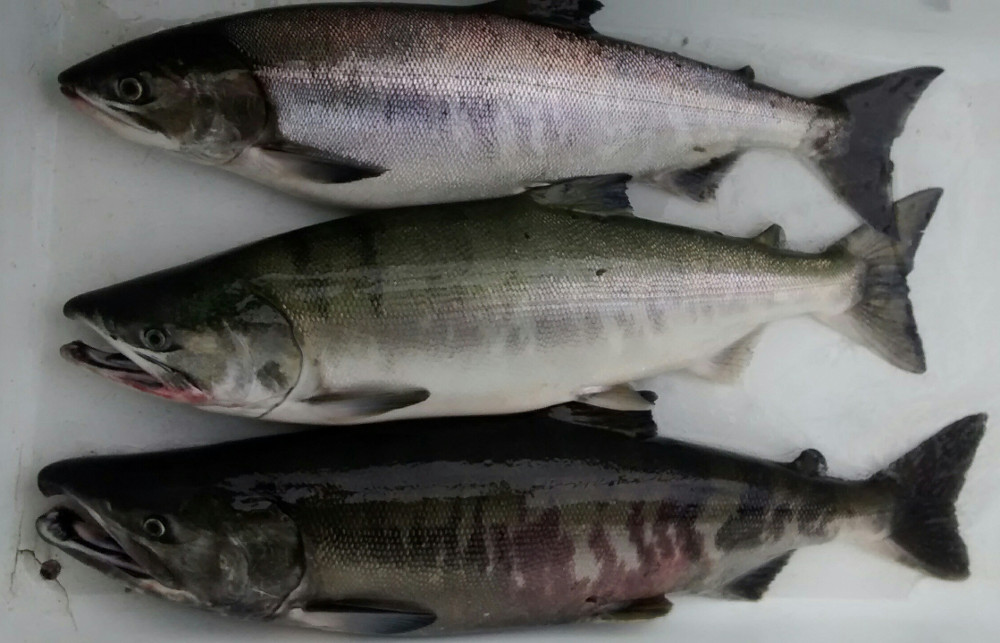 The fishing season for fall chum salmon in Southeast Alaska is just getting going. But earlier runs of summer chum this year turned out to be unexpectedly very poor. As Angela Denning reports, hatchery managers in the region are struggling to get enough eggs for raising future generations of fish.
Chum salmon are usually a staple species for Southeast Alaska fishermen. But summer harvests this year came in well below average. By late August, the region-wide harvest totaled around five million fish, just about half of the ten-year average.
And managers weren't expecting just an average year. They predicted another bumper crop of 18 million fish.
"It looks like our overall chum harvest is going to be quite poor this year," said Andrew Piston, Alaska Department of Fish and Game's pink and chum salmon project leader in Southeast. "It's definitely been a surprisingly poor year for hatchery chum salmon in particular."
Most of the region's chums come from hatcheries and three regional non-profits are seeing only about a quarter of the fish they expected.
One program based in Ketchikan, SSRAA or Southern Southeast Regional Aquaculture Association saw only 20 percent of their four million chum forecast. 
"We've had a very tough season," said David Landis, SSRAA's general manager. He says their hardest hit sites were where they collect salmon eggs. "We're struggling to get our brood stock in the quantity that we need to have for a full release next year."
To get more eggs, SSRAA is experimenting with a marine pen at a new site instead of their usual practice of capturing fish after they enter fresh water streams.
"We're actually having these fish right in salt water until they are essentially ready to spawn in salt water and then extracting them out and taking the eggs that way," Landis said.
SSRAA doesn't expect it to be as effective as their usual method.
A hatchery program based in Juneau, Douglas Island Pink and Chum or DIPAC is also seeing  20 percent of their 4.4 million chum forecast. 
"Boy, just kind of a striking poor return," said Eric Prestegard, the executive director of DIPAC. He says the company is scrambling to get enough eggs. They're also coming up about $2 million short from cost recovery goals. That's money made from harvesting the fish to cover the cost of operations.
"We'll obviously dip into reserves," Prestegard said. "At the same time, I think we may look at delaying some capital projects."
Prestegard says DIPAC is hoping to get some eggs from a Sitka-based hatchery program, NSRAA or the Northern Southeast Regional Aquaculture Association. NSRAA saw about 30 percent of its expected chum return at a release site in Deep Inlet near Sitka and 50 percent at Southeast Cove near Kake. That's enough to possibly share eggs with DIPAC . But General Manager, Steve Reifenstuhl, says it's still a bad year.
"This is very difficult on the fishermen side of the equation for these forecasts to come in so short," he said.
Financially, NSRAA is having less trouble than the other hatcheries because of an unexpectedly large fall chum return last year at their Crawfish Inlet site. Reifenstuhl says the return was so huge that it covered NSRAA's budget for this year and part of next year.
"We didn't even have a cost recovery goal this year because we made so much money last year," Reifenstuhl said.
Last year, many chums returned as three-year-old's although most chums wait until they're four. So, fishery managers predicted that this year's 4-year-old return would be very strong. But Fish and Game's Piston says it didn't work out that way.
"It's kind of starting to look more like for those brood years a lot of those fish just simply returned as three-year-old's and it's not panning out into large number of four-year-old's," Piston said.
Other factors as to why this year's chum return is so poor are unknown. Hatchery managers are only able to make some guesses.
NSRAA's Reifenstuhl believes this year could be a sign of what's to come. 
"Are we in a one year event for survival on chum salmon or has global warming, oceans warming, ocean acidification, have those things caught up with us and we're in for a bad five years life cycle of a salmon or is it even worse than that?" Reifenstuhl said.
DIPAC's Prestegard acknowledges that the climate might have something to do with it but thinks it also might just be a weird year.
"My gut hunch is that this is going to be a year that we scratch our heads down there in Southeast for some time to come," Prestegard said. "It didn't make a lot of sense to me, it still doesn't make any sense to me, so I doubt we'll find a culprit."
And SSRAA's Landis puts it this way:
"The ocean is a big place and it's pretty difficult to figure out everything that these fish experience during the course of their lives," Landis said.
All the hatchery managers say they'll be crunching numbers and comparing notes this winter to try to figure it out.