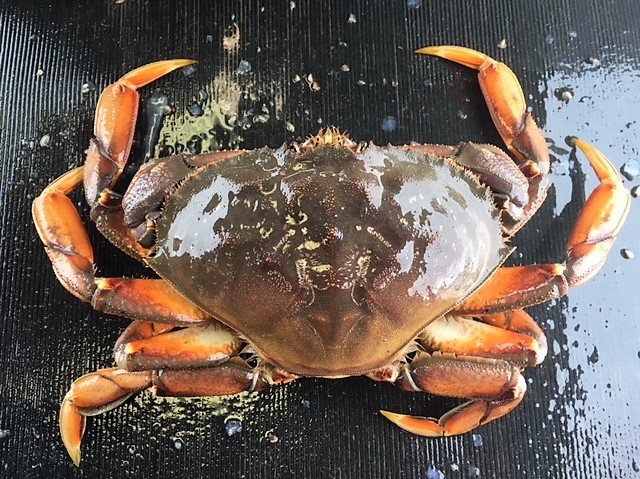 It could end up being the best commercial Dungeness crab season for a decade in Southeast Alaska. The summer harvest was high and as Angela Denning reports, managers are expecting the fall season to be good as well.
2017 saw one of the worst harvests in decades for Southeast Dungeness crab. Managers closed the season early. Things got back on track last summer with an average harvest of three million pounds of crab.
This summer's harvest is 4.19 million pounds, well above the average.
"It went really well this year," said Adam Messmer, a shellfish biologist with the Alaska Department of Fish and Game. "This 4.19 million pounds that we caught this summer is actually the second highest season we've had in ten years and we still have the fall season to go."
For the past decade, the highest harvest for Dungeness crab for the summer and fall seasons combined is about five million pounds. So, this year could end up being the highest harvest in a decade.
"It very well could be," Messmer said. "If we catch another 800,000 pounds, which is probably pretty likely, we'll meet or exceed the highest harvest for the last 10 years."
There was good participation in the summer fishery with 186 permit holders reporting catches throughout Southeast Alaska.
The summer Dungeness crab season ran from June 15-August 15. The total value of the fishery was $12.8 million. The average price was $3.06/pound.
The area in Southeast with the most harvest and the most participation was District 8 around Petersburg and Wrangell. Seventy-seven permit holders brought in just over a million pounds of crab. District 11 including Stevens Passage near Juneau saw a harvest of nearly 900,000 pounds by 35 permits. District 6 including Duncan Canal and the Level Island area had 533,000 pounds with 44 permit holders.
The fall fishery for Dungeness crab will open Oct. 1 and run through November. Managers expect to see good harvests in that fishery as well. They make their projections according to the commercial harvests in the first few weeks of the summer season.