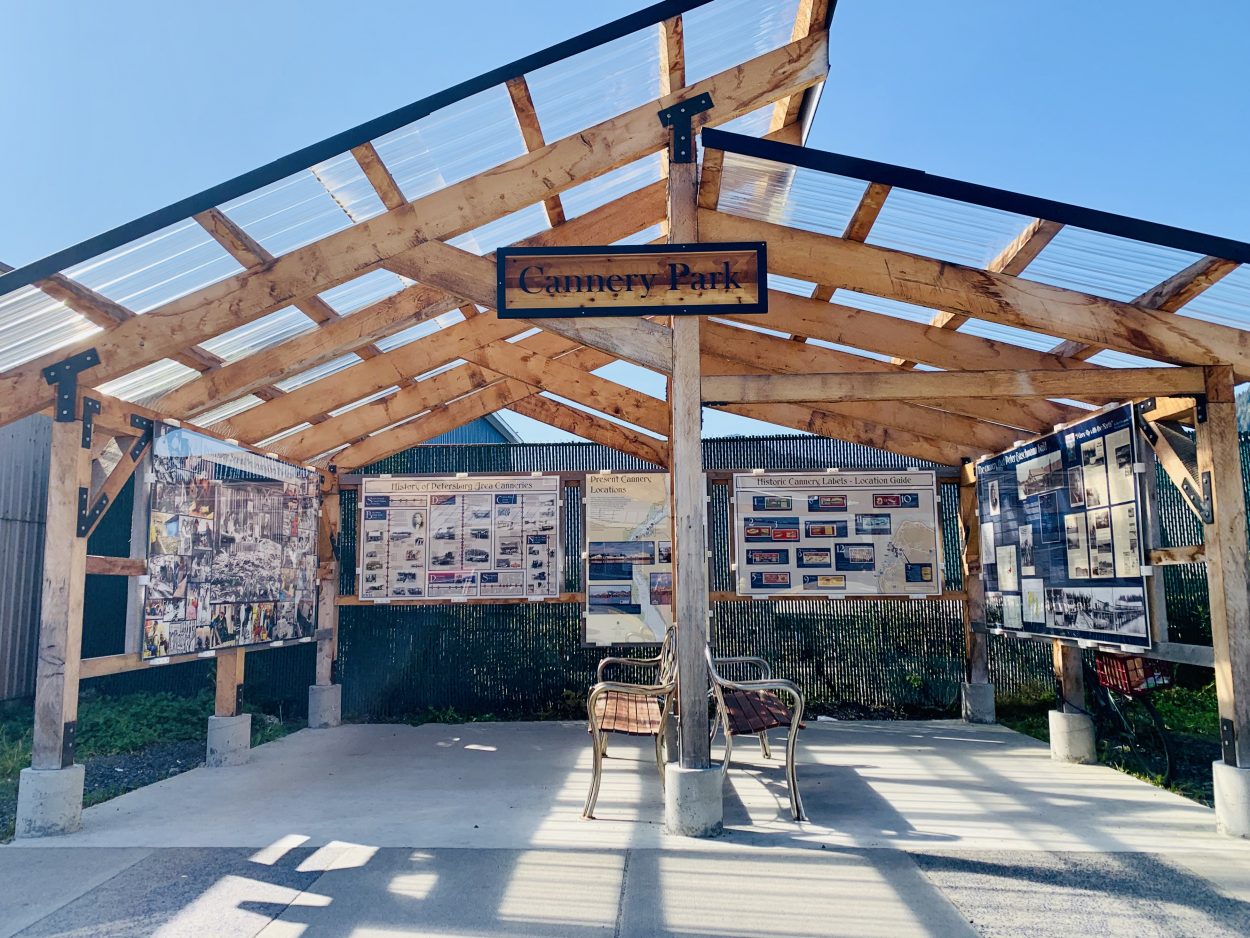 Cannery Park opened up without much fanfare at the end of August. It's located in downtown Petersburg and creates a place for visitors to learn about the town's rich history of seafood production, one that dates back over 100 years. KFSK's Angela Denning reports:
The new Cannery Park is located along the town's main downtown road. It's tucked between a grocery store, coffee shop, laundromat and bank. And when it's raining out, like it is today, it's also a good shelter. The park used to be an industrial corner lot owned by one of the local fish plants.
"I thought it would be great to have this here, kind of blocking our storage area," said Patrick Wilson, Manager of Petersburg Fisheries, which is a local branch of Icicle Seafoods.
The park was his idea.
"It's about the history of canning here in Petersburg, which we really didn't have much around here," Wilson said. "The [Clausen] Museum has some very nice displays but this will get it out front in public and tourists and give them a chance, while they're walking around, to not only learn more about the town and the history but also they could sit down on these nice benches and enjoy the afternoon."
Two benches sit back to back in the middle of the park welded into shapes of metal fish and kelp. They were donated by two local families and created by local artist, Joseph Quitslund. One bench is in memory of Oliver Andrew Hofstad and the other is in memory of Gordon Jensen.
There are over a dozen local residents involved in the park project. That includes PFI staff designing and building the covered shelter. The structure is made of large timber framing with a split level roof.
"It gives it the old cannery look with all these beams, rough cut beams, and it turned out very nice, it's unique, I think it looks good," Wilson said. "We've got the clear plastic on top the roofing so we get nice light through here."
What is perhaps most striking are the informational boards that make up the walls. They take visitors on a journey through the history of local canneries.
"It took months and months for me to get all this information together," said Karen Hofstad, a Petersburg resident and local historian.
She donated money and time researching for the park. It was in line with her previous research work for the book, Tin Can Country, she wrote about seafood canneries in Southeast Alaska. She was also instrumental in getting trash cans around Petersburg decorated with old seafood labels.
She says she got involved with the park because of the cannery workers. The park is dedicated to them, both past and present.
"You know the fishermen are kind of the stars but all the cannery workers, if we didn't have them, we couldn't can, we wouldn't have fishermen," Hofstad said.
Wilson agrees.
"They were pretty much the back bone of the industry here once the fish hit the shore," he said. "There's been a lot of recognition given to boats and fishermen and monuments and what not but not much recognition to the people behind the scenes that do all the hard labors, seven days a week, 14-16 hours a day and sometimes more."
The canneries have brought many diverse cultures to Petersburg: Norwegians, Chinese, Filipinos, Hispanics, and Europeans, as well as local Alaska Natives.
"It's a tough job," Wilson said. "It's not a really pretty job at times (laughs). As we talk right now we have workers filleting salmon and they're processing salmon roe and they'll be working until midnight tonight…so, hard work."
The Cannery Park isn't complete just yet.  High School art students have made tile mosaics for the concrete floor. Wilson says the park will also get more landscaping. They hope to have an official opening ceremony next summer.
The Cannery Park project had many local contributors including but not limited to:
Petersburg Fisheries, Clausen Memorial Museum, Lizzy Walsh, Karen Hofstad, Gordon Jensen Family, Oliver Hofstad Family, artist Joseph Quitslund, The Mill Inc., Petersburg Pilot, Ola Richards, Reid Brothers Construction, Emilie Sperl, Ashley Lohr's High School Art Class, artist Julia Niemi, Kathi Riemer, Sue McCallum, Glorianne Wollen, Rexanne Stafford, Lori Roberts, Dave Ohmer, Ronn Buschmann and many others.