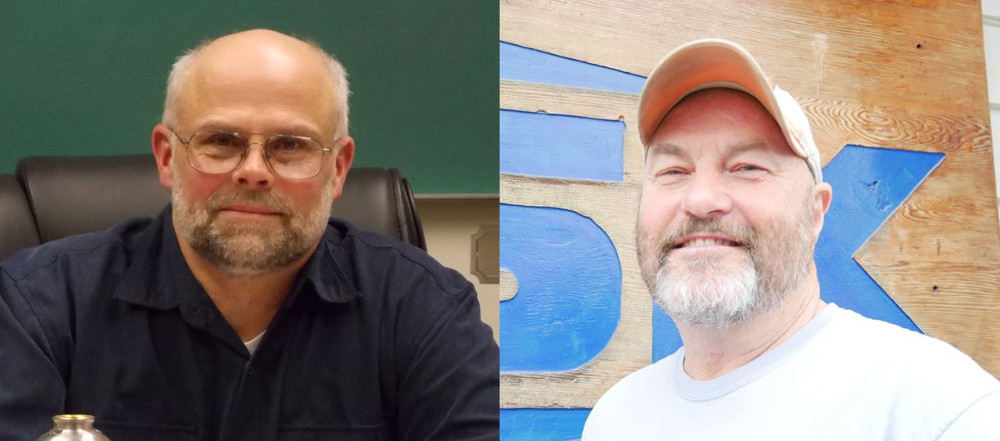 Voters have a choice for Petersburg's mayor on the October 1st municipal ballot, between a current and former mayor. The candidates offer a clear contrast on public safety staffing decisions, a local land swap and other issues. They expanded on their views on a number of subjects during last week's candidates forum.
Mark Jensen is a commercial fisherman and welder and is running on accomplishments during his past seven years as mayor and another five on the city council.
"One of them I remember was the divestiture of the Four Dam Pool and forming SEAPA, Southeast Alaska Power Agency," Jensen said adding, "that was pretty hot topic between the local communities, Wrangell and Petersburg, but we got it done. Another one that I'm happy with is the funding of some of the major projects in town, fire hall library, some harbor infrastructure including the remodel of the crane dock, North Harbor construction and funding for construction of the drive down dock."
Jensen is also highlighting his work to get state legislation passed for expanding the borough's land selection and work to encourage the U.S. Coast Guard to continue homeporting a cutter in the community.
His challenger is Jeff Meucci, a research diver with the Alaska Department of Fish and Game. He was mayor in the late 1990s and also served on the city council and an advisory board for Parks and Recreation. He was appointed and then elected to his seat on the borough assembly in 2017.
"I want to be the mayor because I think I could be a good advocate for the community," Meucci said. "I like talking to people. I've made it a practice over the last couple of years to kind of wander around main street and talk to all the business owners in town and try and understand what's important to them as well as the community members. I mean I think we need to have an honest and open dialogue with the community about how tight the budget is and what's important to the community."
The two are on opposite sides of a number of recent local issues. One is the filling of a vacant sergeant's job in the police department and an emergency medical services coordinator/fire fighter in the fire department. Meucci has volunteered as an EMT and has voted to fill the job in that department as well as the police position.
"Let's say we don't fill that position, is the community going to accept less than 24/7 police protection and what does that mean to the community?" Meucci wondered. "Usually when you respond to an EMS call, the first person on the scene is a police officer," he said. "And one of the first things you learn as an EMT is, is the scene safe? And for the most time the police are there making sure that the scene is safe so you don't walk into some kind of an environment that's not safe for you. And you have to protect all of our volunteers."
Meucci thinks those positions should take priority even if that requires cutting in other departments.
Jensen has opposed filling those jobs and voted against the borough's budget because of those positions. He reiterated concerns about additional spending cuts from the state that will impact the municipality. He also wanted to make clear he didn't want to add a job in this budget climate.
"The EMS position is a new position," Jensen said. "There hasn't been three employees in the EMS fire department. So that would be a new position. Both of those are budgeted and I still voted against the budget for that. As far as making it harder for them to work in those positions, it could possibly be. I think the police department could probably if they rescheduled they might be able to make their job a little bit easier but I'm not sure I haven't looked into it in depth."
The two have also been on opposite sides of a land exchange between the borough and fuel company Petro Marine. Jensen has voted against moving forward with the swap and has concerns about the conditions of the building that the borough would receive as well as the loss of lease revenue.
"I don't know that we've totally vetted that exchange," Jensen said. "I feel like we're helping out a multi-million dollar company that wants out of a lease and wants to own the land that we're leasing them."
The assembly will likely vote on the final terms of that exchange sometime this fall, depending on investigations of the properties. Meucci is ready to support the exchange and move on to another topic.
I mean we have an empty building that looks like it might meet the needs of the harbor maintenance staff and the building maintenance people," Meucci said. "I mean there's road blocks being thrown up at every juncture every time we get a positive vote to move forward there's a road block thrown up."
One area where they have some agreement is over concern with the impact of the visitor industry. Meucci wants that industry to be a better neighbor in dealing with its waste water. Jensen last year wanted to send a letter asking a larger cruise ship company to hold off on planning any stops here for 2020.
Both also seem interested in looking into privatizing some borough services, specifically some snow plowing of streets that aren't owned by the borough or even garbage collection. Jensen would like to see the borough's recycling program pay for itself and wants a discussion on that. Meucci wants to figure out a way to continue a recycling program, even if that means partnering with a company or organization outside of the borough government.