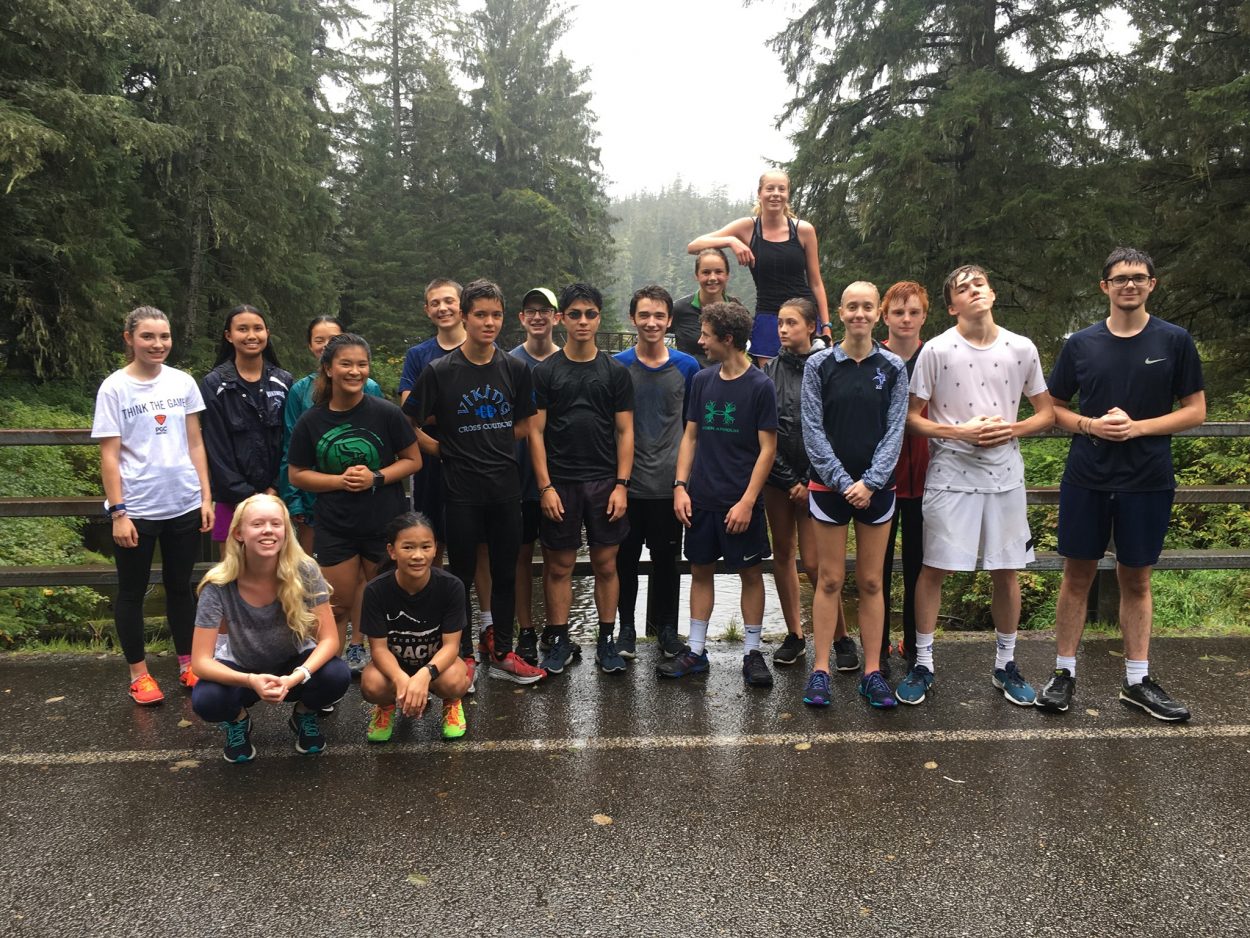 The Petersburg High School cross country teams are heading to Sitka for the Southeast Regional meet this weekend. They will take the seven fastest runners from each team. Last weekend they were in Ketchikan and finished first among the small schools division. KFSK's Angela Denning has more:
In Ketchikan last weekend ten boys teams and eight girls teams competed. Both of the Petersburg teams ranked first among the small schools attending the meet. The small schools–or those that are 1 and 2 A–are the teams that Petersburg competes against to qualify for State.
Coach Tommy Thompson says they had many personal best times.
"I think half the kids PR'd down there and they ran great," Thompson said. "I've got to say that Melanie [Chase] is a senior and she PR'd by about a minute. And Kole, the last time he had a PR was a Sophomore and he dropped down into the 17:48 range and so he had a great run."
Petersburg Lady Vikings took the top three spots among small schools. Junior Maia Cowan finished first with a time of 20 minutes, 37 seconds. Senior Melanie Chase finished second at 20 minutes, 53 seconds, and junior Kendra Coonrad finished third at 21:31.
For the boys, sophomore Uriah Lucas finished first among small schools with a time of 17 minutes, 47 seconds and just one second behind him in second place for small schools was Senior Kole Sperl. Sophomore Chase Lister finished fourth at 18:45.
The usual Ketchikan course was flooded so meet organizers diverted the race trail.
"It was pretty flooded, we had really heavy rains the night before," said Noah Sullivan, a Petersburg senior.
"A lot of people wore spikes just because it was pretty slippery," said junior Julian Cumps. "After the race it was just covered in mud. It was very wet."
"Especially at the beginning of the girls' race, it started to rain and so by the time it was all over we were just absolutely soaked," said senior Jolyn Toyomura.
Toyomura is running cross country for the first time as a senior. She's been in wrestling for years and says she feels that cross country has improved her endurance. She's says also likes the social part of the sport.
"It's a good group of people and I think I've made a few good friends on the cross country team so that's pretty cool," Toyomura said.
Julian Cumps agrees. He's been in cross country since the 6th grade and says it helps him prepare for his basketball season. He also likes the bonds that he's made.
"It's kind of a lot more close than a lot of the other sports," Cumps said. "We're kind of like a big family. Like every practice we're just running, we're always as a team."
Noah Sullivan runs sprint races for the track team in the spring and prefers shorter distances. But he says dedicating years to cross country has been worth it.
"Cross country's definitely been super valuable to me for high school," Sullivan said. "It's been one of my favorite things to do."
Coach Thompson says Petersburg will likely do well at Regions. But he says the meets are not always a good indicator because not all runners travel to them.
"You never know what's going to happen because you lose one or two runners for injury or something and things can change quickly," he said.
There are twelve small schools in the Southeast. The top three of those teams will qualify for the state meet as well the top 15 runners. The state cross country meet will take place in Anchorage October 5th.