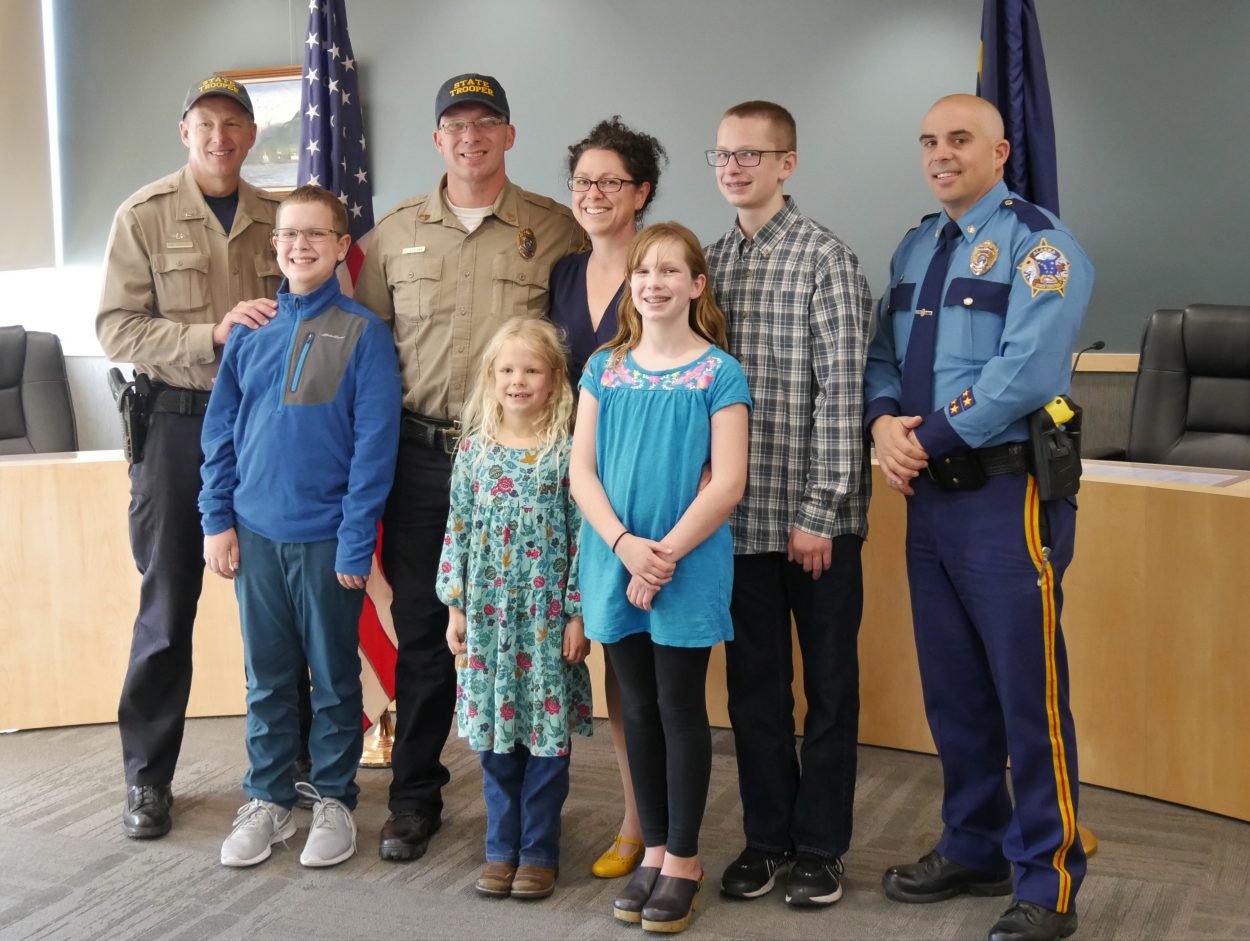 Petersburg will be getting a second Alaska Wildlife Trooper. As KFSK's Angela Denning reports, Petersburg's Wildlife Trooper Cody Litster was promoted to Sergeant in a ceremony Oct. 7 and will be supervising the Central Southeast region.  
About 30 people gathered in the Petersburg Borough Assembly Chambers for Litster's badging ceremony including two visiting State Troopers.
Litster's wife and kids took turns pinning on his new badges and then Litster addressed the crowd.
"This is home for me and probably always will be and so it's great to see all of you guys here," Litster said. "It means a lot to me and I know as I step forward and do more and more I know you guys will all be there to support me, so thank you."
Litster will be overseeing the Wildlife Troopers in the Central Southeast region including the trooper posts in Petersburg, Wrangell and Sitka.
According to Litster, the decision to have a supervisor outside of Juneau came from Commissioner Amanda Price's office.
"Our Commissioner has decided that she didn't want to see one man trooper posts," Litster said. "So, anytime that we could put two troopers in a place where there's only been one historically, that's going to be inherently safer."
The state plans to put another trooper position in Petersburg. Litster says that hiring process will likely go into the beginning of next year.
"For me, that means that I will be doing some more managerial duties and I won't be in the field near as much," Lister said. "But hopefully the new trooper who will come will be, in a lot of ways, kind of the point of contact for the local community."
In 2013, Litster was named the Wildlife Trooper of the Year by the Alaska Department of Public Safety for the entire division as well as for his regional detachment.