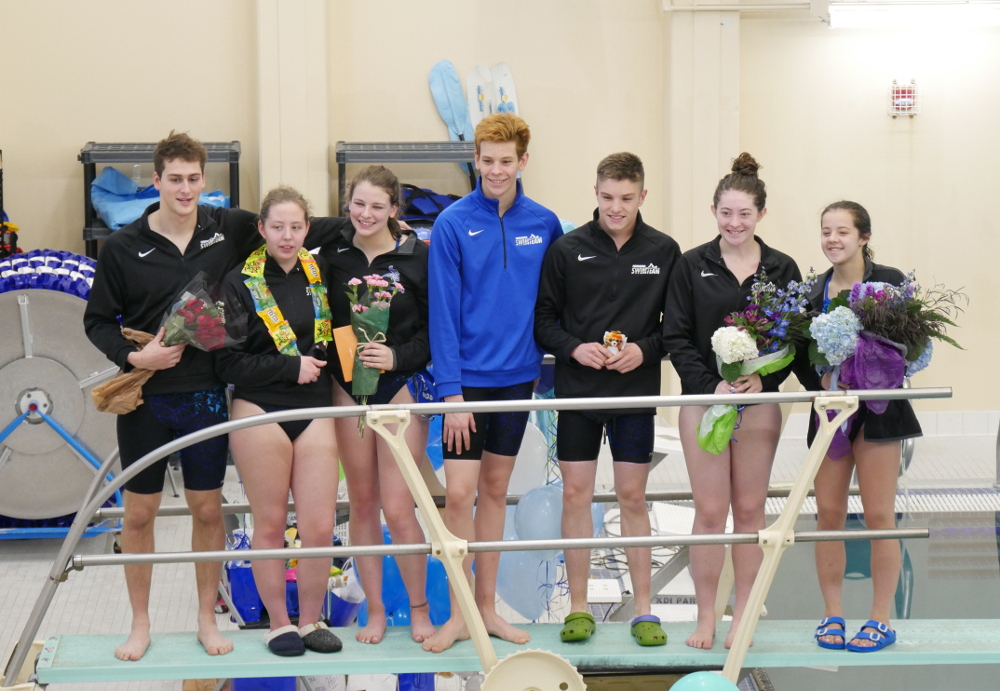 Petersburg High School's swim team hosted its only home meet of the season last weekend. And it was the last home high school meet for seven seniors on this year's team. They're looking forward to the regional meet at the newly opened and soon-to-close pool at Mt. Edgecumbe High School in Sitka.
The teams held senior appreciation for the seven swimmers Saturday. Head coach Andy Carlisle said this week those seniors are a fun group to coach.
"They're really close," Carlisle said. "They give each other the business all the time which is always fun. Yeah, it's a good group to work with, they work hard. They treat each other well and they make us proud wherever we go."
The seniors are Maria Pfundt, Maddy Whitethorn, Brynn Lister, Kate Bisset, Bruno Caetano, Rylan Wallace and Peter Kowalski. Pfundt competed in a few events last weekend against former teammate Allie Morgan, who is swimming with Thunder Mountain High School in Juneau this year.
"Allie's still our teammate," Pfundt said. "We love her. She is just very supportive still even though she's on the TM team, she cheers us on and we cheer her on. It's camaraderie I guess."
On Friday Pfundt took first in the 50 free and second in the 100 butterfly. On Saturday she took third in the 200 free. She's hoping to improve on her times and beat personal records from last year.
"Well I've been doing well and progressing throughout the season but I haven't really hit my (personal records) from last season so I'm excited to see what region brings to see what happens after we taper," Pfundt said.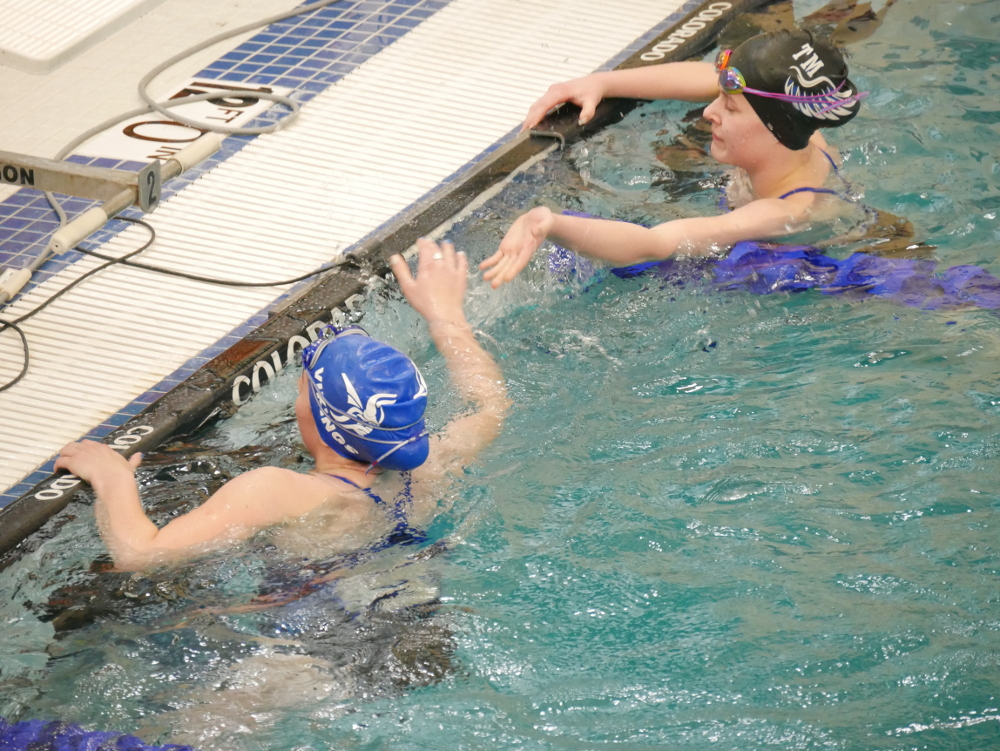 Teammate Maddy Whitethorn finished second Friday behind Pfundt in the 50 free. Whitethorn was also third in the 100 free both days and second in the 100 backstroke.
"I swim the 50 and the 100 free at regionals and I just want to beat my times from last year," Whitethorn said. "I'm still about a second away on each of those events but I'm just going to try and do it and see what happens."
Whitethorn confirmed there have been some tough practices this season to get in shape.
"We always at the beginning practice when it gets to this point of the year, we always ask (coach) Andy how hard our practice is going to be on the schoochiness scale," she said with a laugh. "And we've been getting some pretty schoochie practices in. They're not particularly pleasant but it makes us stronger."
The girls team also did well in relays.  On Friday, the all senior 200 free relay team of Lister, Bisset, Whitethorn and Pfundt took first. The next day, the 400 free relay team of Bisset, Jaden Perry, Lister and Whitethorn finished third.
The boys relay teams also finished fast. The 200 free team of Rylan Wallace, Sean Spigelmyre, Bruno Caetano and Peter Kowalski finished second on Friday. Caetano is an exchange student from Brazil and said he didn't swim competitively before his year in Petersburg.
"I was kind of scared when they invited me to participate with the swim team," Caetano said. "I was like oh god, should I go? And its been good. I'm doing OK, I guess. The team is really great, we have practice every single day of the week and its pretty nice."
On Saturday, the boys 200 medley relay team of Spigelmyre, Kovi Kovacs, Wallace and Kowalski were second. A 400 free team of Spigelmyre, Caleb Pfundt, Wallace and Kowalski also place second.
Also that day Wallace was first in the 100 fly and Spigelmyre was third in the 100 free. Wallace took third in the 50 free the day before.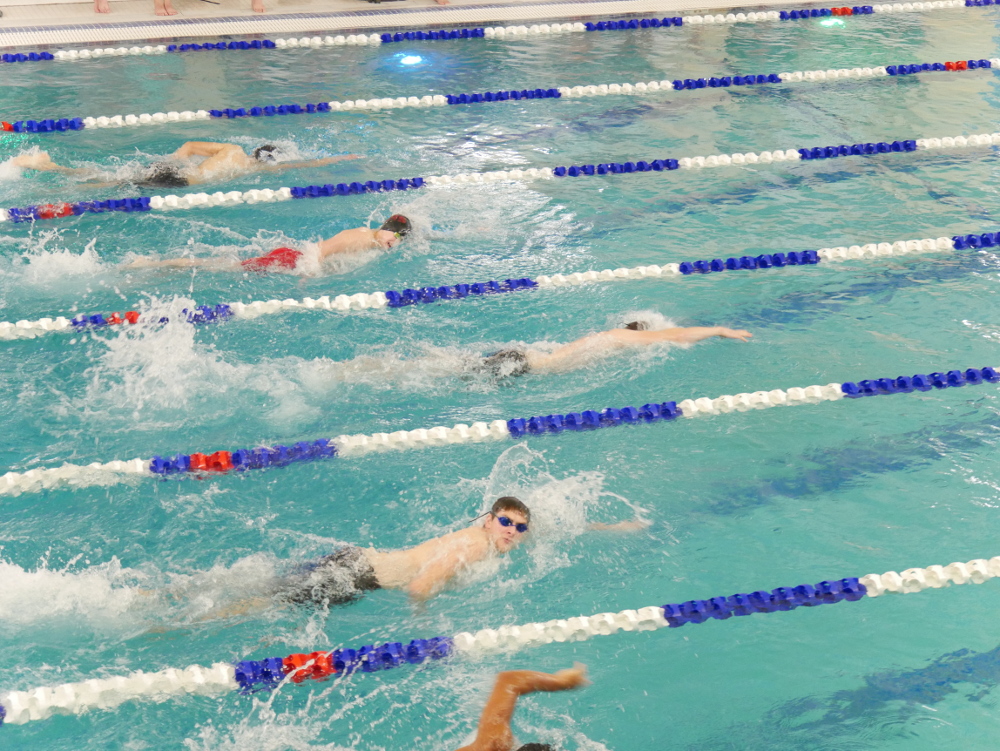 On Friday, Peter Kowalski took second in the 200 individual medley and first in the 100 free. On Saturday he was first in the 200 free and the 500 free.
"I guess my favorite free style event is the 200 free," Kowalski said. "It takes a lot of guts. There's lot of different ways to swim it. It's just a really competitive event generally."
Kowalski said this year he's already met the times he swam at the state meet last year and is ranked in the top five in two events. He said it's been fun to grow up with this group of seniors and progress together. He's excited that some of them may swim in college and he is also excited about the younger members of this high school team.
"Besides us seniors it's really important to recognize all the new swimmers," Kowalski said. "They're the future of the high school team. And I think they've progressed so much over the season and it's been so much fun to watch them. Next year's team is going to progress fast and I think there'll be some good swimmers that come out of the group."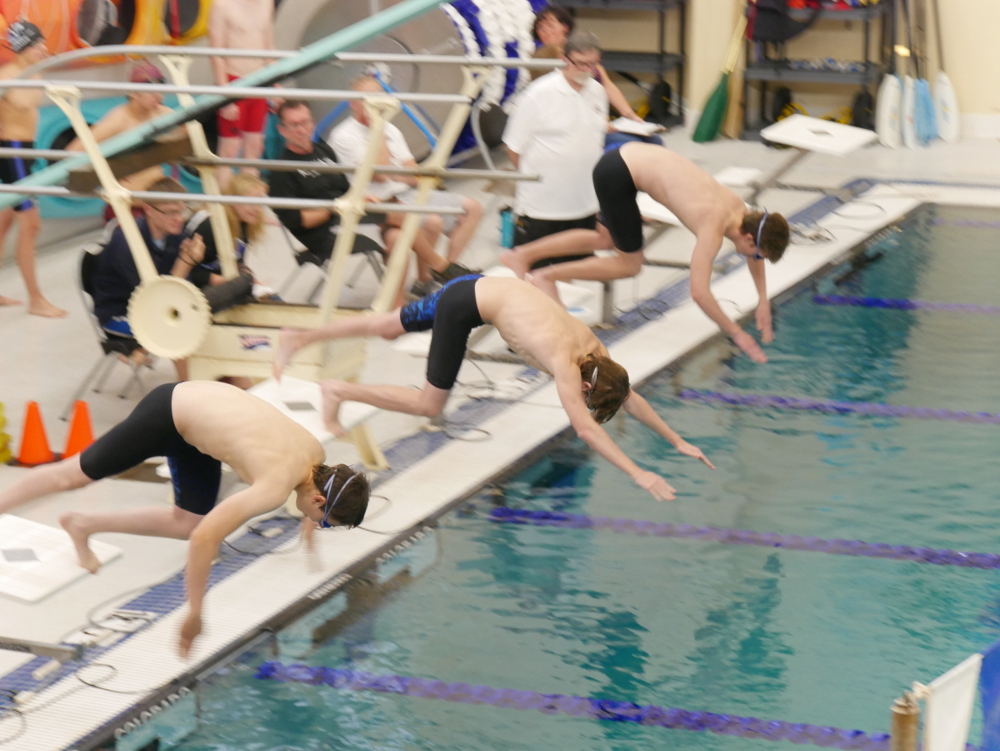 Kowalski and the rest of the team next swims at the regional meet the first weekend in November at the new Mt. Edgecumbe pool in Sitka. That pool just opened this year and is slated to close because of state budget decisions. Kowalski doesn't know what to expect in the new facility.
"It's kind of funny talking to people about pools, because there's fast pools and there's slow pools. And I'm not sure what makes a fast pool and a slow pool. I don't know if a lot swimmers could tell you that. But we're hoping it's a fast pool," he said.
Where does Petersburg's come in on that scale?
"Oh man, I don't know," Kowalski said. "I've heard a lot of other teams say it's slow but I don't know. Since we train in that I love our pool, I'll always swim in our pool."
Meanwhile coach Carlisle is happy with his teams' conditioning.
Our fitness level's really good, right where I need it to be," Carlisle said. "The difference between the first half of our race and the second half is narrowing, which is really good. They can finish races now. So the next couple of weeks as we rest and their speed starts to come in, I'm really looking forward to some great things. It should be good."
The teams have this weekend off from competition.