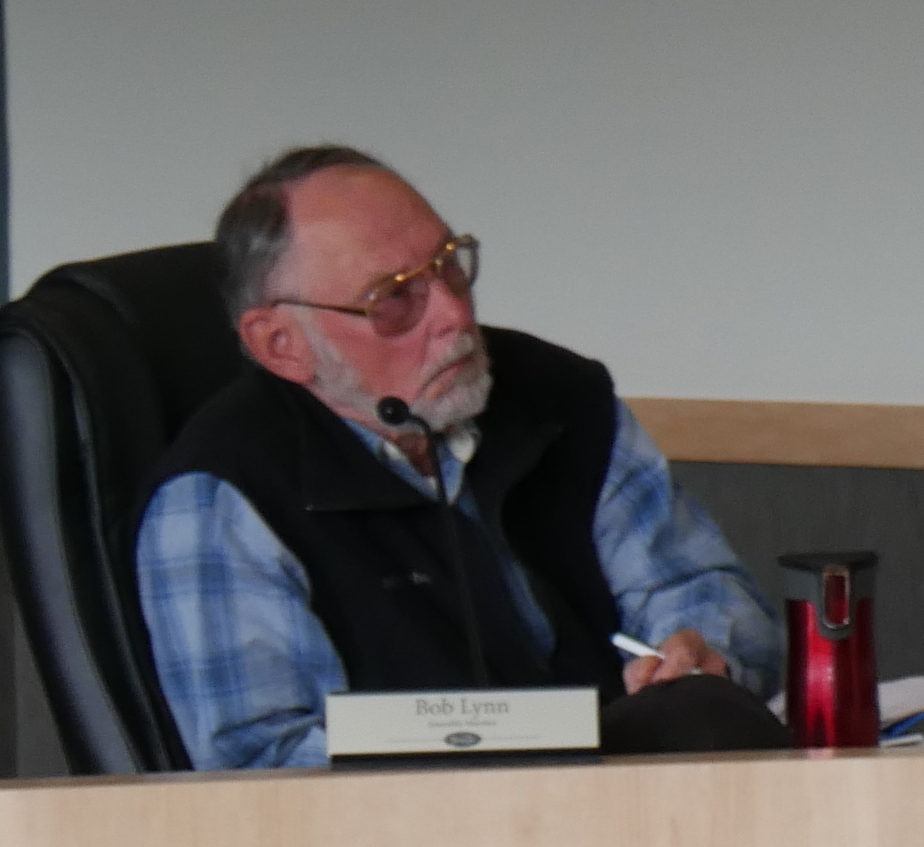 For the upcoming year, Petersburg will have two voting members and two alternates on the board of directors for the hydroelectric agency that sells power to this community along with Wrangell and Ketchikan. That comes during a year when that board could be deciding on repairing Petersburg's connection to its main power source. The borough assembly Monday named four in the community to that board.
The Southeast Alaska Power Agency or SEAPA owns and operates hydroelectric plants at Tyee Lake near Wrangell and Swan Lake near Ketchikan. The board has five voting members, with two for Ketchikan and one each from Wrangell and Petersburg. Every year the fifth seat rotates between the three communities. 2020 is Petersburg's turn to have an additional voting member.
Former board member and Petersburg's last power and light superintendent Joe Nelson thought it is important to have experienced representation on that group. He also explained that because of the board make up and a power sales agreement it's often important for representatives from Petersburg and Wrangell to vote together.
"When they're making decisions they're really making only decisions for two entities not three," Nelson told the assembly. "And so, because of that, it is very, very important and because of the way the voting happens, that Wrangell and Petersburg be in concert, their efforts are together, their voting is together. If that doesn't happen then you're basically handing the keys of the project to Ketchikan and allowing them to run it. So I really wanted to emphasize that. There needs to be a lot of communication with Wrangell. There needs to be an agreement on how to move forward and present a united front."
The board decides on management of the hydroelectric resources and budgeting for the wholesale power provider. It may be deciding in the next year about whether to fix or replace submarine cables that bring power to the three communities. One of those failed south of Petersburg this fall, leaving this community on a backup connection.
Six people submitted their names for the two voting seats and two alternate positions in 2020, with current voting member Bob Lynn and alternate Robert Larson interested in continuing. Also submitting their name were Petersburg's mayor Mark Jensen, another borough assembly member Jeff Meucci, utility director Karl Hagerman and local resident and fisherman Tor Benson.
Jensen agreed with Nelson, the former power and light superintendent on qualifications for the board.
"I think it's important that we pick representatives from Petersburg that have knowledge of the system and also have had some experience with working with the political relationships between the different communities," Jensen said.
Jensen sought to continue with Lynn as one of the voting members and Larson as an alternate. But assembly member Jeigh Stanton Gregor wanted those two both to be casting votes.
"Over the last year member Lynn and Mr. Larson have been working together and really navigated us through some pretty tough times meaning a severe drought in Southeast and they did so admirably under tough conditions," Stanton Gregor said.
Stanton Gregor, Jeff Meucci Chelsea Tremblay and Lynn voted down keeping Larson as an alternate. There was no second for Jensen's proposal to appoint himself as an alternate for either of the seats. Instead the votes were there to make Lynn and Larson voting members and utility director Karl Hagerman along with newcomer Tor Benson as alternates. Tremblay supported that appointment of Benson.
"Something about the wave of retirements lately has me freaked out about what's going to happen when everyone retires and no one's been going to the meetings," Tremblay said. "So I'm excited about the idea of Tor has a real interest in details and is excited to so I think this is a great opportunity for that."
The SEAPA board next meets on December 12 in Ketchikan but terms for the new board members start January 1.