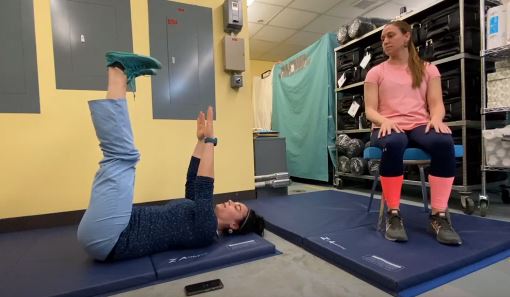 Physical Therapists with Petersburg Medical Center are creating videos for patients and the public to do at home. The videos include exercises for all ability levels. They're meant to prevent people from getting injured and to help those who already are. KFSK's Angela Denning reports:
"Hi this is Kaitlyn Duross; Stacie McKinley. We are physical therapists at PMC…" one of the videos starts off. "We are putting together a few videos for those of you guys who would like to do some core strengthening at home.
The video is one of a four part-series on core strengthening that the local therapists have created on PMC's youtube channel. They say core strength can prevent other injuries. Therapist Molly Platt says it specifically helps with lower back pain.
"Which is the most common reasons that people come in to see physical therapists in the U.S." Platt said.
Besides core strengthening, the therapists have produced video programs for stretching and postural strengthening. They plan to produce 10 programs covering a wide range of topics including a couple's workout and geriatric workouts.
Platt says that the videos are encouraging people to stay fit and prevent problems.
"It doesn't take long to lose fitness," Platt said. "It takes a longer time to get it back."
The videos are made for people with different fitness levels. Every program has modifications. One of the therapists presents the more challenging routine and another shows a modified version.
"So the next exercise we're going to do for the Tabata is a bicycle," Duross says in one of the videos. "I will show you the non-modified version and Stacie will show you the modified."
Some of the workout videos incorporate Tabata, which is interval training. There's a time to work out and a time to rest and beeping sounds to keep track of the time.
The physical therapists are also sharing written daily exercise challenges online, on PMC's Facebook page. These include a list of exercises geared more for people who are physically fit. They're shorter, more intensive workouts.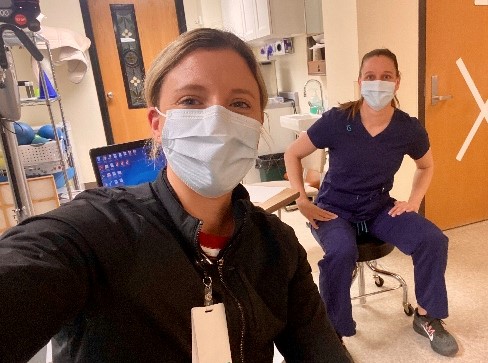 Besides encouraging fitness and prevention PMC's physical therapists are still working and seeing patients, although it's a bit different now. They have designated one person to see outpatients, one for home visits, and one for long term care or inpatients.
Therapist, Stacie McKinley says as much as possible they are doing Telehealth visits over the telephone and through video conferencing.
"We can still email home exercise programs to patients, watch them over the phone, we can watch them do it over zoom," McKinley said. "We can do a Telehealth visit. We have been seeing a lot of people that way and I do feel like it's going a lot better than I anticipated it going."
However, McKinley says the overall number of new patients has dropped in the department. She wants to encourage people to still get physical therapy if they need it.
"We are still open, we would love to have more patients that need us right now and I think people are just not going and getting referrals," McKinley said.
McKinley suggests patients set up phone calls with their doctors who can sometimes make a PT referral over the phone.
For others, they can tune into PMC's youtube channel and workout at home along with the therapists.
"That's the end of our workout today," Duross says at the end of one video. "We'll be posting more workouts so come join us for more 'Core-in-tine' Closet Workouts."
PMC's Occupational Therapist, Jessica Baker, is also still working. O.T. works on improving independence and promoting success with daily activities. Baker is offering consultative sessions for parents who might be having trouble with their children transitioning to online based schooling. Baker can help create strategies for behavior regulation, time management, and wellness.