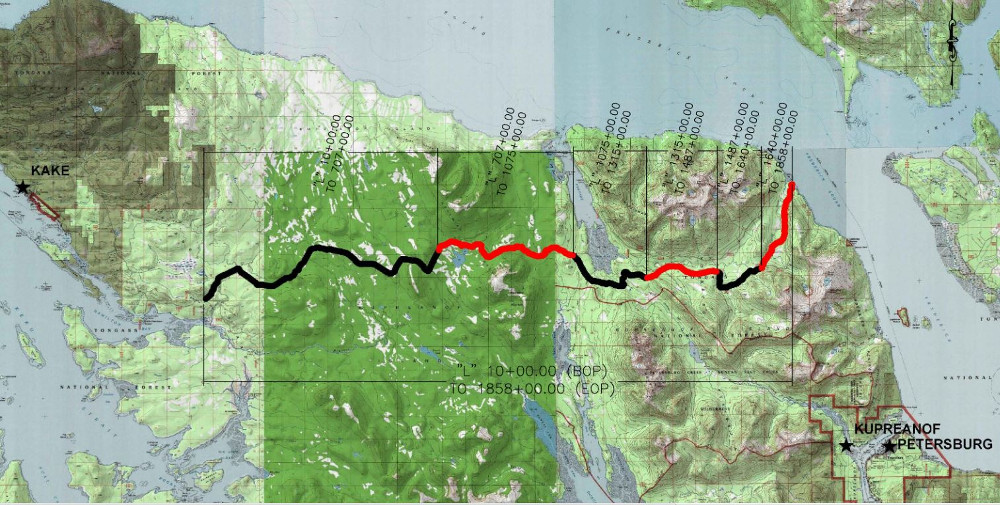 The state is continuing with plans to start up construction of a remote road project on Kupreanof Island in central Southeast Alaska near the community of Kake this summer.
The Alaska Department of Transportation plans to use a 40 million dollar state appropriation from 2012 for the project. It plans construction of 13 and a half miles of unpaved single-lane road through the Tongass National Forest between the communities of Kake and Petersburg.
The national construction and engineering company Kiewit has been hired as a consultant for the design phase and the state will negotiate with Kiewit on a price for construction.
Joe Kemp is the project manager for the DOT and said preparation work is expected to start in June or July.
"They have logging to do," he said. "So they'll have a sub(contractor) come in and log the right of way, the corridor that we're going to build the road in and then they'll get the logs out of there, they'll tune up some existing roads, they got a big man camp and everything associated with that to go in there and then the plan is hopefully to have the Corps permit sometime in August, barring no major hurdles that we have to go over that we can't see at this point. And then they can start building new roads."
The DOT is applying for permits with various state and federal agencies, including a wetlands fill permit with the U.S. Army Corps of Engineers. Kemp thinks Kiewit workers will be based at a camp in Portage Bay on northern Kupreanof.
"That is their plan at this point right now," Kemp said. "They have a section of road that they have to build between the logging roads that are coming out of Kake and the logging roads that exist around the Portage area. And once that's done they can have things barged right into Kake and their costs will go down quite a bit."
Kemp said the state has agreed to pay up to half a million dollars to Kiewit for the design consulting but he expects that work to cost below that amount. The price tag for construction will depend on negotiations between the state and the company and could be agreed upon in the next few weeks. Kemp also expects the project, as designed, will use the remainder of the 40 million dollars secured by state senator Bert Stedman of Sitka in 2012. That means there are no plans to extend the road closer to Petersburg, despite that hope from mayors in Petersburg and Kake.
""It hasn't even been talked about," he said. "It's not in our scope. I know Senator Stedman there has been interested in potentially doing that. I know there's the intertie project between Kake and Petersburg but at this point right the this project is solely just getting us to the other side of the island."
The project will create a road connection between Kake and a new boat ramp at Twelve Mile Creek, on the shoreline of Frederick Sound, twelve miles north of Petersburg. If construction does start in August it will continue into the fall hunting seasons. Kemp says workers will follow state plans for avoiding COVID-19 spread from out-of-state workers coming to build the road.
The road has been controversial in Kake and Petersburg and it's opposed by the nearby small city of Kupreanof.
(Editor's note: this story has been edited to make clear that the road will create a link from Kake to a new boat ramp at Twelve Mile Creek, but not to the Wrangell Narrows near Petersburg)