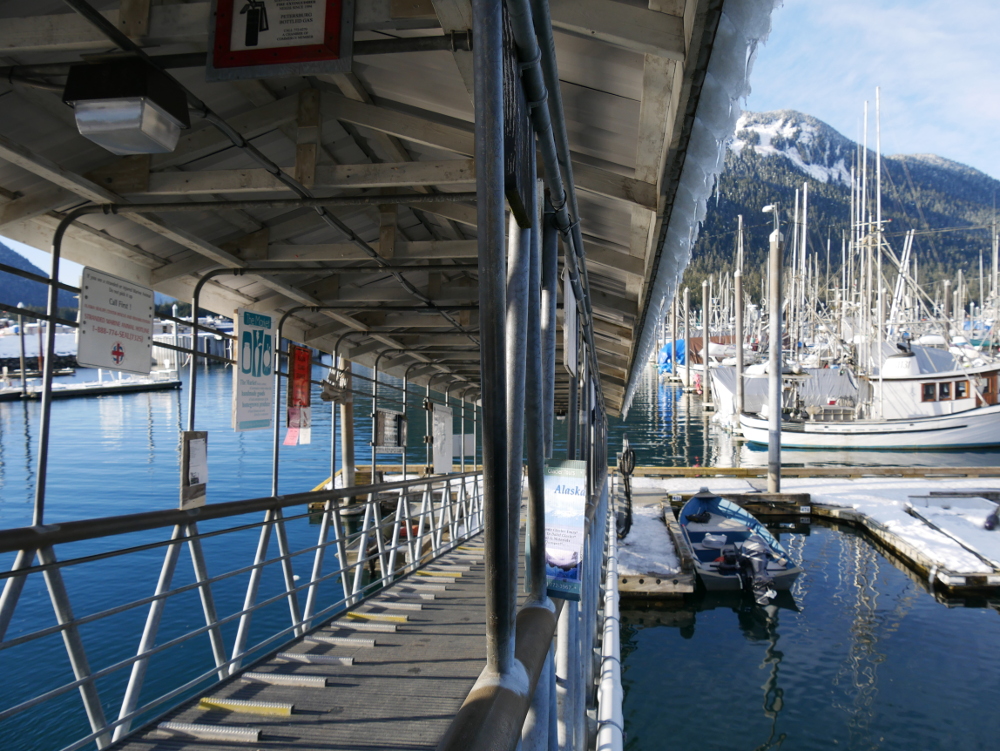 Petersburg's borough assembly Monday extended a local mandate for cruise ships expecting to dock in the community through the end of June. That mandate requires ships to check in with a borough health official before they're allowed to dock. One cruise ship company says it is planning to start sailings in about a month. But local leaders want to know more information about plans for limiting the spread of COVID-19 between passengers and the community.
Local health mandate number five requires approval by the borough's public health officer before a ship can tie up here. That would involve a finding by the borough that the passengers and crew present no hazard of transmitting COVID-19 to people in Petersburg. It applies to ships carrying over 25 passengers. It took effect April 20 but has not yet been put into practice, with no ships sailing in Southeast until this summer, if at all.
American Cruise Lines wants to start sailings June 20th to communities in Southeast Alaska with its ship the American Constellation. It doesn't have port calls in Canada, which has agreed to close its borders with the U.S. The ship also carries fewer than 250 people and isn't blocked from operating by the Centers for Disease Control's no sail order for larger ships. The company's Mike Olivo told the assembly they would be glad to talk to the borough about health and safety plans.
"Obviously we have the concerns of COVID-19 at the forefront of our operating process," Olivo said. "We'd like to be heard among the community so that we can demonstrate our commitment to providing a healthy and safe cruise for not only our guests and our crew but the communities that we visit."
Since the pandemic has hit, American Cruise Lines is the only company so far to reach out to the borough about plans to dock here. They've submitted a presentation to the borough outlining a commitment to cleaning ships, training crew and screening employees and guests. The cruise line says it's had no cases of COVID-19 onboard so far. It also plans to reduce capacity by 25 percent and dedicate rooms to isolation if there are positive cases onboard.
Some local residents and businesses are interested in seeing some type of cruise season with small ships. Viking Travel co-owner Dave Berg wanted to remind the assembly of the importance of the industry.
"Visitors are an important part of our economy and their presence in the summer allows many Petersburg businesses to be open all year to serve members of the community," Berg said.
But assembly members wanted more information from cruise companies before they dock here.
Jeff Meucci said he had questions about health and safety plans and how the company will operate here.
"For me I understand the importance of the visitor industry in Petersburg and I don't want to get the impression out there that I'm not supportive of the visitor industry," Meucci said. "I think right now, it's a little bit too soon to kind of throw the doors open and have 140-150 people kind of wandering down main street."
In response, Petersburg mayor Mark Jensen said Alaska Municipal League members have been meeting to try and get more answers but so far haven't.
"The group kind of put together 13 rough ideas that we would like to see addressed by the cruise industry in Southeast Alaska, these small cruise ships, all the way from who's responsible if you come to town, do you have a positive case on your ship, they have to disembark your ship? As a business, the cruise ship I'm talking about, are you responsible for getting that person to a facility that can handle them if they're sick? If there's transportation fees, would you be willing to cover that? And just, the only plan that I've seen in writing so far is the one from American Cruise Lines," Jensen said.
That company's ship also would stop in Ketchikan, Wrangell, Haines, Skagway and Juneau, and some of those communities are also questioning what's planned. Another assembly member Chelsea Tremblay wants to proceed with caution.
"I know it's hard for all the businesses that rely on visitors and the money that they spend to be imagining a summer without them but we need to be thinking about the overall health of the community and until we get that dialogue going, actually going, not just sporadic emails once a week or so, ongoing dialogue then I think we need to be proceeding with caution," Tremblay said.
Tremblay also took part in meetings with other municipalities and noted they too are concerned with a lack of information from the cruise company.
"Skagway, Wrangell, all the communities that were on the call today, were sharing the note of caution and also sharing the overall difficulty in communication with the company and so that to me was kind of a pretty big red flag for moving forward. If that doesn't change, I'd be really disappointed because we need it to," she said.
The vote was unanimous to extend the local mandate requiring pre-approval before docking. That's in effect through the end of June but could be extended beyond that.