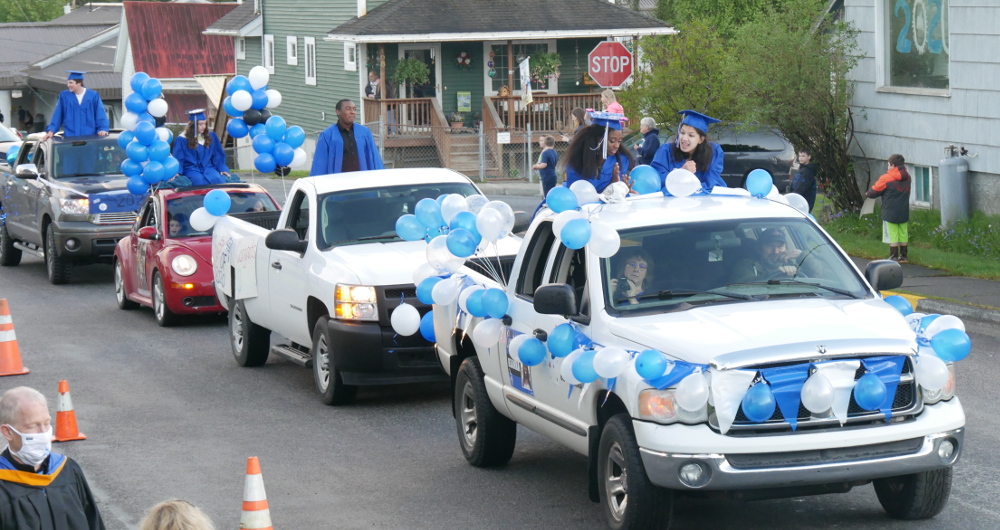 Petersburg High School celebrated the graduation of 36 seniors Tuesday with an online video ceremony and a vehicle parade. The graduates and those who honored the class of 2020 referenced the unusual end to the school year and the way this class persevered.
Seniors and their families drove through town Tuesday in a vehicle parade as community members cheered the graduates. The class of 2020 then received diplomas in a drive through set up at the high school entrance before heading up to the ballfields to watch their online graduation together. That was filmed ahead of time, but followed the script from past years, even if though this class finished their high school career with distance learning and a socially distanced commencement. Several of the speakers addressed the will to overcome adversity and the importance of hard work.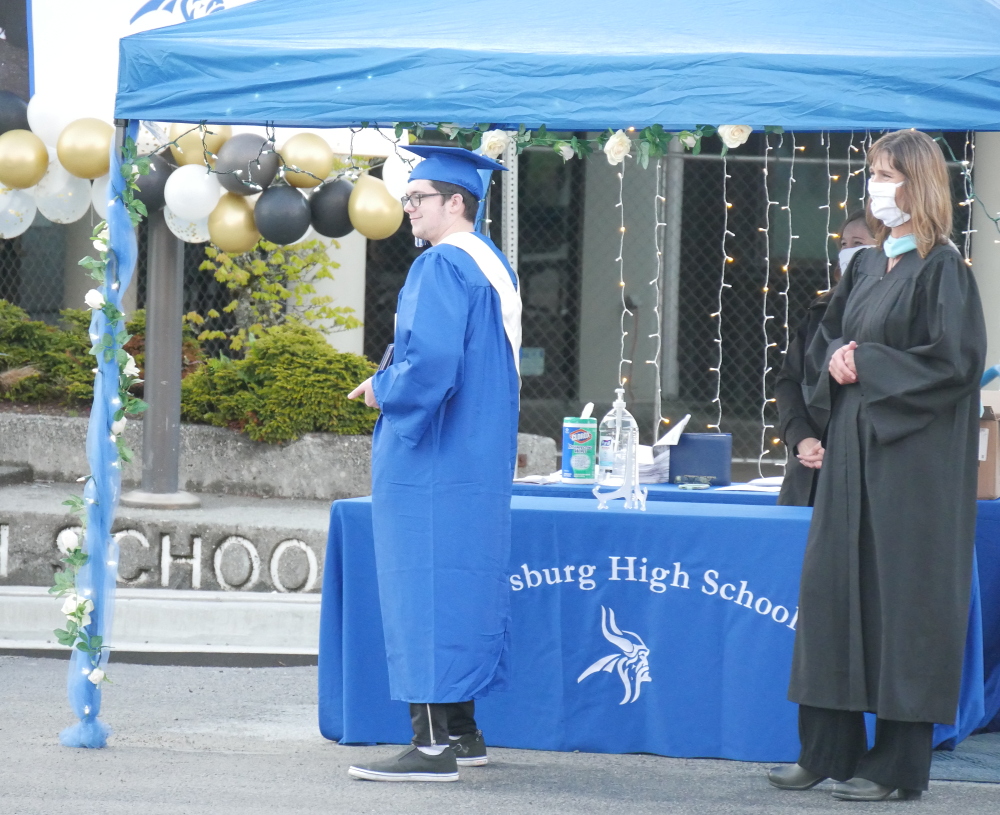 "A rag tag group of kindergartners show up for school one day and history seems to write itself," said Jack Byrer, class salutatorian. "We went along, overcoming every hardship that we faced and came out the other end with only a few scratches and bruises. But something weird happened in the end, however. In fourth quarter, with just a few seconds on the clock, we were flying high, ready to graduate and take on a whole new challenge but like Lucy Van Pelt to Charlie Brown, it seemed like our expectations were yanked out from underneath us at the last second. We didn't let that stop us. We got up and came together to make it all work."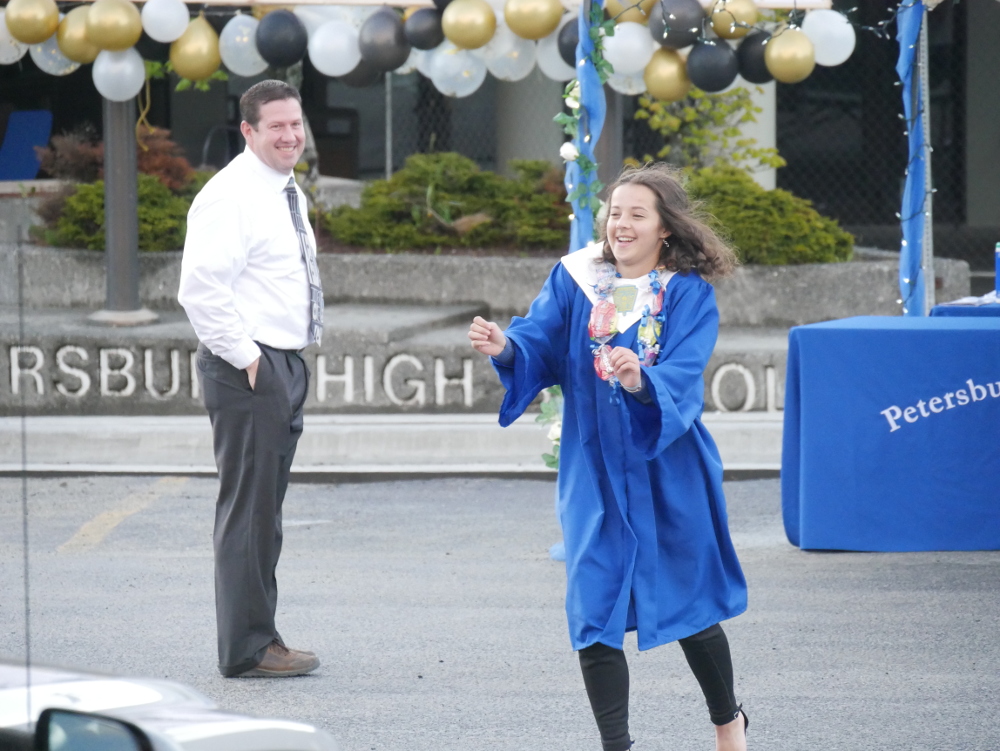 "Through COVID-19, I have realized that through the past four years, grades have consumed so much of my attention that I did not spend nearly enough time connecting with my friends and family," said Brynn Lister, class valedictorian. "I do not take the time to appreciate and enjoy the eternal gifts of nature that surround us. Let your goals drive you but let those goals drive you to what gives your life meaning."
The graduation speaker was English teacher Jill Lenhard. She drew on lessons from characters in some of the great works of literature from "To Kill A Mockingbird," to "MacBeth, to "The Odyssey." Among those lessons, Lenhard urged the graduates to surround themselves with people who will stick by them in difficult times.
"You have these people in your life already, parents, siblings, grandparents, aunts, uncles, cousins, friends and teachers, pastors, coaches, coworker," Lenhard said. "Find your people. Cultivate those relationships so that you have trusted advisors to turn to turn to when life gets tough. Because yes, life gets tough. And many of you know this already in really profound ways. Some of you are living with illnesses and accidents. Some of you have experienced deaths of loved ones. Some of you have walked through traumatic events with friends or difficult personal choices. To top it off, we're all also living through a strange tough time right now. Look at us. Distancing? Masking? Sheltering? These are all words and behaviors we didn't really use before March of 2020."
The class historians are Brooklyn Dormer and Madison Whitethorn. Jolyn Toyomura presented the class gift.
"Fishing is an integral component in our town's unique culture," Tomomura said. "Whether it be commercial or subsistence, the majority of us have taken part in fishing. We are fortunate to have numerous harbors and we are very appreciative for the hard workers behind the scenes that keep them running. In partnership with harbor master Glorianne Wollen, my classmates and I have decided to direct our remaining funds to the harbors."
The class is buying seven new carts to be used in the harbors.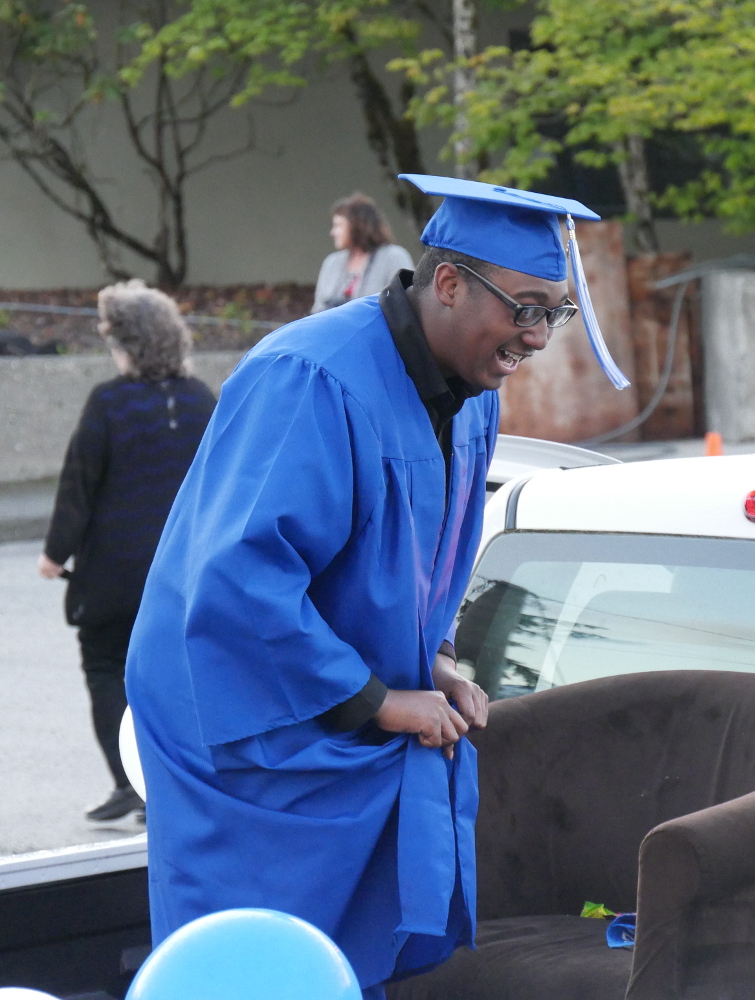 "Members of the board, the students assembled here tonight before you have successfully met the state of Alaska and the Petersburg School District educational requirements pursuant to receiving a high school diploma," said superintendent Erica Kludt-Painter, capping off the ceremony. "It is my honor to present to you, the class of 2020 for the conferring of their diplomas."
The night also finished with fireworks at the ballfields.