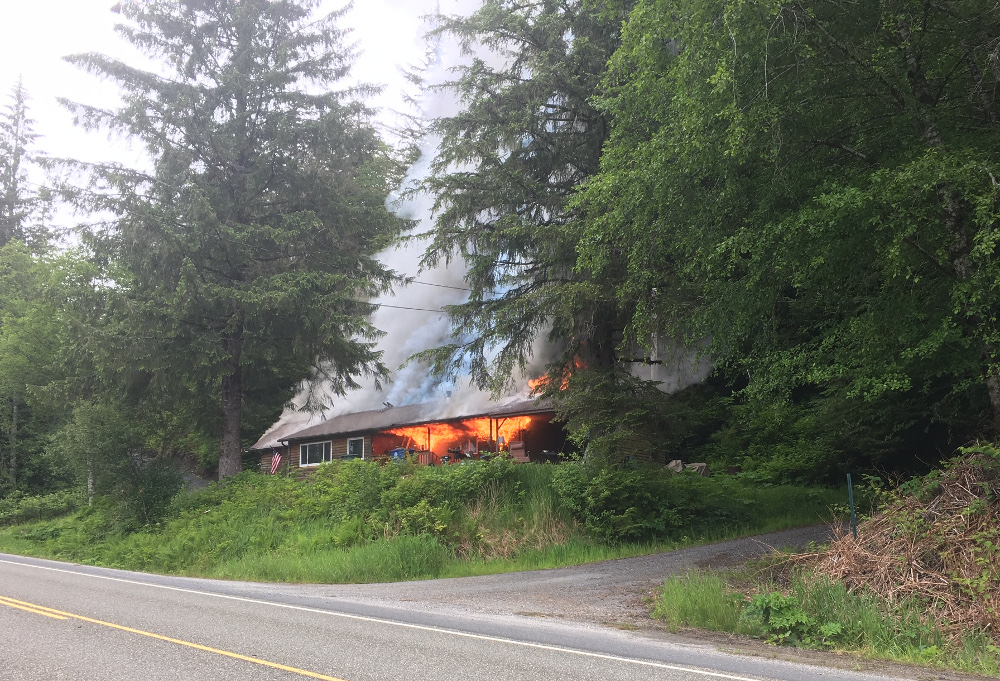 Firefighters battled a blaze in a trailer home about five miles south of downtown Petersburg Saturday morning.
The call came in just before 8 a.m. Saturday for a fire in a trailer home at 5.3 mile of Mitkof Highway.
Petersburg Volunteer Fire Department spokesman Dave Berg said one person was in the home at the time but was able to escape.
"There was fire showing already and there was heavy smoke coming out from underneath the snow roof that was built over the trailer," he said.
Berg noted the fire was spreading when volunteers arrived.
"The first engine responding laid two pre-connect hoses and the fire fighters involved extinguished the fire on the exterior of the building and then did an interior attack and extinguished the fire on the interior of the building," he explained. "There were some hot spots in the snow roof area, the area between the existing roof of the trailer structure and the top of the snow roof and that was a little more difficult to put out. We ended up cutting holes in the ends of the structure and deploying a hose line inside and also sending someone up inside the roof structure to extinguish the hot spots that were up there."
The home is beyond the borough's water system and hydrants. The department used a tanker truck and a porta-tank, a foldable small swimming pool that can be filled with water and used for fighting fires.
The cause of the blaze is still under investigation.
"The occupant reported there was a problem with the bathroom fan," Berg said. "That is being looked at but it definitely started in the bathroom area of the structure which was on one end. That's why we saw so much flame being emitted from the trailer in that section."
Berg thinks the home may be a total loss with extensive damage inside. The occupants did not have renters insurance and lost their possessions in the blaze. There's a gofundme page started for Tonia Whitethorn and Greg Richeson to help recoup their losses.