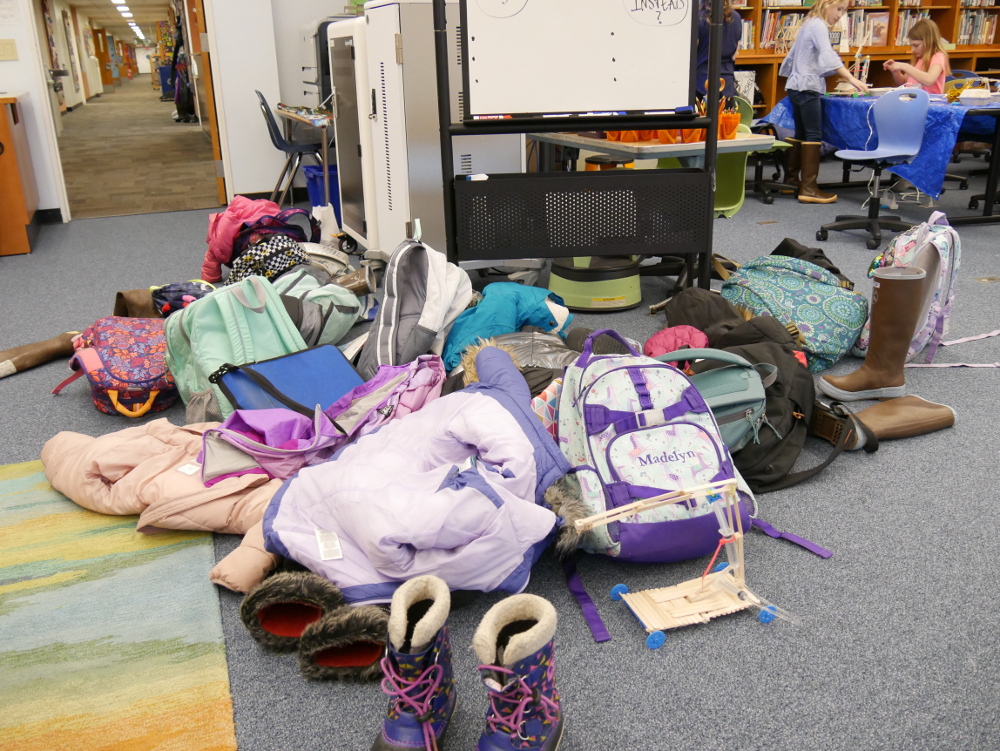 School officials in Petersburg hope to have some combination of online and in-classroom learning with the start of the new school year. The school district is preparing surveys for local parents about preferences for school safety and COVID-19 precautions. Officials are working under a new state framework for restrictions for classroom sessions and activities if there are additional cases in the community.
The state's framework uses a system of low, medium and high risk to describe conditions in a community, depending on the number of active cases and spread of the disease. It's similar to the green, yellow, red system now adopted by the medical center. And it could mean closures of classrooms and activities in times when case numbers are on the rise in Petersburg.
Superintendent Erica Kludt-Painter said decisions have not yet been made about the start of the school year in Petersburg. During a radio call in show she said the district is planning to survey local families about distance learning and in-person classroom time. Kludt-Painter said she's already heard a wide range of opinions on reopening.
"There are people who really believe we just need to put everybody back in the building and get going and as much as I'd love to just say we could do that, it's not that simple," Kludt-Painter said. "And then there's also some who are pretty much regardless of what we do they may keep their kids out of the building. So it kind of runs the whole gamut of that. Definitely be reaching out to stakeholders in our community. Definitely be working in partnership with our child care providers and preschools and even all our extraneous groups."
Local students may have an option to enroll in a distance learning program but still be enrolled through the Petersburg School District. Kludt-Painter said the goal is to have some combination of onsite and virtual learning with the bulk of it onsite.
"I think that's what I'm hearing from a lot of people is they just want to know what their options are and if they can have some flexibility within that, that seems to be very important," Kludt-Painter said. "And we obviously want that as well. We don't want people feeling uncomfortable. What we do know is, I'm 95 percent sure it will not look like a normal August, September start to school. I think we all know that. I think we're all coming to grips with that."
The state is recommending districts come up with plans for social distancing between students in the classroom and school bus, cleaning facilities and daily health checks if possible.
Kludt-Painter also highlighted the importance of masking and social distancing to keep the community in the low risk category.
"The better that we do at that, to be honest, the more our risk decreases as a community and the more open things can b," she said. "So that's the best way that I can put it, I think. What happens in our community is reflected in our school. That's the message that we're getting from the state. If we're low risk as a community, that's a good thing for the school. It means we're going to have a little more flexibility."
During that radio call in board president Sarah Holmgrain said she's reluctant to make decisions too soon. She has a child in the district's summer reading program.
"Going through even that process of you know, very few kids, keeping them separate, taking their temperature, using hand sanitizer, wearing a mask unless they're outside and separated from each other and it seems to be going rather smoothly," Holmgrain said. "So that's kind of in some ways, the summer program is a testing ground for what may or may not be necessary in the fall."
Administrators discussed the approach for reopening schools in the fall during this week's board meeting.
One concern in the community is the loss of child care space because of COVID closures and restrictions. Elementary principal Heather Conn reported to the board that the school is looking into finding a space for local day care providers. Conn noted that safety is a concern for kids age five through 12 left home alone as parents go to work and day care providers have limited space.
Board member Katie Holmlund is also a teacher a Good Beginnings preschool and a co-director of an after-school program, Kinder Skog. She asked about a time frame for the district to make its decisions.
"I know there's so many unknowns, so it's a silly question in some ways but it would be nice to have time to think of a way where we can not be over stepping each other and being able to make sure kids are in quality programs if families want that service," Holmlund said.
Kludt-Painter agreed decisions need to happen as soon as possible to allow teachers and parents to prepare. She also talked about forming a stakeholder committee to help in that discussion.
The board also heard about the district's approach for the return of school activities and sports. Activities director Jaime Cabral said outdoor programs could be allowed to start as soon as July 13th. But he also outlined social distancing, hygiene and screening measures that will be in place for sports and activities, also using a green, yellow and red system.
"Even though we might be in the green as a community, our activities will start in the yellow in order for our coaches to know what it's like to be in the yellow, just in case we float back there," Cabral said. "So we may evolve into green later on down the road but if we ever have to go back to yellow, we know what, the coaches will know what to do, the kids will know the protocols. And if we're ever in red that means we're completely shutting down."
Depending on the level of community risk, sports and other activities could have temperature checks for coaches, students and spectators before people enter a building and regular cleaning for indoor spaces. Measures for travel and housing are still to be determined. And coaches will be adding COVID-19 training to their preparation.
The board did not make any decisions about the start of next school year. The board normally does not meet in July but could this summer if needed.