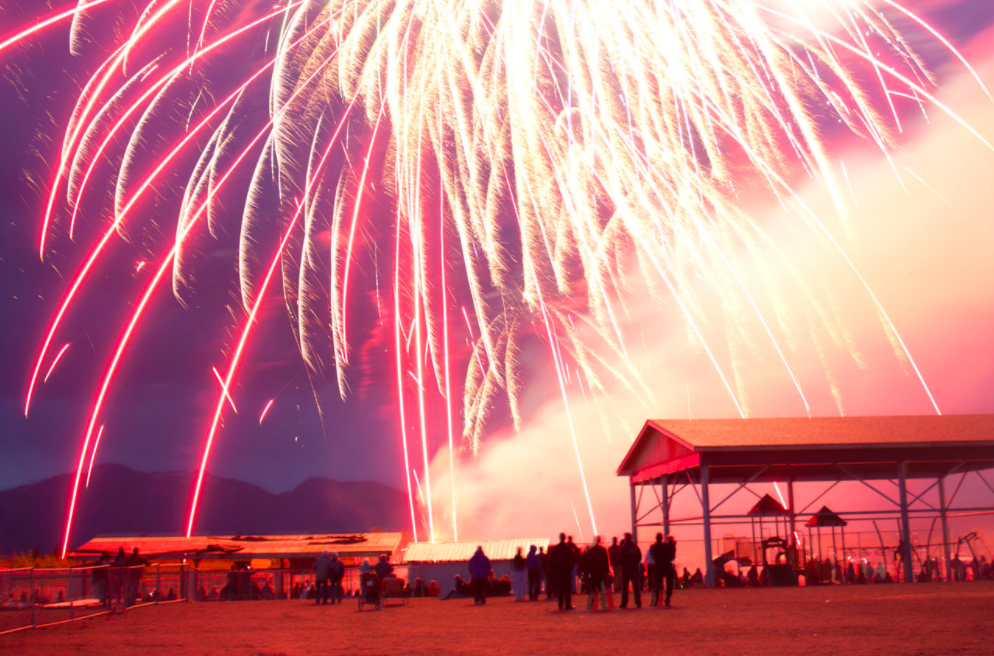 Fourth of July is 2 weeks away, and plans are coming together for a celebration in Petersburg, with controls for coronavirus as a top priority. Organizers say the holiday will be different, but want to honor the community tradition. The two-day celebration will include a day of virtual 4th of July events, a running race, a car parade, and a fireworks show.
Fourth of July plans are still being finalized, but organizers say Petersburg will be celebrating the holiday with an emphasis on health, and preventing any spread of COVID-19.
"It's going to be different than what we're used to every other year," says Stephanie Payne, with the borough's Parks and Recreation Department, which is organizing the events along with the Lighthouse Assembly of God Church. "But at least we're doing something to acknowledge it," she said. "To have some fun, have some kid activities to do. We have to at least try."
This year's theme is "Staying Strong Together." Payne says it's about promoting family unity this holiday: "Allowing people to spend more time with their family. Getting out and about, and just staying strong. We have a long way to go, it appears, from what I'm hearing on the news. And we gotta stick together, make sure everybody's safe."
The celebration will kick off on Friday, July 3rd with virtual games and competitions live online, for kids and adults to do at home. Organizers will ask participants to send in photos and video of their 4th of July celebrations and scores to share on the Parks and Rec Facebook page. The full list of events is still being finalized and awaiting the approval of health officials.
The borough is not planning to hold events with large crowds downtown, such as the main street and middle harbor games, due to COVID-19 concerns. 
On Saturday morning, July 4th there will be a 3k or 7k foot race, known as the Freedom Run. Participants in the race will be asked to wear a mask when passing. Everyone, including spectators are asked to keep at least a 6 foot distance from others.
Food and product vendors explored many options for operating booths during the 4th of July weekend, according to Dave Kensinger, the Vice President of the Petersburg Chamber of Commerce. But they ultimately decided they could not do things safely. Kensinger says Chamber members felt they did not have enough resources to make sure masks, social distancing requirements and hand wash stations would be in place. And he hopes the community understands. "I'll just say on behalf of most of the businesses that I've talked to, you know, everybody understands what's going on now, and is very appreciative of the work that the EOC (Emergency Operations Center) has done."
Businesses will be making their own decisions on open hours, takeout and other holiday offerings.
Saturday after the race, there will be an Independence Day car parade, similar to the high school graduation. Payne says that will also be live-streamed for people at home. "So that no one has to leave home if they're not comfortable. We certainly don't want people not to be able to see it because they don't want to leave or they don't have the ability to leave." She says organizers want to make all events as inclusive as possible. "We want to get them streamed live so that everybody can see it, see all their friends and family doing these events, and having fun."
The fireworks show will take place on Friday July 3rd at 11pm, across 2 of the ball fields – so that there will be plenty of space to stay safely away from any flames and avoid crowding. The display will be as spectacular as ever, says Petersburg Volunteer Fire Department spokesman and pyrotechnician Dave Berg. 
"We will feature some chimeras, that we've done before, those gigantic Hollywood style fire balls. Always a crowd pleaser," Berg promised. "We have a couple of different sound effects that we'll be using this year. So yeah, it tends to be a pretty good show."
Berg and a team of volunteers will be setting up the fireworks display at the ball fields starting Wednesday July 1st. He's also looking for volunteers to help with the cleanup the day after, so there are no hazards. "No shells that have gone out of a mortar up in the air and then fallen back to earth unexploded," he said. "Those are hazards we have to look for."
A full schedule, sign up for the race, and more information on the borough's 4th of July events will be posted on the Petersburg Parks and Rec Facebook page in the coming weeks.
Photos of Petersburg's 4th of July celebrations in 2019, by Joe Viecknicki for KFSK.