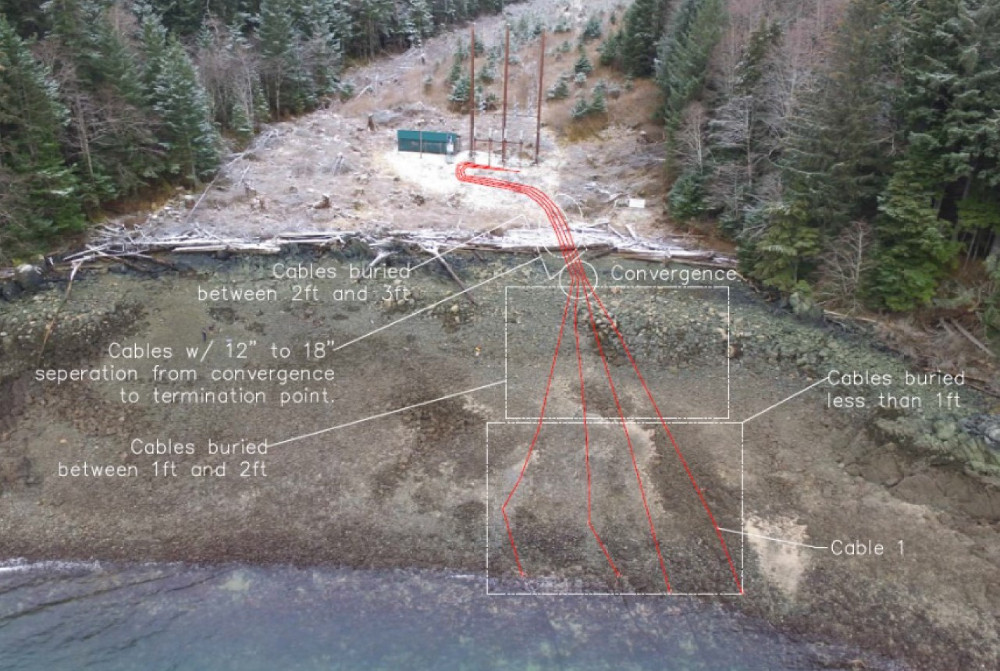 A wholesale electric power provider in Southeast Alaska is negotiating with a company for replacement of a submarine transmission cable that failed last year between Petersburg and Wrangell.
The Southeast Alaska Power Agency (SEAPA) provides hydroelectricity to Petersburg, Wrangell and Ketchikan. A SEAPA transmission line failed last September at a spot in the Stikine Strait two thousand feet off the shoreline of Woronkofski Island.
Bob Lynn is a Petersburg borough assembly member and is chairman of the SEAPA board. He told the Petersburg assembly Wednesday that three companies submitted bids in June. The board has voted to award the project to Japanese company Sumitomo. Lynn said the price tag is expected to be between nine million and 11 million dollars.
"We could pay for that based on some money we have saved and some transfers but one of the things the board is really concerned about is having money available for another emergency like this," Lynn explained. "So I think what we're going to do is we've asked the staff to go back and take a look to see what we can do in terms of bonding and using some financing and so forth. We still do not know what we're going to get from the insurance. We won't know that until that cable's pulled off the bottom and you can see what caused the problem to begin with. So long and short of it is we'll have to pay up front and then we'll get some reimbursement on it."
The power agency still hopes the cable can be replaced before this winter. However, he noted the replacement cable still has to be manufactured and tested before it can be installed.
SEAPA has back up transmission lines that have allowed power to continue to flow to Petersburg. However, if another cable fails before this one is replaced, Petersburg would be forced to rely on one smaller local hydro project and backup diesel generators.
In related news, the assembly approved spending over 82,000 dollars for a Seattle company, Marine Systems Incorporated, to work on one of the community's older diesel generators.
Utility director Karl Hagerman was asked why local diesel mechanics could not do the work. He responded that this company is the only service and parts provider in this part of the country for the manufacturer of that engine.
"No disrespect to the two diesel shops that are in Petersburg but this is a different…It's a diesel engine but it's the size of an RV and it's very important for the work to be done correctly and that we have a very good warranty for that work, so that we can make sure that it performs when it needs to," Hagerman said.
The assembly approved spending that money without going out for a competitive bidding process. The borough is hoping that work will happen before an annual hydro shutdown for maintenance work in September.