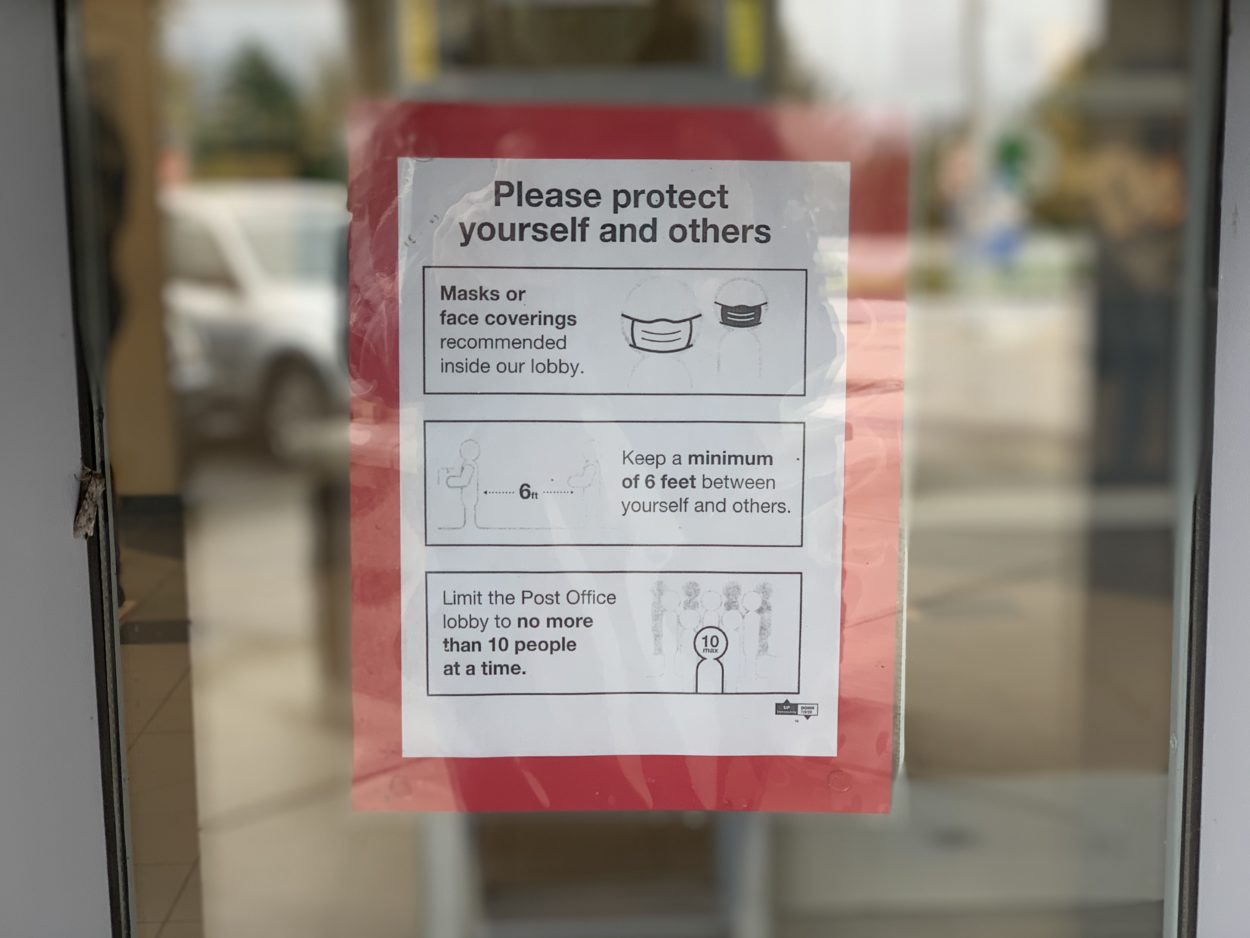 The Petersburg Emergency Operations Center has come out with new safety guidelines for people using the Post Office. They're asking residents to use an alternating schedule and use an outdoor line when they're there. KFSK's Angela Denning reports:
It's no secret there is overcrowding at the Petersburg Post Office these days. The line for packages goes through the building and out the back door on any given afternoon. That's because the post office has limited pick up times to just two hours a day, between 2 and 4 p.m.
During a time when people are supposed to be staying six feet apart, it's a health risk.
"It is definitely a problem to have that many people congregated in an enclosed space," said Karl Hagerman, Petersburg's Incident Commander, speaking at a borough assembly meeting Monday. "We definitely feel for the post master and her staff of one right now."
The current congestion stems from short staffing and a backlog of mail, according to statements made by the postal service. There are just two workers on the job when normally there are four. The postal service hasn't found fill-in workers because of the pandemic, a spokesperson said.
That leaves local customers in a tough situation trying to follow state health recommendations to social distance. There is no masking mandate in Petersburg however wearing facial coverings inside public places is recommended by local, state, and federal health officials.
The EOC is asking people to wear masks at the post office and stand six feet apart. They are also asking the public to wait in line outside of the building instead of running the line indoors. This will provide more air circulation while people are waiting sometimes close to an hour for their packages.
The EOC is also asking the public to use the post office on an alternating schedule. People with odd number boxes pick up mail Mondays, Wednesdays, and Fridays. Those with even number boxes pick up mail Tuesdays, Thursdays, and Saturdays. Essential items like medications should be picked up as needed.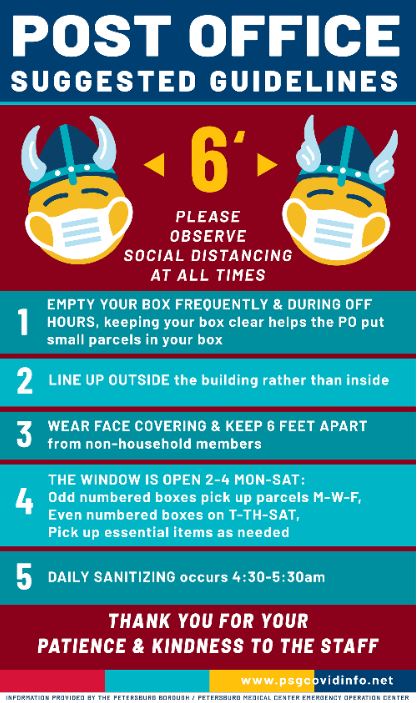 EOC has shared these new guidelines online over social media but there are no signs about it posted at the post office itself. As of Tuesday afternoon, people were still waiting in line inside throughout the building.
Hagerman says if people do follow the guidelines, it should help alleviate some health risks and make it easier for people to get their mail.
"Hopefully, that will allay some concerns from the public and we'll be able to support our post office until they get some additional help, which hopefully will be the middle of this month," Hagerman said.
The public is encouraged to still get their mail. Not picking it up creates even more of a backlog for the postal workers to deal with. The building is open 24 hours a day, seven days a week for accessing boxes.