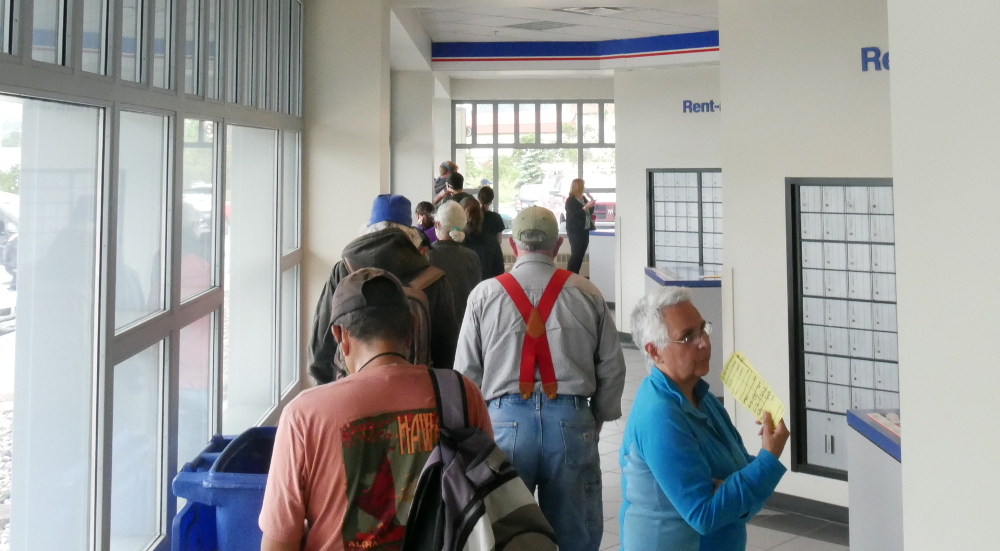 Understaffing and a heavy volume of mail have created long wait times during reduced hours at Petersburg's Post Office this month. Customers report waiting in line, doing their best to social distance, for up to 45 minutes inside the facility. A post office spokesman said relief is coming but not until later this summer.
Service at the counter has been reduced to just two hours a day, from 2-4 in the afternoon. Shortly after 2 on Thursday, July 23rd, the line reaches from the counter to the far side of the building. Martha Smith was near the back of that line and had been waiting for 15 minutes.
"I came to the post office a couple other times this week and saw the long line and didn't have the option of seeing," Smith said. "So yeah, I'm here today. Even though it seems counter-intuitive if we're being asked to socially distance that we have this huge assembly of people standing in line waiting for service."
Further up the line, Angele Jones and her husband Michael have been waiting for about 20 minutes.
"We're kind of waiting for boxes from Anchorage and we don't want to get them sent back and have to deal with that," she said. "I just feel really bad for the person who has to do this by themselves and just hope that they get help soon because I'm sure they're at their wits end."
Mail is delivered to post office boxes at this facility, there's no home delivery here. And customers have to get packages over the counter.
Petersburg's post master referred questions to a postal service spokesperson. That's James Boxrud. He said the facility is normally staffed by four, a post master and three employees.
"Over the last month we had one of those employees retire, another one of the employees resign and then the third employee actually has been out on leave," Boxrud said. "So we're definitely short staffed there and that's been part of why we've had the shorter hours."
The postal service normally would fly someone in from another community to help. But during the pandemic it's been hard to find someone willing to travel.
"We do have a couple people in the works," Boxrud said. "They're current postal employees that are transferring from their home office where they're at now to the Petersburg Post Office. But to be honest with you. It's going to be a few more weeks until they get there, probably about the middle of August by the time all the paper work's done and they secure the moving information you know whatever they have to do to be able to move."
Another person has also been hired but likely won't be on the job until early-September.
"We'd like to apologize to our customers and appreciate their patience," Boxrud said. "We're doing what we can to try to get that post master some relief up there so we can be open up for longer hours during the day. We realize that it's been tough. Through this whole COVID thing, one of the things we're seeing in the Petersburg area is an increase of parcel volume, you know people are ordering more online. I know the PFDs came out early. People got their stimulus checks so there's a lot of online shopping and we're seeing parcel volume close to the Christmas volume, volumes. So it's definitely made for some really hard work for that post master up there trying to keep it all together."
Wait times can be better closer to the end of the two hour counter times. Postage can be purchased online. Local residents have also taken to social media for solutions to lessen the crowding. Reinforcements are expected in the middle of August and early September.