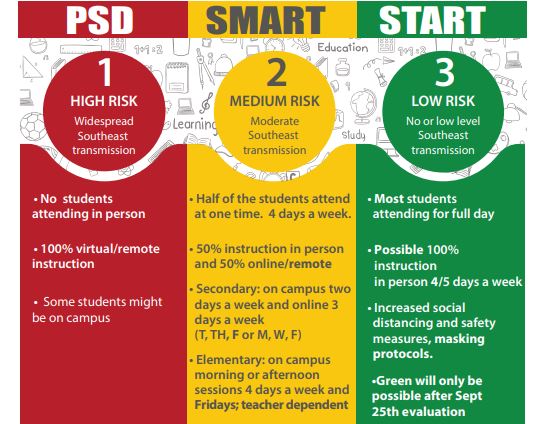 Petersburg School Board is holding a special meeting Thursday at 6 p.m. to approve a preliminary plan for starting school and a revised school calendar, as well as to accept CARES Act funding from the borough. KFSK's Angela Denning reports:
The State is requiring all school districts to come up with detailed Smart Start plans for opening their schools this fall. Petersburg's proposed plan is 34 pages long and includes detailed safety protocols that will be required for different age groups. That includes masking for most students and staff, distancing, and symptom free buildings.
The details change according to whether the schools are operating under a low, medium, or high risk status.
The low and medium risk health and safety protocols look similar on campus with both scenarios requiring a symptom free school. That prohibits students and staff with even the mildest symptoms such as runny or stuffy noses. Students and staff would be screened at school and have temperature checks. Both low and medium levels require masking for most staff and students and extra cleaning in the buildings.
The big difference between low and medium status is that students would be on campus full time in a low risk scenario. With medium risk, students would alternate schedules with on campus learning and remote online learning.
At high risk status, there would be remote learning only and no students would be attending school on campus.
As for what specifically defines low, medium, and high risk levels, the State gives general guidance but leaves it up to the school district to decide when the status changes. According to the plan, a low risk status would be zero to low levels of transmission in Southeast Alaska, medium risk would be moderate transmission in the region, and high risk would be widespread transmission. There are no specific numbers of COVID cases associated with the status levels. According to Superintendent Erica Kludt-Painter, the status changes are fluid and the district will be working with public health officials and local leadership when making those decisions.
The district intends to start school under a medium risk status working towards low risk if things go well. According to the plan, a low risk status won't be available until September 25 at the earliest. At the start of school, elementary students will be eating lunches in their classrooms. P.E. classes will be held but with no contact activities. Recess will be staggered to reduce the number of students on the playground and physical distancing will be encouraged. School visitors, including parents, will be limited to the entrance or office area.
Starting off, elementary students will be on site in a morning-afternoon alternating schedule Monday through Thursday with Fridays off. Similarly, the Middle School and High School will be alternating in person and distance learning Monday through Thursday but Fridays would be all online.
There are protocols for the district's special needs students being considered including the possibility of Fridays being open only to them at the elementary school.
If someone attending school is diagnosed with COVID-19 then the building may close for two to five days for cleaning. There would also be required 14-day quarantines for contacts of the infected person.
The district is proposing an adjusted school calendar, which delays the start of school by a week, starting August 31, and includes more teacher in-service days. The holiday breaks look the same as does the last day of school on May 27.
The school board is expected to accept $778,000 from the Petersburg Borough in CARES Act funding. The money will be used to hire more staff to implement the safety protocols and keep students in smaller groups.
Superintendent Erica Kludt-Painter, in a letter to parents, students, and staff, said that it's important to understand that the district's COVID plan will continue to evolve over the coming weeks and months.
The school board meeting starts at 6 p.m. and is open to the public over Ring Central video conferencing. To participate, email to get the password before the meeting to exec@pcsd.us or supt@pcsd.us. Or call in by phone: 1-623-404-9000 and use the meeting ID: 327 043 0753. You can also email comments to any school board member. You can find links to this information on our website KFSK.org.