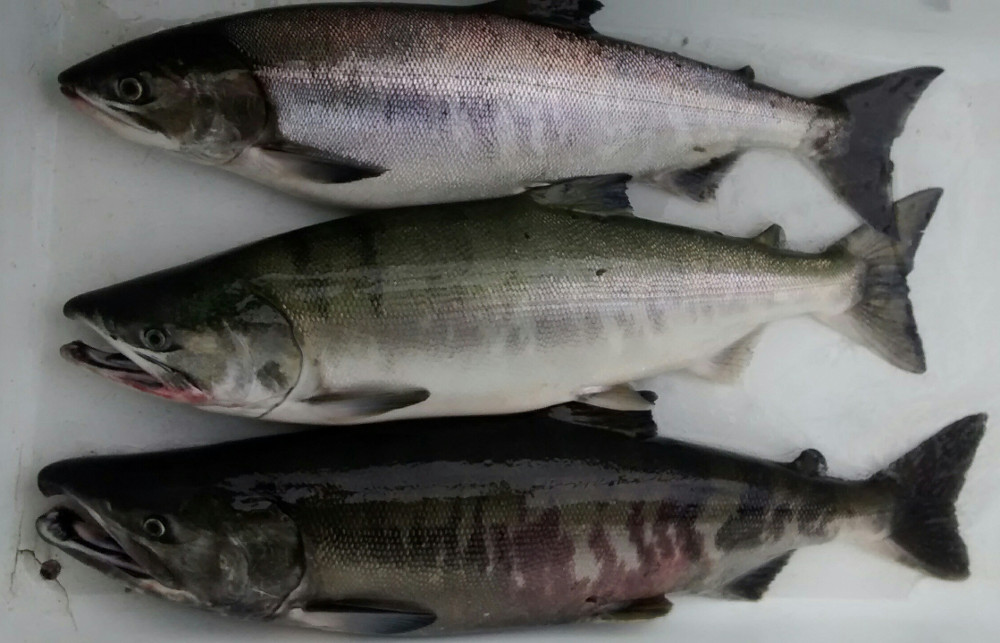 It's been a woeful year for hatchery chum salmon returns in Southeast Alaska. Hatchery managers are taking unusual steps just to ensure they're able to collect enough eggs for future generations. It's a far cry from the bumper crop that has bolstered commercial salmon catches in the region for many years.
In Southeast chum salmon returns are mostly enhanced hatchery fish. Those salmon normally are an early and late season boon to commercial fishing fleets and help take pressure off wild stock pink salmon. But not this year.
"We've seen less than 50 percent of our already poor forecast of chum salmon and we're definitely over the hump of the return right now," said Katie Harms, executive director of Douglas Island Pink and Chum or DIPAC, based in Juneau. We came in under a million dollars in our cost recovery for chum salmon which is much lower than we need for operational goals and I know the fishermen are hurting as well in all the return areas for DIPAC."
That cost recovery fishing normally helps the hatchery organization pay its bills.
Harms reports DIPAC's weak return has a higher-than-normal percentage of three-year-old fish. They're also smaller than dog salmon from other years. DIPAC has been concerned about collecting enough brood stock fish for egg takes to produce the next generation. They asked state fishery managers to restrict areas for commercial and sport fishing.
"And we actually did move adult salmon from our cost recovery harvest area, Amalga Harbor, up the channel, moved live brood fish and moved just under 30,000 fish to try to help with our needs and at this time it looks like we are going to be very close to making our egg take goals," Harms said. "So I think all those actions really helped to get where we need to be."
DIPAC's pre-season forecast was 1.6 million for all its sites combined. Actual returns likely won't hit half that amount. Harms expect to finish around 700,000 fish.
DIPAC's not the only organization to move returning adult fish to make egg take goals. The Sitka-based Northern Southeast Regional Aquaculture Association, or NSRAA, has moved about 20,000 from Southeast Cove near Kake to the Hidden Falls Hatchery on Baranof Island closer to Sitka.
"We caught those with a seine, rolled them into a net pen and then pumped them out of the net pen into a tender, added oxygen, and continually recirculated and pumped on salt water and transported them from there to Hidden Falls and pumped them back out over the barrier net at Hidden Falls," explained Scott Wagner, NSRAA's general manager.
NSRAA has a goal of 190 million eggs for Hidden Falls. By the end of July they'd only topped 50 percent of that. Wagner calls returns terrible, the worst since hatchery production began. NSRAA was forecasting nearly four million chums to return this summer and fall, but by the end of July combined returns neared only half a million fish.
Combined the region's hatcheries release hundreds of millions of juvenile chums each year, but they have not returned to spawn this year. And it's not limited to Southeast Alaska – chum returns are poor statewide. Wagner and others suspect the cause of the problem is outside of Alaskan waters.
"If it was just affecting a certain site, or producer, or area, but when it's from one end of the state to the other and every location, it's got to be something out in the giant Gulf of Alaska," Wagner said.
Further south, Tessa Frost is research and evaluation manager for the Ketchikan-based Southern Southeast Regional Aquaculture Association, or SSRAA. She said it's been a challenging year.
"You know we had some poor returns last year and we were optimistic that we were going to turn it around this year," Frost said. "However that did not happen. We're just seeing a very poor return of the 2016 brood year, which would be the four-year-old fish."
This year SSRAA forecast one point four million total forecast for summer chum. So far they've only seen about 30 percent of the portion of that that was expected to be caught by fishing fleets. The number of three-year-old fish is high this year which could signal a better return a year from now. But by the end of July SSRAA reported around one quarter of the goal of over 200 million eggs. Low returns have also meant some areas closed to fishing on the south end to allow for cost recovery catches.
Like others, Frost speculated that warming oceans are having an impact.
"So whatever relationship it is out there between food availability and water temperature, predation, but yeah all those factors coming together is I think creating poor survival, especially during specific years," she said.
The 2020 region-wide harvest had just passed one million chums by early August. To put that in perspective, a million fish in recent years is more typically the return for one single hatchery site. Seiners caught around a million chums in a one-day opening in Crawfish Inlet south of Sitka two years ago – a season-saving event which managers don't expect again this year.
Last year the total commercial catch in Southeast was nearly six million chum worth around 24 million dollars at the docks.