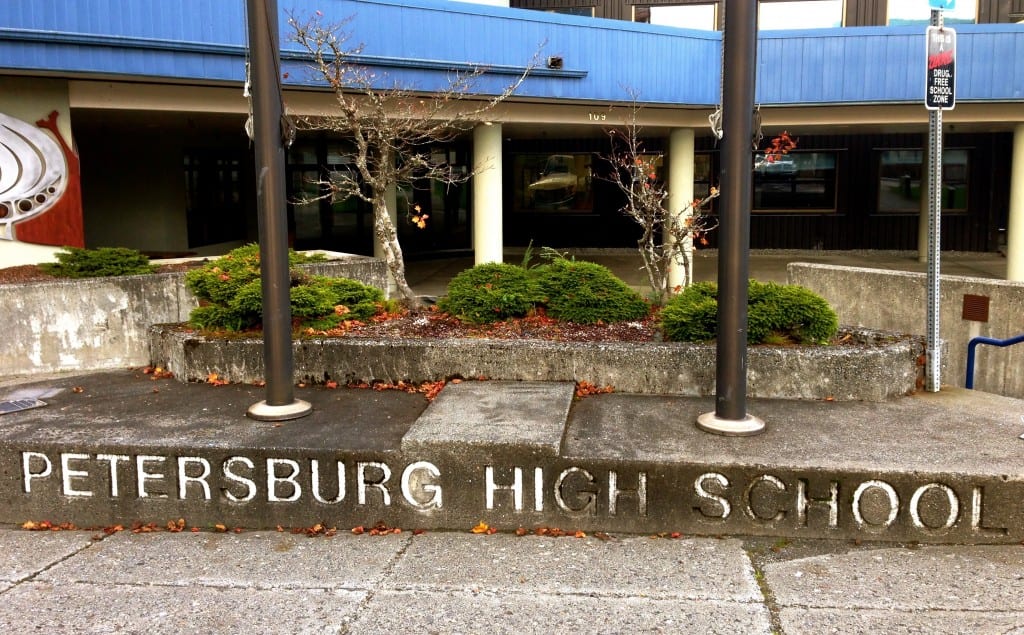 School starts in Petersburg next week (Aug. 31) with part in-person instruction and part distance learning. As KFSK's Angela Denning reports, older students are receiving computers this week and teachers are also preparing for the new year:
Teachers and aides came back to work last week in order to prepare for a different kind of school year. There will be COVID-19 prevention measures in place with requirements like social distancing and face coverings. However, Superintendent, Erica Kludt-Painter says there is still the usual start-of-school excitement in the air.
"The halls are buzzing and people are happy to be back and happy to see each other," she said. "Lots of masks and trying to follow all the protocols we need to do but it's been really good energy; really fun."
Since part of schooling will start out on computers for the middle and high schools, they are getting their laptops this week.
Seniors and juniors were able to get laptops Monday.
On Tuesday, freshman and sophomores can come to the school to pick up their laptops between 8 a.m. and 3 p.m. and fill out paperwork. They will also have a Ring Central Zoom virtual presentation about the computers Tuesday at 6 p.m.
On Wednesday, 7th and 8th graders will be able to come into the school and pick up their Chrome Books. Their Ring Central Zoom meeting will be 6 p.m. Wednesday.
On Thursday, the 6th graders can come into the building and get their computers and meet with their teachers. Superintendent Erica Kludt-Painter says those students will have time to check out the new space.
"Sixth graders are going to actually be able to come up and come into the building and get their devices and meet the new teachers because it's a big shift for them coming in," Kludt-Painter said. "So, there will be more details for 6th grade families."
Thursday at 6 p.m. will be the virtual presentation for the 6th grade laptop roll-out.
Stedman Elementary School students received their class listing last week. Most grades have three teachers instead of just two. Several new staff were hired in order to create smaller class groups or pods so that students can be taught in-person.
In general, Kludt-Painter says that parents shouldn't worry if they haven't heard from the school yet. Individual teachers will be contacting families with class details this week.
As for the rules for maintaining symptom free buildings on campus, the schools will be asking parents of younger children to do screenings every morning. Staff will follow with temperature checks at school. Staff has been doing their own screenings at home and the district might ask the older students to do the same but they are still working out those details.
If students do have symptoms, Kludt-Painter says the schools will encourage families to contact the Petersburg Medical Center.
"It becomes more of a medical conversation," she said. "So, if somebody has really obvious symptoms we would ask parents to come get them and then they would go through that next step."
The Petersburg Medical Center wants to check on everyone with symptoms.
"We just want a call for every symptom that's unusual," said Liz Bacom, PMC's Infection Prevention/Quality Manager. "It's always worthwhile calling the hotline and just going through those symptoms with the nurse so that they can make a referral to the physician and find out if there is a test is needed or not."
According to patient confidentiality laws, PMC cannot give the schools individual test results. Kludt-Painter says they are asking families to communicate with the schools about students' symptoms and testing so the schools can do contact tracing if needed. She says they will be protecting students' identities.
The schools are also collecting information on students who might be having chronic allergy symptoms or asthma so that is considered as well.
The phone number for PMC's Covid hotline is 772-5788.