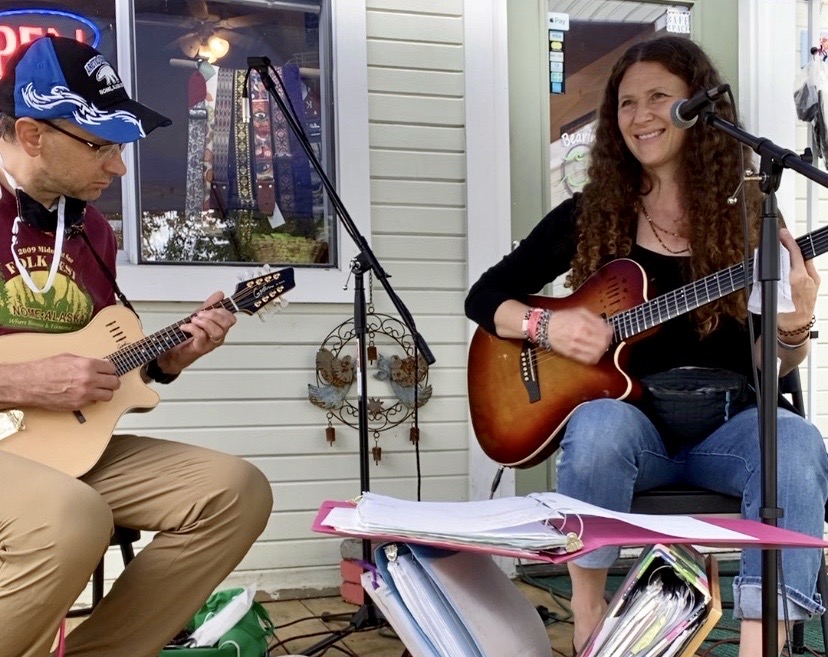 Local Petersburg musicians will be performing outside on porches this Saturday evening as part of the Rain Forest Festival. Festival organizers and the Petersburg Arts Council came together to create an opportunity for musicians to play in front of an audience in a socially responsible way. KFSK's Angela Denning reports:
Indoor music shows in Petersburg have been put on hold for months now because of the Covid-19 pandemic.
Sarah Hanson-Hofstetter, a singer songwriter with the Petersburg Arts Council, says they started forming the idea of Musical Houses early in the summer.
"We're in the position where a lot of things have been canceled," she said. "And this is happening all over the country and all over the world."
The arts council had to get creative to find a way to have a concert but at the same time follow health protocols like social distancing. Musical Houses will have local musicians performing short 5 to 10 minute sets outdoors at different locations within walking distance from each other. Between sets, the performers will stay put while the audience–in separate groups–will walk from place to place. The event is taking place at locations on Lumber Street and South Nordic Drive.
The audience will move from house to house in groups or pods.
"The idea with pods with audience members is that those pods are people who are, say in a family, and they all share their social bubble and they go [from] one music to the next music [performance]," Hanson-Hofsetter said.
Each pod is limited to about 20 people moving together. The pods will consist of smaller social bubbles that are distancing themselves from people outside of their bubble. Hanson-Hofsetter explains it this way.
"So say there's three social bubbles in a pod, and that pod would move with those three social bubbles from one location to the next," Hanson-Hofstetter said. "But we're not cuddling, we're just an audience that moves."
There are other health protocols as part of the event, which were approved by the borough's Emergency Operations Center. For example, organizers are requiring the audience to stay distanced from the performers.
"When people register they will see that we are to stay 20 feet from the performer's location and part of the reason for that is that our aerosol when we're singing or yelling, it goes out farther from our bodies," Hanson-Hofstetter said. "So, if–heaven forbid–one of the performers had Covid and didn't know it, people would be less likely to receive that aerosol if they're 20 feet from the performers."
The local musicians involved with Musical Houses include some well-known local talent and some emerging talent. Hanson-Hofstetter runs through the list:
"Daniel Christensen is going to play his guitar and sing some songs that he wrote at his location. Brian and Fax, they have a really great sound, very laid back, like a train of thought peaceful vibe, I really enjoy their way with music. So, Brian usually plays his Cajon and Fax plays the guitar. Mark Kubo is going to sing show tunes, and he has his own backup music so he won't be playing with other people. Man, I want to listen to that. And then Martha Mattek, she is singer songwriter who most recently moved from Ketchikan. She has such a playful sound. She has a wonderful song called, "I'm normal," that I think a lot of people can relate with. Ari Warmack is a young musician who has the talent of a young adult but I think he might have just turned ten. Anyway, that's going to be wonderful. Del Gato is Tom Walsh and his fiancé Sarah and they don't live here full-time usually, they are here luckily for us and they're a band called Del Gato. I would love to hear them. I've been hearing about Tom Walsh from his sister for a very long time, Lizzie, and I'm super excited that they could be a part of this event. And then I'm going to play, Sarah Sea and the Huzzband with Carin Christensen."
The arts council has been distributing maps to the different registered pods for them to follow the music route accordingly.
"Hopefully, in that way we will all enjoy playing music, listening to music, getting outside together, and also just staying healthy," Hanson-Hofstetter said.
The Musical Houses event and all other events at this year's Rain Forest Festival are free. The festival runs Thursday through Sunday in Petersburg.
Registration for the Musical Houses has closed. You can find a full schedule of events for the Rain Forest Festival on the festival's website akrainforestfest.org. You can also find other news stories on what events are happening outdoors and virtually at this year's festival on our website, KFSK.org.