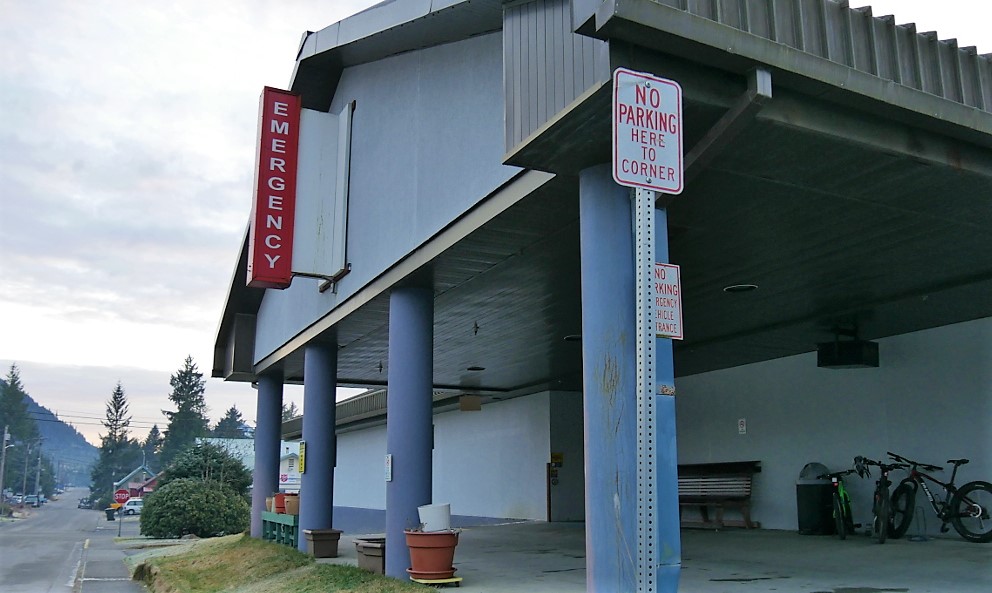 Located on a remote island in Southeast Alaska, Petersburg hasn't seen a major outbreak of COVID like many other communities. The local nursing staff at the Petersburg Medical Center is experiencing some work changes but administrators say they haven't had the burnout like in other areas of the state. . . at least, not yet. KFSK's Angela Denning reports:
PMC employs about 25 nurses. Most of them work in the hospital and long term care. There are also some more in the clinic, home health, wound care, and working on the COVID hotline.
Chief Nursing Officer, Jennifer Bryner, says nursing today is like it's always been in that they're job is still taking care of people. However, there have been some changes such as working in just one place. Many of PMC's nurses are cross-trained so they can work in different areas but that's not happening now.
"That's been a little bit difficult because we really enjoy working with each other and learning from each other and just interacting throughout the day," Bryner said. "Right now, we rarely-if ever-see the staff that are working in a department that we're not in."
Since nurses can't cover more than one area it has meant more hours than normal for some of them. They're relying more on on-call nurses to step in. They also need more hands on deck working with any COVID patients.
Another challenge is Petersburg's geography.
"One of the most difficult things for us is that we live on this wonderful island; we have a very, very limited pool of nurses so our ability to flex up for needing a lot of extra staff is very limited," said Bryner. "The resources to take care of multiple really sick patients requiring a lot of nursing care would be very, very difficult."
So far so good in Petersburg. As of the time of this story, there had been only one active case in town the last week and 36 total cases since the pandemic began.
Medical center CEO Phil Hofstetter calls the local situation lucky right now with residents doing well preventing the virus from spreading. But the possibility of an outbreak is always on his mind. He knows staff burnout is a possibility.
"It's a legitimate concern and it's difficult enough to work around this virus and do all the processes and policies and protocols but adding in the element of an outbreak and a spread just exponentially adds to that stress," said Hofstetter.
Nurse burnout in other areas of the state is already a real problem. As Jared Kosin puts it, healthcare workers have been in pandemic mode for nearly a year.
"It's just been a series of ups and downs and that goes all the way back to February, at least," Kosin said.
Kosin is the President and CEO of the Alaska State Hospital and Nursing Home Association.
"Our health care workers are heroes no doubt but they're also human and I think people are tired," he said.
He says he hears about burnout through regular check-ins with hospitals and nursing homes around the state. It's not only the stress on the job that gets to them but outside of work too, especially for those working directly with COVID patients.
"You know, we have these people literally putting their lives on the line in a highly stressful environment trying to save people and experiencing loss, seeing the effects of COVID with their own eyes and then they go home after their shift, they're hearing people in their community question whether it's even real," said Kosin.
As the leader of healthcare in Petersburg, Hofstetter says he keeps tabs on what's going on around the state and he tries to keep an optimistic attitude.
"I try to stay positive as much as possible and I try to put positive messaging out there as much as possible and I also try to keep things very basic and very simple," Hofstetter said. "My messaging has always been keeping a distance, the mask is really important and then the testing certainly. Those are just the three basics."
Only time will tell if Petersburg can keep cases down. In the meantime, Hofstetter and other Petersburg Medical Center staff will continue to communicate with the public weekly about COVID. They take questions and comments in a live KFSK radio show every Friday afternoon.