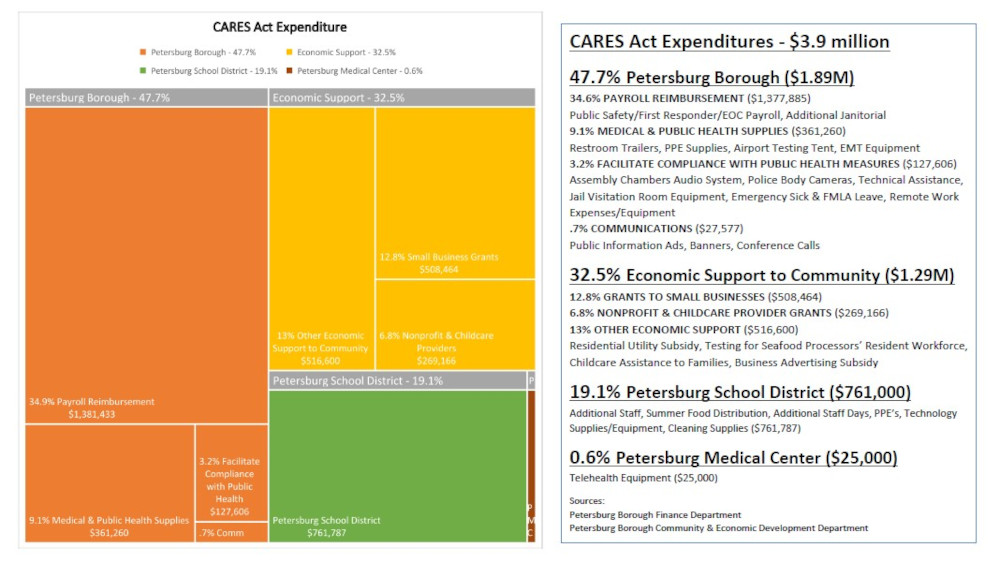 By the end of last year, the Petersburg borough had spent all of its 3.9 million dollars in federal funding from the Coronavirus Aid Relief and Economic Security or CARES Act. Much of it went to salaries and equipment for the local government and school district, along with grants to businesses and non-profits.
Petersburg's assembly voted to accept the funding June 1 after Congress passed the first federal aid bill in the early days of the COVID-19 pandemic.
The borough's finance director Jody Tow explained there were challenges in deciding how and when to spend the money.
"We weren't sure if we were going to have an outbreak," she said during a recent interview. "There were a lot of expenses to prepare for that, things like building temporary shelter up at the gym in cases there's hospital overflow when that was needed, more beds were needed. We just didn't know. And so that was a challenge that we faced. We didn't want to spend it too quickly and then need it later. But we didn't want to have any remaining at the deadline of December 31st."
Congress ended up extending that deadline another year, but Petersburg had spent its money by the time that allowance was made.
A big bulk of the CARES funding locally, 34.6 percent, or $1,377,885 went to payroll reimbursement for public safety and first responder salaries in the borough, janitorial work and pay for the emergency operations center.
The borough used the money to cover police officer, dispatcher and fire department payroll from mid-March through November. That means about a million dollar surplus in the borough's general fund that would have covered those costs. Tow said that may help with future unforeseen budget gaps.
"If we don't get any more funding from the federal government or the state, we have that buffer to sit on or to use for an emergency if perhaps the hospital or school needs it or if we need it, or other things such as the state's budget to the boroughs and if they cut our budget again this year, we could use it for that as well," Tow said.
Some $761,000 or 19.1 percent of the borough's payment went to the school district for hiring additional staff, the summer food program, cleaning and other supplies.
And nearly one third of it, 32.5 percent or $1.9 million, went out in grants and credits to businesses, non profits, childcare providers and families. The borough started several programs for local aid. One paid out 63 grants for local businesses that could demonstrate lost revenue from the pandemic. Those grants totaled $508,000 and the average award was just eight thousand dollars.
The borough's community and economic development director Liz Cabrera helped put the aid programs together.
"I think on the business side, we were able to target the businesses that really were in need, you know that had suffered significant revenue losses," Cabrera said. "So I was pretty happy with the way that program moved out. I was a little bit surprised on the utility subsidy that we didn't have more applicants for that program."
The borough assembly had allocated half a million dollars of the CARES Act money for a 500 dollar utility account credit. In the end, the borough awarded less than half of that, $192,000 dollars, to local utility customers.
Other successful payouts were for child care assistance. Some of that went to child care providers. But there were also between 55-60 families receiving subsidies for that service the last four months of 2020. December saw the highest participation in that program with payments made for 61 children to attend care. The borough also paid out grants to local non-profits.
Cabrera says the borough asked businesses and non-profits to report how they spent the money.
"One of the main things that these organizations or entities spent funding on was payroll," Cabrera said. "And so when we added it all up, and I haven't gotten reports from everyone just the ones I have, it's about 43 months worth of payroll, across the borough, and over 25 months in rental and mortgage payments. People used these grant funds to cover those costs, 56 months in utility payments for businesses and non-profits. So you know the money we gave out actually a lot of it went just to cover employee costs and went right into the community or just to cover some of the basic payments for businesses to keep operating."
Nine percent, or $361,260, went to supplies like two portable public restroom trailers, a COVID testing tent for the airport and emergency medical equipment. Other items purchased include a new audio system for the borough assembly chambers, body cameras for the police force and equipment for the jail visitation room. Some of the CARES Act money went to COVID testing for the local workforce in seafood processing. Funding also went to pay sick leave costs and remote work expenses, communications and a subsidy for business advertising. And 25,000 dollars paid for telehealth equipment at the Petersburg Medical Center.
(KFSK was among the local non-profits receiving money from the borough's grant program for economic support.)