Two commercial crabbing seasons worth millions in Southeast Alaska open in a few weeks. The Tanner and golden king crab fisheries open February 17. As KFSK's Angela Denning reports, state managers expect the fisheries to be similar to recent years in terms of opportunity and harvests.
The estimated biomass for the Tanner crab fishery is 4.95 million, which is a nine percent decrease from last year's 5.44 million pounds. Still, it's about double what's needed to hold the fishery, which is 2.3 million pounds.
"We don't have any closed areas in regulation and we haven't identified any stock health concerns in any portion of the region," said Joe Stratman, the lead crab manager for the Alaska Department of Fish and Game in Southeast Alaska.
State managers survey Tanner crab every October when they put pots out in several places throughout the region. In the late 1990s, the population was considered abundant but it started dropping in the early 2000s and was at its lowest in the mid-2000s. However, Stratman says, there's always been enough Tanner to hold a fishery.
"We consistently have a good number of mature crab that are pre-recruits–they're basically a molt away from entering the fishery–and so we don't see gaps in recruitment with Tanner crab in Southeast Alaska," he said.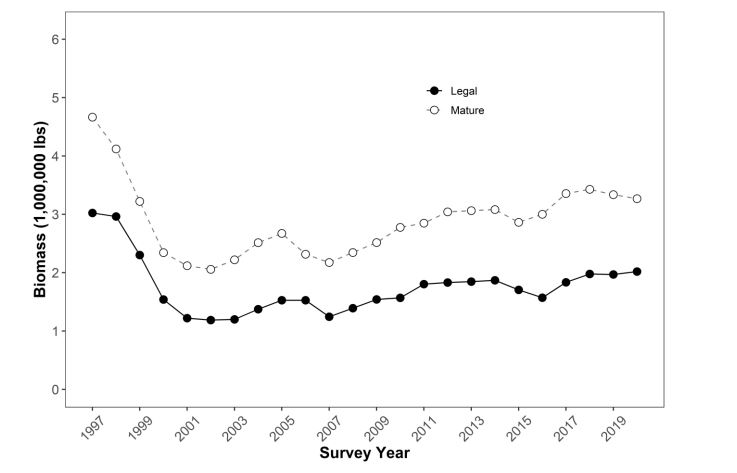 Managers won't announce how long the season will last until the day of the opening because it will depend on the number of registered permits and pots. However, Stratman expects it to be like recent years, which would mean a six-day opening in core areas with about 75 permits holders participating and 5,000 pots. Non-core and exploratory areas can be open longer. Some of the fishermen use ring nets instead of pots to catch the crab.
Last year, crabbers caught 1.21 million pounds of Tanner. The fishery's catch was valued at $3.89 million at the docks, which is above the previous ten-year average of $2.9 million. The average price was $3.21/pound, which is also above the ten-year average of $2.48/pound.
Some fishermen will also be harvesting golden king crab at the same time. It's a much smaller fishery with just 14 permit holders participating last year harvesting 47,000 pounds. This year's harvest goal is up at 76,500 pounds, but that's still way below the 10-year-average of 315,000 pounds.
Golden king crab is managed in seven areas of Southeast, each with its own harvest level.
The golden king crab population has fluctuated dramatically in Southeast since the fishery started in the early 1970s. Managers don't have any surveys for the species except data they collect from the fishery. They do know that the large crab live longer than other species, surviving into their 20s, and take about eight years before they can be commercially harvested. Stratman says they don't manage the fishery around the crab's molting and mating cycles like they do for other species.
"We think they have approximately a 20-month reproductive cycle and due to a lack of abundance estimates we don't know what the harvest rates are," said Stratman. "Crabs are slow growing and they mature late and that makes golden king crab a challenging species to manage."
Last year's golden king crab was worth $9.30 per pound, which is a little less than the 10-year average of $9.74/pound. The region-wide catch was valued at $443,000 at the docks, which is also well-below the ten-year average of $2.5 million.
One of the main buyers in the region for both Tanner and golden king crab is OBI Seafoods in Petersburg.
Through an email, company spokesperson Julianne Curry wrote that the COVID pandemic won't affect their production capacity. They plan to hire an all-local workforce of 75 people instead of bringing in outside workers. This is a slight decrease in workers, but Curry wrote that they are streamlining production. She says that some plant workers are getting vaccinated for COVID as they can but it won't change the company's protocols for the virus.