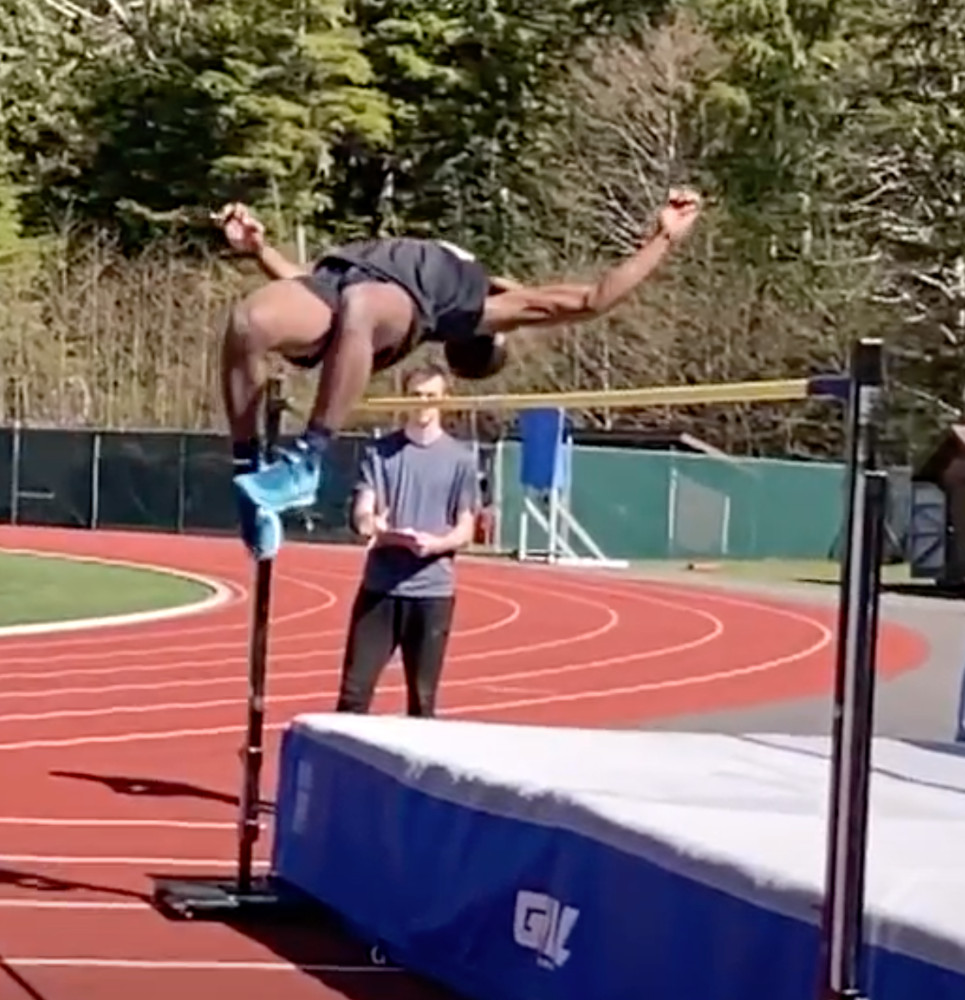 Petersburg High School's track and field teams kicked off their 2021 competitive season at an invitational meet in Ketchikan last weekend. The Vikings and Lady Vikings took fourth in team scores behind teams from Ketchikan, Sitka and Haines. Petersburg also had some top finishes in the events.
Like other spring sports, track and field had no season in 2020 and the teams are excited for a chance to compete again. 12 of the 16 kids out for track this year made the trip to Ketchikan for the start of the season. Coach Tommy Thompson said he has a mix of experience and fresh faces.
"We've got a couple seniors that are some of the best track athletes in the state," Thompson said. "And then we've got some freshmen coming up, the youngest kids that are looking like they are going to be terrific athletes in whatever sports they choose. And then in the middle we've got some good sophomores and some good juniors, so it's a nice mix of kids. We only have 16 kids at this time, little bit low on numbers but coach (Alice) Cumps and I just wanted to make sure that we had this track season to happen this year because we've got this good group of kids and we missed last year."
The teams have only been practicing about four weeks and Thompson called the Ketchikan invitational a practice meet.
"We showed up and about 30 seconds before we actually pulled up we heard the first starting gun go off so we missed the start of the meet," he said with a laugh. "And then like half an hour later we had two kids who had never done a track meet in their life doing the 100 meter dash. And so things went really, really fast. Lot of changes as we were there, kids saying should I try the triple jump, should I try the 1600, oh thank goodness I don't have to do the 3200, Breilland Willis… I mean there's some things that happened that were humorous and fun but again it was like a practice meet and the Ketchikan people were just fantastic, beautiful weather, really incredible field and these guys needed time on that track."
Senior captains Aiden Luhr and Julian Cumps took the top two spots in 100 meter dash preliminary heat. Luhr won the finals of that distance with a time of 11.4 seconds. He was also first in the 200 and the high jump. Luhr said his first meet of the season went better than he was expecting with several personal records or PRs.
"I thought I PR'd in my 100 time," Luhr said. "I was just like a couple seconds off but I did PR in my 200 meter time with a time of 23.7. That was a new PR from all the way back to two years ago as a sophomore. And I finally, finally got over the hurdle of 5'6" in the high jump. That had always been like the bar for me but I finally cleared that and I was able to get up to 5'8". I'm going to continue to work on that and hopefully by the end of the year I can clear 5'10", maybe get to the six foot range."
Luhr hopes to qualify for the state meet in the 100, 200, high jump and 4×100 relay. He was impressed with his teammates in Ketchikan.
"For their first time doing it, they all did really, really well," Luhr said. "Some of them kind of had to fill in for other people. I know Valon (Weathers) he had to fill in numerous times for other people that had injuries. He stepped right up and did really well. And there's other guys, of course, Anya (Pawuk) her first time, her winning triple jump for girls and getting fourth in shot put."
Valon Weathers ran in the 400 meters and Anya Pawuk was first in the triple jump, fourth in shot put and fifth in the discus behind teammate and sophomore Stacey Eilenberger. Also for Petersburg freshman Rik Cumps took third in the 200. Older brother and senior captain Julian Cumps took third in the long jump before injuring his ankle and he wasn't able to finish competing. But he agrees it was a good start to the season after a two-year break.
"For Aiden and I, I think it felt like we just kind of hopped back on right where we were with our times even and a lot of the other kids too," Cumps said. "Yeah they really showed up to compete and it was a great track meet I think."
The track teams next compete in Juneau the second weekend in May. The state meet is at the end of May in Anchorage.