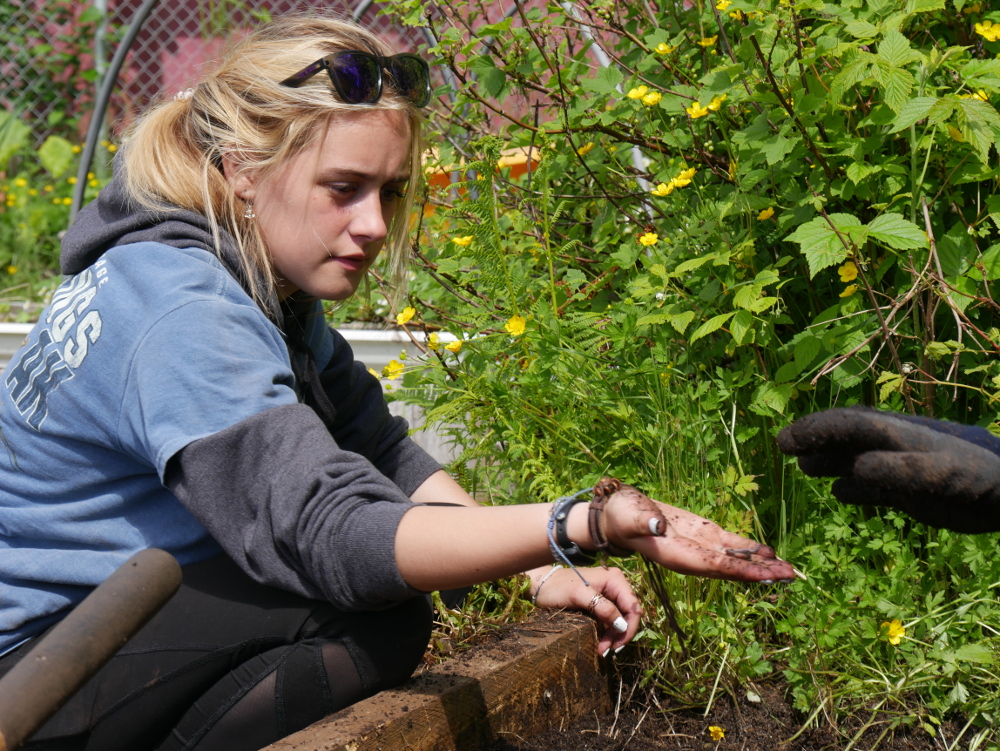 For many teenagers, a summer job provides more than just some extra spending money. It's also a glimpse into the workforce and what life could be like after high school.
The Petersburg Indian Association runs a six-week paid program for a select group of students. They job-shadow and volunteer for various organizations in Petersburg. As Katie Anastas reports, the goal is to teach teens about career options in the natural resource management field.
Adam Perry is pulling handfuls of dandelions out of the ground at Stedman Elementary School's community garden. He turned 14 this year, which means he's now legally allowed to work. He could join his dad on his fishing boat, but he wants to see what else is out there.
"It's something I want to do in the summers when I'm not at school, but I don't want to only fish for the rest of my life," he said.
Perry and four other teens will get a chance to explore a range of careers this summer through PIA's Natural Resource Management Career Paths Program. It's a paid, six week program with a mix of job-shadowing and volunteer work.
This summer, they'll test water samples for shellfish poisoning potential, learn about law enforcement with the Alaska State Troopers, track invasive species with the U.S. Forest Service, and more.
Getting to work outdoors is a big part of the appeal, says program supervisor Alyssa Guthrie. She's a graduate of Petersburg High School, now home from Duke University for the summer. Guthrie said when she was in high school, she expected a college degree to lead her to an office job.
"For a lot of kids in Petersburg, that's just not what you want to do," she said. "You grow up in this beautiful place, with all these outdoor activities, and you kind of want to stay on that track.
Guthrie wants the students to know that — with or without a college degree — there are exciting, outdoor jobs available.
"A lot of Forest Service people have degrees in biology and nature-based STEM, but then you also have people who don't have college degrees and are still able to do this," she said. "I just think it's really important to show kids all the options you have."
The program lasts for four more weeks. On Monday, they'll visit a hatchery. July's itinerary includes a visit to the airport runway with the Department of Transportation and a tour of Tonka Seafoods.