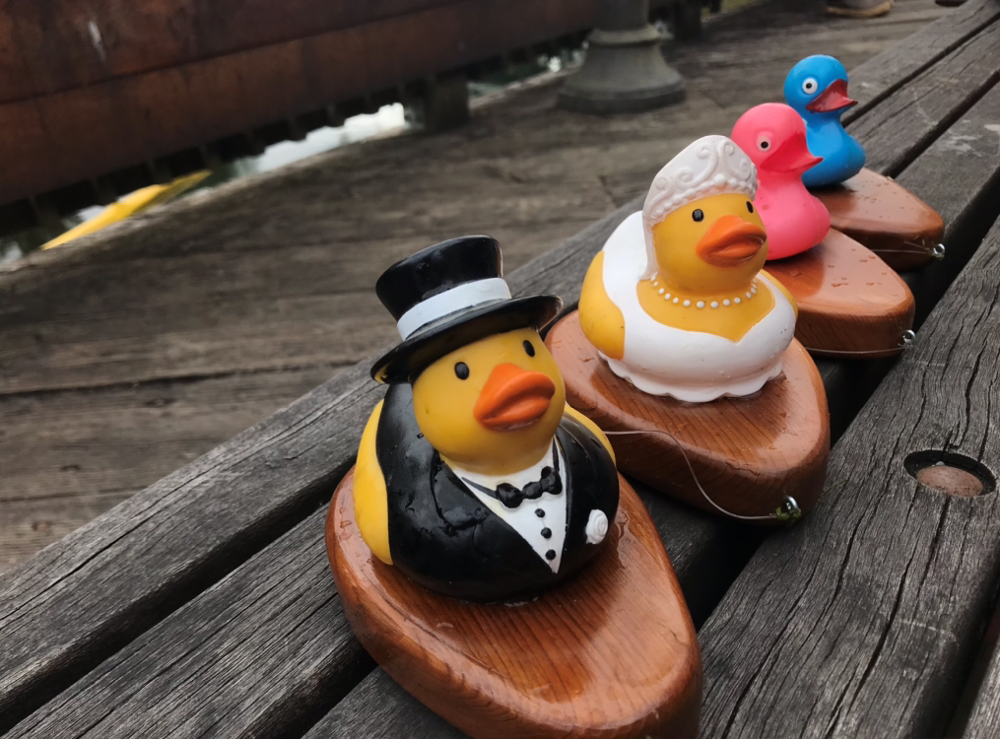 The Petersburg Rotary Club's rubber duck race is an annual fundraiser helping raise money for the club's community projects, scholarships and exchange programs. But as Katie Anastas reports, the Saturday afternoon event turned into much more than a rubber duck race.
For those who haven't witnessed the Rotary Rubber Duck Race, a quick explainer. Hundreds of people buy tickets for a chance at three cash prizes. A $10 ticket puts your name on one of the rubber duckies released into the outgoing tide at Hammer Slough in downtown Petersburg.
Most years, this event happens during the Fourth of July weekend. But with limits on in-person meetings and other COVID restrictions, the club pushed this year's race to this month. Club president Aaron Hankins says that ended up being a good thing.
"We get to meet and greet," he said. "If you try to do it on the Fourth of July, there's a lot of stuff going on. Everyone's seeing all the different booths and stuff to buy, and there are so many tickets are out there. This is a lot more Rotary-centric, so I get to mingle with people and tell them about what we do and a little more about Rotary."
Proceeds from the race help support local community service projects, as well as scholarship programs for high school students. This year, the club sold 742 tickets, a new record.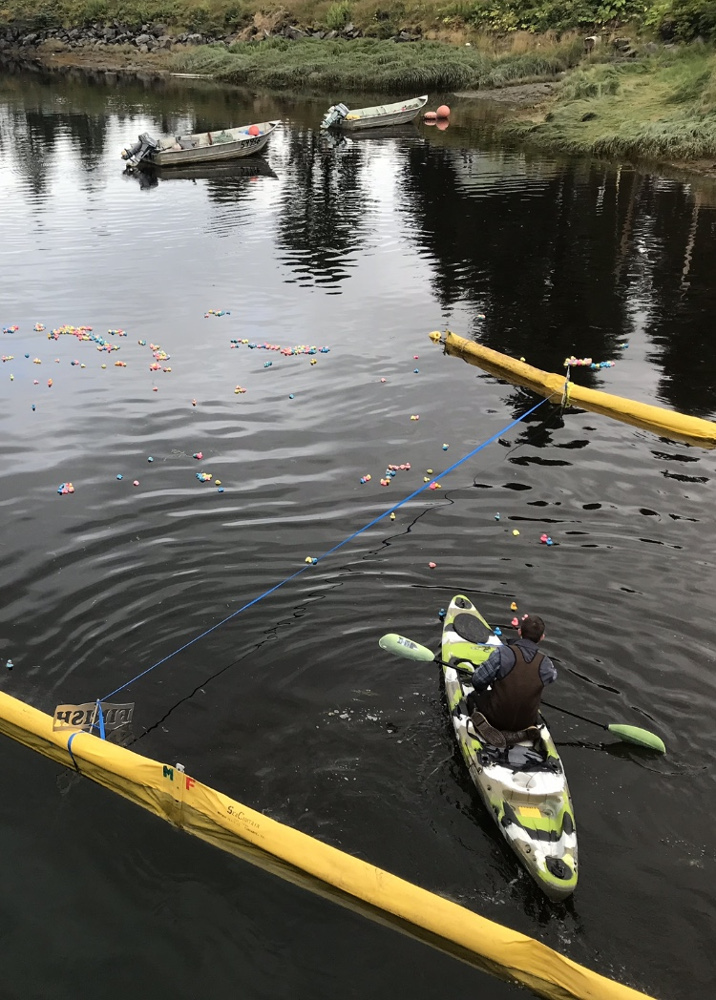 John McDonald was in town visiting his brother, Wally. When Cindi Lagoudakis found out he played the bagpipes, she asked if he wanted to play during the race.
"So I just offered my services and I got a free hot dog and beer out of it," he said. "Pay the piper!"
The multicolored rubber ducks spent 10 minutes floating down Hammer Slough, underneath the Louis Miller bridge to the finish line.
Hankins kayaked over to the winning ducks and read the numbers for his fellow Rotarian, Dave Berg, to announce. Duck 681 belonged to Chris Clark; he won $1,000. He and a friend had bought 20 ducks, and he said he plans to spend his share on boat equipment.
In second place was Sarah Hanson-Hofstetter, winning $300 with duck 658. Alan Malone won third prize, $200, with duck 499.
They weren't the only winners on Saturday. Standing by Fisherman's Memorial, Hankins pointed to a pair of rubber ducks in the slough, painted as bride and groom. He got down on one knee and asked Keely Swanson to marry him.
"I've been teasing him for a while, like, 'I've been waiting, I've been waiting,'" Swanson said. "And he just says, 'I'm waiting to get my ducks in a row.' And I knew the duck race was this weekend but I didn't think anything of it. So when he was on his knee and said 'my ducks are in a row,' I was like, 'Are you kidding?'"
The row in the slough included a pink duck for Swanson's daughter, Aria, and a blue duck for a baby boy on the way. Volunteers collected the rest of the ducks using kayaks and dip nets.