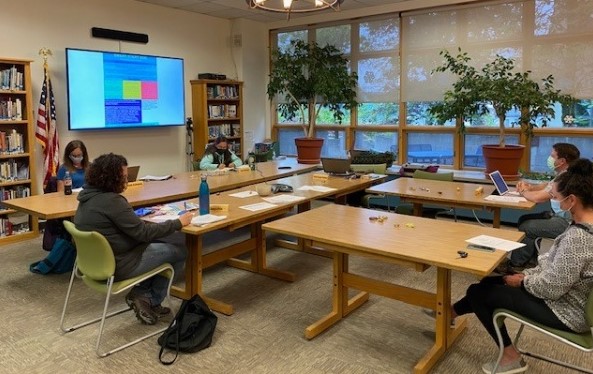 The Petersburg School Board is gathering for a regular meeting Aug. 10 to go over the plan for opening the schools Aug. 31.
The school district is following CDC guidelines for reopening during the COVID-19 pandemic; guidance which keeps getting updated. At the meeting, Superintendent Erica Kludt-Painter, will be giving a presentation on what the latest information means for the local schools.
There will be some health protocols in place like last year and some activities will be back to normal. At the elementary school, there will still be smaller class sizes but the middle and high schools will not have podding. School will be in-person only; there will be no online learning options for students traveling or making up school. Cafeterias will be used regularly and extracurricular activities are happening.
The superintendent shared a letter publicly on Aug. 7 discussing the start of school. She wrote that masking is still up in the air for the school year. As part of a slow start plan, masking will likely be required for all staff and students for at least the first few weeks as everyone returns from travel. The CDC is recommending masking inside of schools. The district hopes masking can be relaxed eventually if case numbers stay low.
Positive cases and close contacts will have to quarantine, according to public health rules.
School board members will also hear about two health fairs happening a week before school starts.
The elementary school will have a health fair Aug. 21, 10 am – 1 pm, for kindergartners and new district students. They can get hearing and vision screenings, immunizations, and other school information. Appointments are required to receive immunizations.

The health fair for the middle and high school will be Aug. 23, 3 pm-7 pm. Students can get free physicals and immunizations by appointment. They can also get health information and other school information at the fair.
Families can schedule an appointment before the fairs by calling the district office (877)-526-7656.
Also at the meeting, the board will hear administrative reports from the principals, the activities director, and the maintenance director.
The regular school board meeting starts at 6 p.m. via Ring Central video conferencing. KFSK will be broadcasting the meeting live. To listen to the meeting, you can stream it online at KFSK.org. The public can participate in the meeting email the district office before the meeting to get the password for the videoconference. Those email addresses are: exec@pcsd.us or supt@pcsd.us. Or call the office at (877)-526-7656.