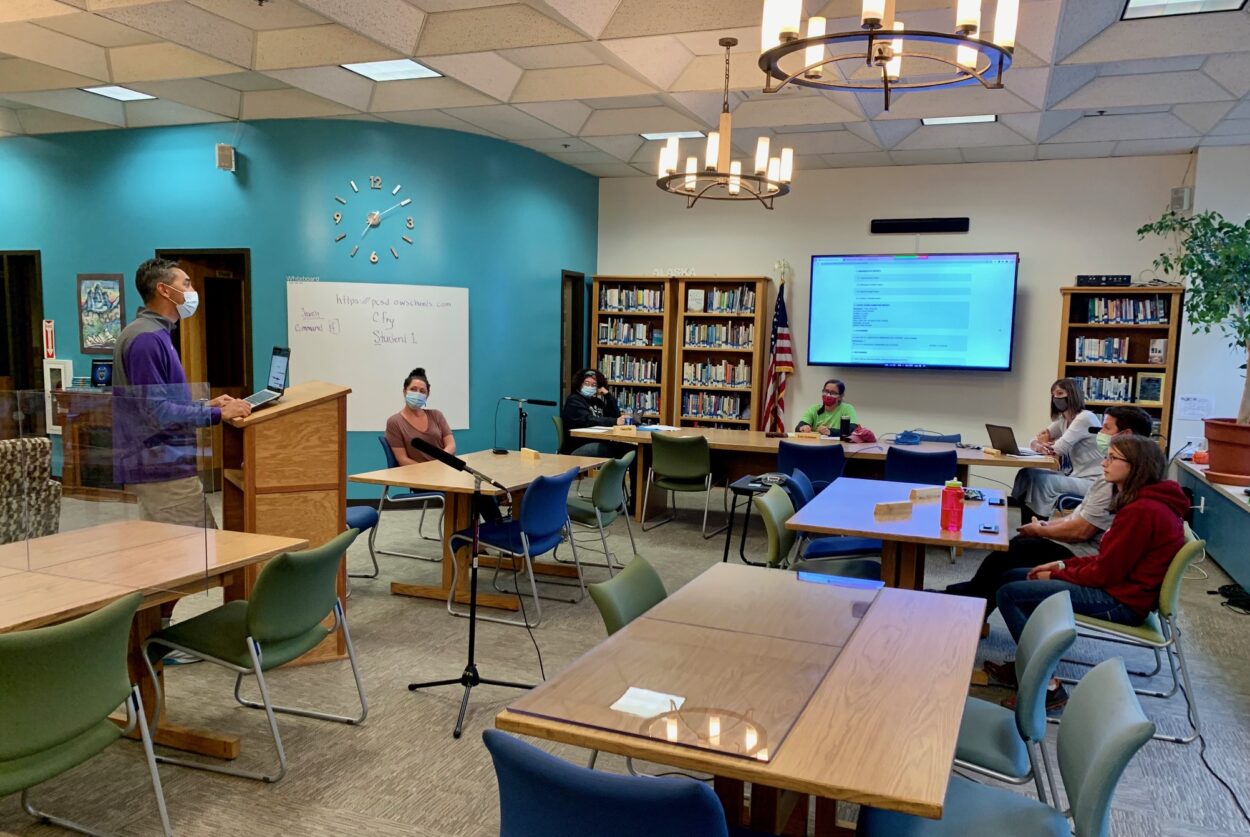 Petersburg School Board is finalizing COVID protocols for the start of school, Aug. 31. At a regular meeting Tuesday night, the group agreed on many parts of a plan, including masking for staff and students for at least the first two weeks of school. KFSK's Angela Denning reports:
The school board meeting went for four hours and much of it was dedicated to the questions of masking, vaccinations, and travel protocols. The district had already decided to relax some protocols from last year like keeping kids in smaller groups.
At this meeting, the board verbally agreed to require masking for all staff and students until at least Sept. 14, which is their next regular meeting. They agreed to no longer require quarantining after travel but instead require masking for one week and two tests. And they agreed to not relax protocols for those who are vaccinated.
Some of the decisions follow new public health guidelines and some do not. And the plan could still change, said Board Member Cheryl File.
"This still is in progress and we haven't finished," said File. "It's not set in stone yet."
The meeting started out with a presentation from doctors with the state's Department of Health and Social Services. They explained the latest back-to-school recommendations from the Centers for Disease Control and the American Academy of Pediatrics. They said the delta variant is a threat to children who now make up 20 percent of people being hospitalized for COVID.
Dr. Coleman Cutchins said vaccinations and masking are the top two strategies to keep schools open.
"These guidelines are not to make things harder," he said. "They're not to make us document more COVID cases. They're really designed to keep people in school."
Petersburg doctor, Mark Tuccillo, also cautioned the school board about delta, saying it's far more contagious than the alpha strain that circulated last year.
At the Petersburg School District, 71 percent of staff are vaccinated and 33 percent of eligible students—those 12 and over—are also vaccinated.
Parent Alice Williams told the board she doesn't want vaccinations to be a factor.
"I strongly am opposed to any policies that differentiate people who are vaccinated versus people who aren't whether that be staff members or students," she said.
Most board members agreed, saying they didn't want different rules for the vaccinated. That came into play when discussing travel protocols. New public health recommendations do not require people who are vaccinated to quarantine or test after returning.
Kinley Lister, student advisor to the board, was the only one voicing support for that.
However, most board members did support new guidance that no longer requires quarantining after travel for anyone as long as they wear a mask for seven days and test twice. The board also removed the 72 hour exception for short trips.
Masking was the most talked-about topic at the meeting. It would affect who is considered to be a close contact to a positive case. New guidelines say if someone is masked and they are at least three feet from a positive case who is also masked, then they are not considered a close contact. That's different than last year and would prevent school closures, said Board President Sarah Holmgrain.
"If that was the guidance this last school year we would not have shut our doors," she said.
Another board member, Katie Holmlund, said she also supported universal masking because it's the public health recommendation and because it could be a burden on staff to police an optional masking policy.
"This whole 'let my family choose' puts a lot on our staff to keep track of families that would like their kid to mask," she said.
Board member Megan Litster spoke in favor of optional masking although she agreed to universal masking the first two weeks of school.
"I'll say I'm 100 percent for not masking," Litster said. "I would want everyone to hear that so that people understand, I think, that most of our goal is to not be masking on September 15th."
Cheryl File felt similarly, saying two weeks is a buffer for hundreds of students coming together after the summer.
"Gosh, I don't want masking but that is something," said File. "What happens when we're open a week and a class gets. . . then we're down."
Likewise, board member Jay Lister supported optional masking when cases are low. He said masks that students are wearing don't stop spread of the virus but slow it down.
"Virus is going through these masks," Lister said. "They're not air tight masks like if they were wearing an N-95 and had it fitted and everything else. These keep you from spitting on each other, basically."
Parent Brittany Martin did not support masking at all. In a letter read by Administrative Assistant Mara Lutomski, Martin wrote she thought the flu is more of a threat to children than COVID.
"We do not wear a mask during the flu and there is no reason for masks now," she wrote. "Not only do they not work, they are disgusting as children do not know how to be clean."
Some board members proposed masking only at the elementary school because children there cannot be vaccinated yet. In the end, they agreed to universal masking in K-12 until Sept. 14 when they'll revisit the issue.
In any case, all students and adults on buses are required to mask, according to federal transportation laws.
At the end of the meeting, Superintendent Erica Kludt-Painter said she'd write up a new plan with the latest details. She said it's been an emotionally hard time because the pandemic looked like it was letting up at the end of last school year.
"I personally have been going through my own little grieving process about that and honestly a bit of anger and frustration about it because I'm frustrated that we're here a year later sort of having this conversation again and trying to work our way through this again," she said. "It's very frustrating and I know that many, many people are sharing this same frustration and I think people are grieving it; we just really cannot believe we're even having this conversation again."
She said she supports having a flexible plan for the school district, which the board can update as needed.
The board will also be looking for public feedback before school starts.
You can listen to the entire four-hour board meeting here.