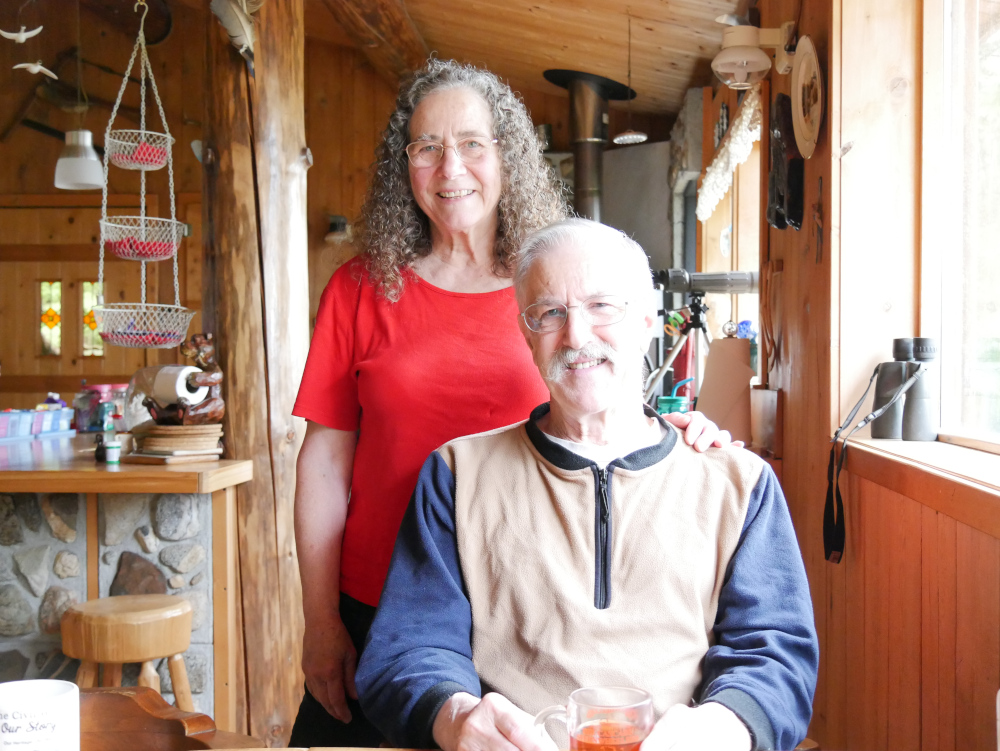 Absentee voting is already underway for Petersburg's October 5th municipal election. Voters this year will see something a little different. For anyone within the Petersburg borough there's one ballot, with candidates for borough office and a ballot measure on bonding for electrical generation on Mitkof Island. People who live within the old limits of the former city of Petersburg will also get a second ballot. That has one question on it, whether a remote subdivision on the eastern side of the island should be removed from a higher tax area. Frederick Point East is only accessible by boat year round, and by road and trail during the warmer months. The only remaining year-round residents of that area are stocked up for another winter of beauty, quiet and isolation.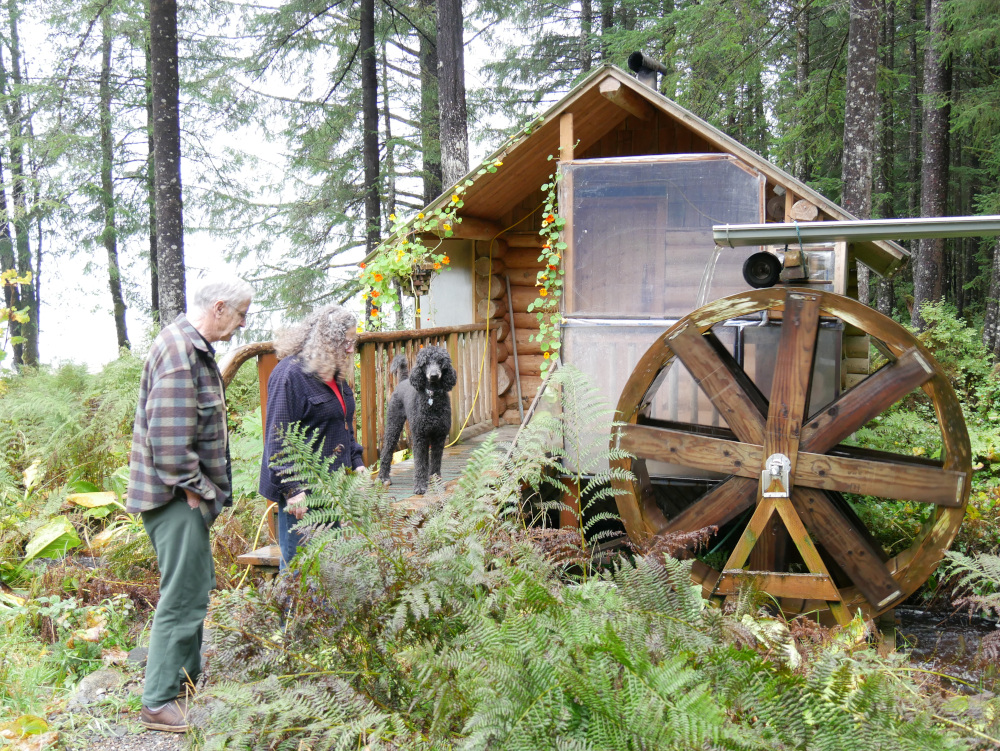 Water from a nearby creek drops from a perched sluice onto waterwheel made of scrapwood.
"This little motor came out of a treadmill at the dump"
Don and Jenny Cummins installed that wheel several years ago for boosting their cell phone signal. Their firewood is stacked for the winter inside a covered porch with vegetables sprouting from planter boxes and colorful nasturtiums growing above.
He's 77, she's 73 and the high school sweethearts have been married 55 years.
"When we were dating, which we dated four years before we got married and when we were dating we'd write letters back and forth. In one of the letters he wrote, I have two goals in life, I would like to learn to play the five string banjo and I would like to move to Alaska and build a log house," Jenny said.
He learned to play the banjo too?
"Well I don't play very good but I do have one," Don said with a laugh.
They built log homes in Alaska too. This was their seventh and last one. The logs for it came from Kupreanof Island. They won this land in a state lottery in 1985 and had to improve it and live on it in order to keep it.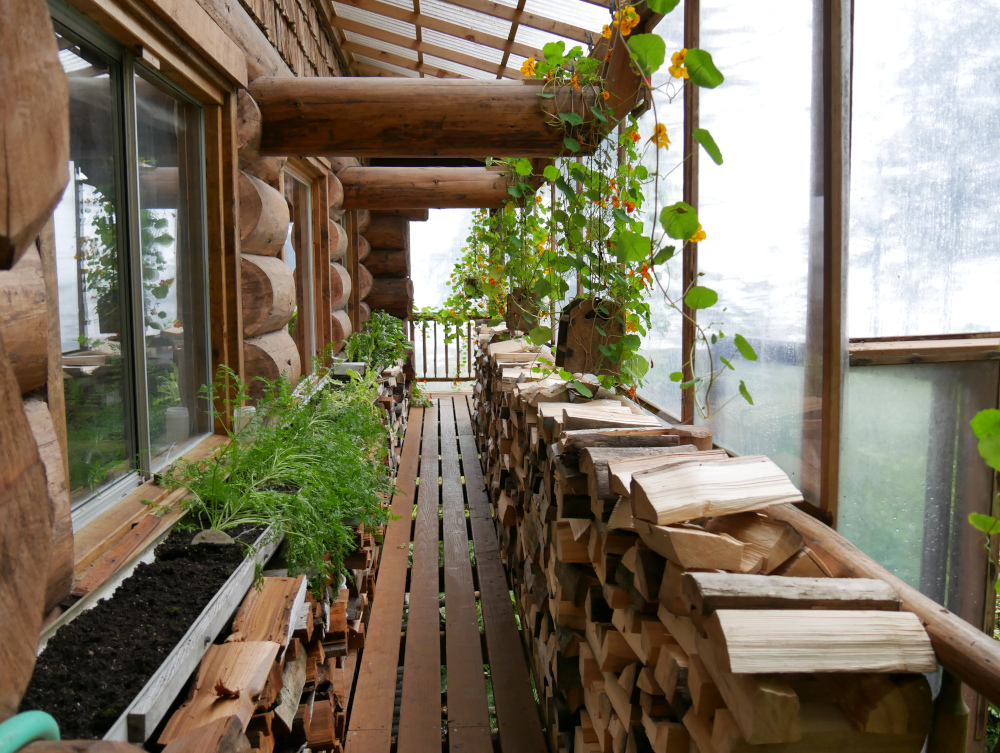 The couple is from Missouri originally and moved here in 1974 with two boys, and started working at Crystal Lake Hatchery on southern Mitkof Island. Later they worked summers at the National Marine Fisheries Service facility at Little Port Walter and built their home in the off-season. Tacked above the downstairs door is the city building permit from 1987. It took them about two years to complete and their first full year at that home was likely 1989.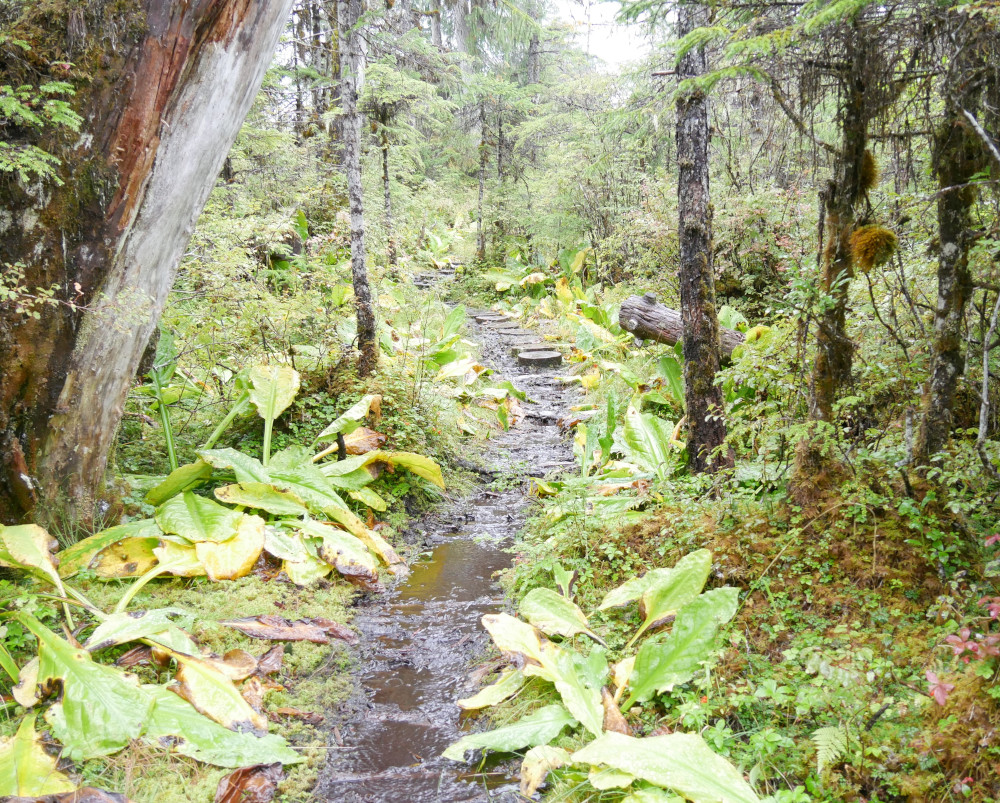 At the moment the Cummins are the only year-round residents of the area. It's about a mile walk uphill through muskeg and timber to get to the nearest forest road. Most years, snow covers the road by wintertime. On the north end, the borough only plows to the end of Frederick Point North, another subdivision about 4-5 miles away that does receive some utilities and emergency services. But the road by Frederick Point East isn't plowed and the Cummins said they're snowbound for sometimes up to six months.
"So in those cases we stock our pantry," he said. "We get our firewood in and then we just hole up basically. If we get a good day on the (Frederick) Sound, maybe once a month, probably in the wintertime we'll maybe run to town and get our fresh groceries and check our mail. Other than that we just are snowed in."
Last winter, a heavy snow year, they said the road was covered by Thanksgiving weekend and they didn't drive out again until May 18.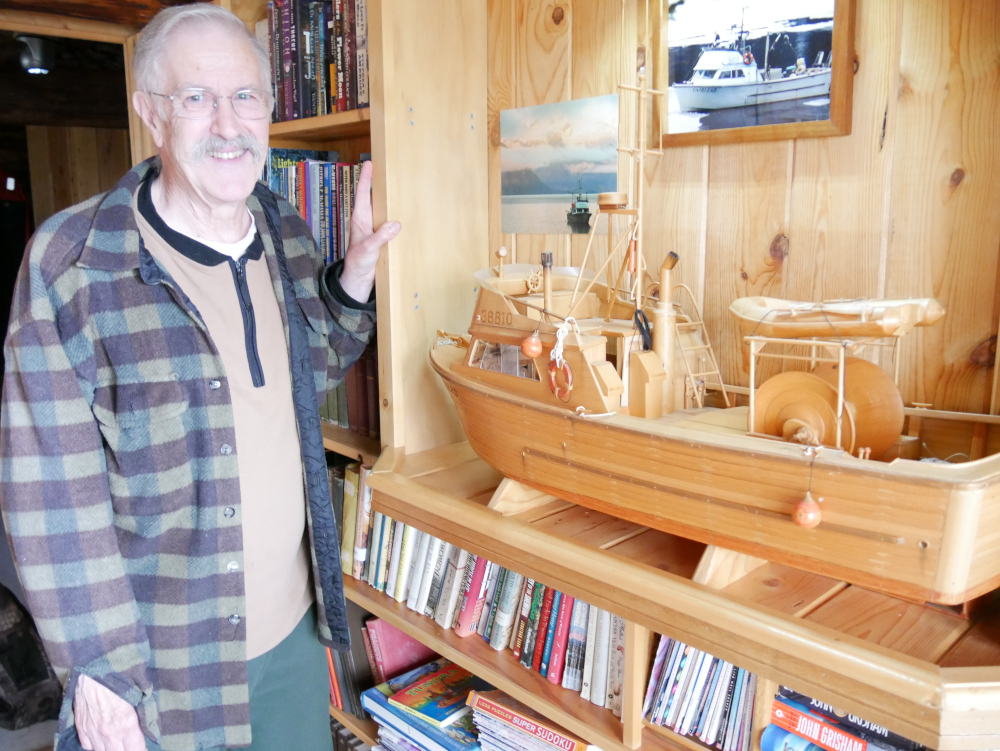 The Cummins and the owners of the other lots at Frederick Point East are on the ballot this year. There are 52 lots in the subdivision, spread out over more than a mile, with some buffers of state land in between. Only around 10 parcels have a cabin or some improvement. Some are still owned by the state. The property tax rate for the land is the same as downtown Petersburg.
"So doesn't really seem fair," Jenny said.
"This is a roadless area out here. It's wilderness. It's the same as Point Agassiz or Thomas Bay. We feel we ought to be in that same classification," Don added.
The property owners say they should pay the same lower rate as the greater borough because they receive no police or fire coverage, snow plowing, garbage or other services. According to tax records on the borough's website, if the proposition passes, the Cummins will save a little over $100 a year on their tax bill. Others who don't claim a senior tax exemption there would save more. Based on tax rates from 2021, the borough stands to lose $9,308 annually if the ballot measure passes.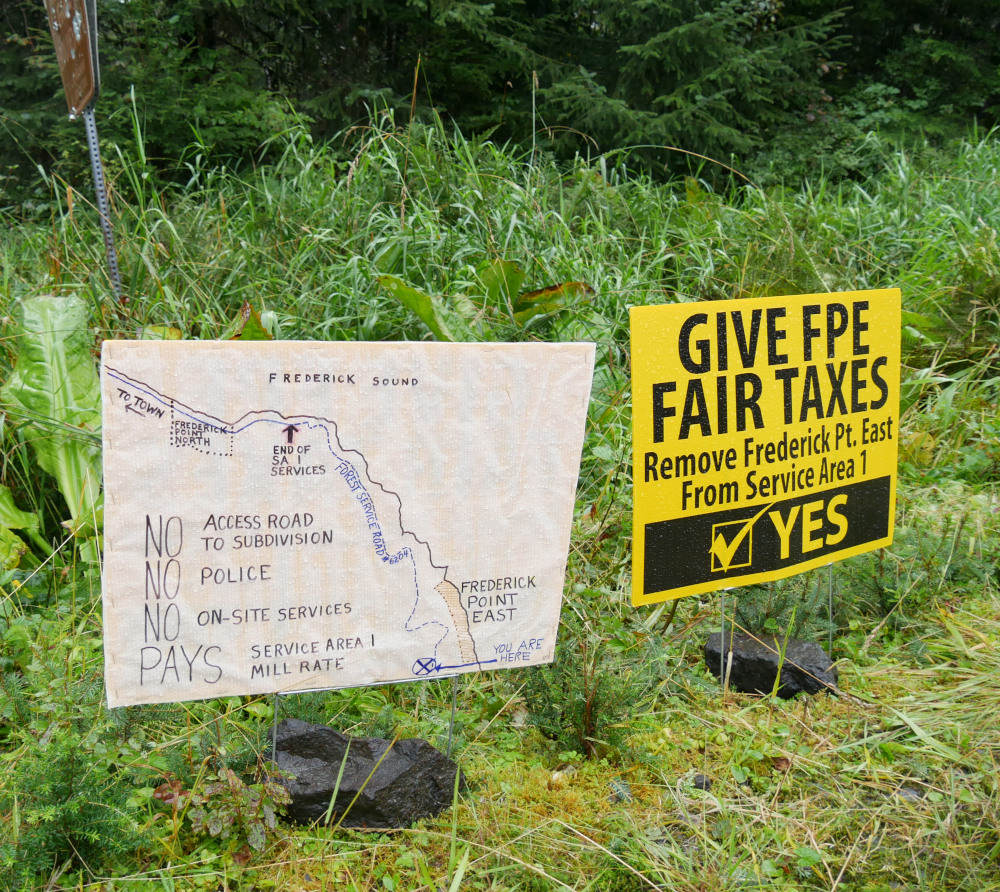 Others use the land for recreation cabins and live in Petersburg or elsewhere. Kandi Woodworth and her husband Mike live on the edge of service area one on Mitkof Highway at the site of a former experimental fur farm. They also own a cabin at Frederick Point East and visit that during the warmer months. She's the driving force behind getting the issue on the local ballot and has campaigned for its passage.
"You see it there's no access road to our subdivision," Woodworth said. "So the borough is totally unable to provide us services that should be provided in service area one."
Service areas are in the Alaska constitution and Petersburg borough charter – parts of a larger municipality where a higher level of services are offered, and in some cases, the taxes to pay for them are levied. Petersburg's charter requires a service area for police, fire and emergency medical service, water, sewer, electrical, garbage collection, street construction and maintenance, building code enforcement, parks and recreation and animal control by service area. Local utility customers pay fees for those services, water, sewer, garbage and electrical; they aren't supported by property taxes. And some of those utilities are offered to customers outside of service area one.
This area became part of the now defunct city of Petersburg through legislative annexation in 1978. When voters approved formation of a new borough in 2013, they also OK'd the boundaries of a service area based on those old city limits. And that service area can only be changed by another vote.
The question nearly didn't make it on the ballot, with the borough assembly split over whether it's a good idea. Jeigh Stanton Gregor voted no when the assembly agreed to put the issue on the ballot and he's already voted against it at the polls.
"For lack of a better way to phrase it, who else wants to secede from the union and be like no we don't want to pay more property taxes either, which I get," Stanton Gregor said. "Nobody wants to pay more than they have to. That's a fair and reasonable argument. That said though, we have services, school, etc. roads, we all pay our fair share. I wouldn't want to see other neighborhoods or districts want to do the same. I think it could set a bad precedent. Again, that said if we wanted to have a broader conversation about property tax equity in different areas, that's a different conversation.
Opponents say the lack of services for the remote land is already reflected in lower tax valuation. But supporters say the land is assessed on its true market value as required by local and state law and they're not getting any special break.
For the ballot proposition to pass, it must clear two hurdles. It needs the support of a majority of the voters who reside within Frederick Point East. The Cummins said they're the only ones who currently live there year round. The borough clerk says two others are still on the voter rolls for the state of Alaska as living there even though they've moved. That means three of those four will have to complete a ballot and vote yes, along with a majority of voters within service area one. If either doesn't happen, the change won't go through.
Besides lower taxes, the remote subdivision would also no longer be subject to Petersburg's building code, zoning or subdivision code. Authority for subdividing or consolidating lots would revert back to the state.