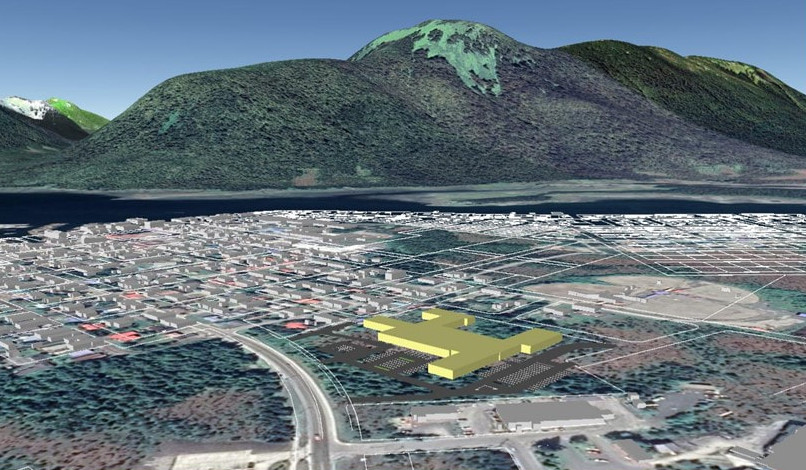 Petersburg Medical Center's board approved a resolution Thursday supporting pursuit of a new facility in phases using outside funding sources. At the same meeting the board voted to invite officials with the Southeast Alaska Regional Health Consortium to meet with them about health care in Petersburg.
This statement by the board recognizes the aging condition of the local hospital building and the need for replacement.
"So the community, it would be clear to the community that this board understands that the community cannot pay for a new facility and that we would be pursuing phased approach looking for outside funds," explained board chair Jerod Cook.
The resolution supports the concept of building a new facility using land supplied by the borough at one of three sites. Those were identified in an earlier planning stage and are near the Petersburg Indian Association building, Mountain View Manor and the ballfields.
"And I think to get back to the one of three sites, the city has three sites available and we're in the process of figuring out which one is best by doing this feasibility study, from what I understand," said board member Kathi Riemer.
"And understand that the feasibility study could find that none of them are suitable," responded Cook. "Because we haven't done it yet that's something that is still an unknown."
The resolution gives the green light to proceed with a geotechnical investigation for the site conditions on borough land, to help with choosing one of the sites and preparing that land for construction including design work. The resolution pledges to work with the assembly and engage the public in planning for a new building.
The board passed that unanimously. It was also a unanimous vote to invite leadership of regional healthcare provider SEARHC to a future meeting of the PMC board to discuss facility options and SEARHC's vision. A top official in June talked to the borough assembly about SEARHC building and operating a hospital here. Local residents have yard signs up around town this year supporting SEARHC.
"I think it's a positive step forward," said Riemer. "I think especially because there's been a lot of talk about you know SEARHC and building a new hospital and from what I've heard from people who have talked publicly and people I talk to on the street, they're just interested in knowing more. A lot of the SEARHC signs were put up because people just want to join the conversation and they want to learn more about what plans are and what options are. So, I think this is a really great idea."
The board hopes to host that presentation at a later date. It has heard presentations from SEARHC and other health care providers in the past.