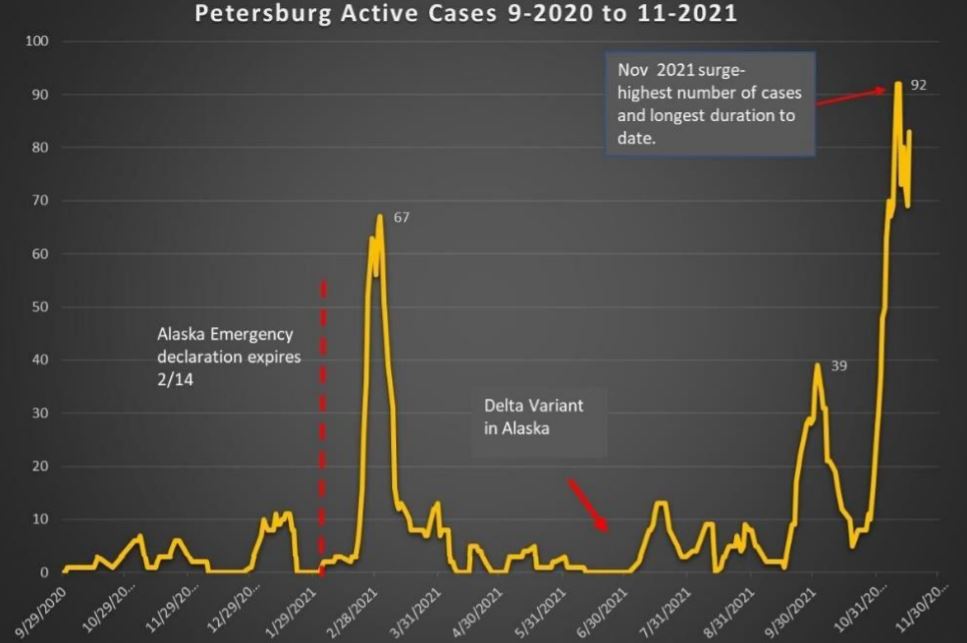 Petersburg Medical Center reported 21 new COVID cases Wed and 19 cases that were cleared from isolation through Public Health. That brings the total active case count to 84. 65 of those are within the last week.
The medical center reports that there are 89 tests pending. The testing positivity rate is about 22 percent.
In a press release, PMC said the outbreak is affecting essential services, not only in the hospital but throughout the community.
Positive cases associated with the schools continue to rise. There were 37 active cases as of Wednesday afternoon. 20 are at the elementary, 11 at the middle school, and six at the high school. Another 37 students and staff are quarantining.
The Petersburg School District announced that Mitkof Middle School would move to remote learning Thursday and Friday because of increasing cases and staffing shortages. The elementary is already in remote learning. The high school remains in-person for the time being.
There is free asymptomatic testing Thursday and Friday from 9:00 a.m. to noon at PMC next to the Public Health office on Fram Street. To schedule symptomatic testing, call the COVID information line at 907-772-5788.
PMC is asking people to be patient as tests are being sent out of town and results will not be available until the following week.