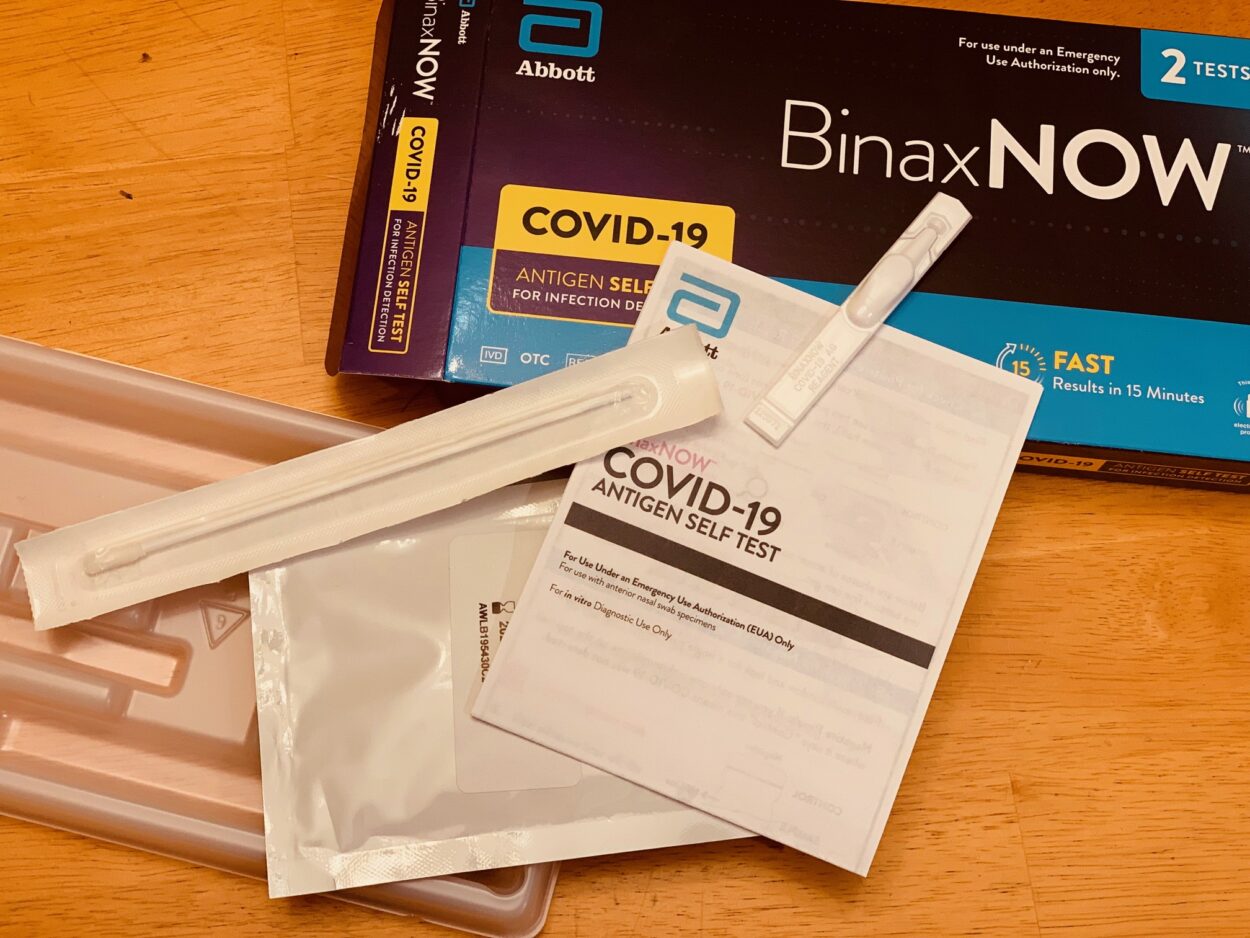 More take-home tests for COVID-19 will be available to people in Petersburg this week to help identify infections in the community.
The Petersburg borough and Petersburg Medical Center have received home antigen tests to distribute as COVID cases remain high. On Saturday, November 19 the medical center reported 16 new cases and an active case count of 94. That's Petersburg's highest count since the pandemic began.
On a radio update Friday, PMC CEO Phil Hofstetter noted the schools have already been sending these kits home to students and their families and he thinks they'll be useful in identifying more infections.
"If we can get that out potentially to everyone in the community it empowers people to really see if they're infectious," Hofstetter said. "You're not obligated to call anyone but they can and having a responsibility to isolate and confirm as well. It allows people to know in more of a real time status what's going on."
Those take home tests are available starting Monday, November 22 at Public Health, PMC's asymptomatic testing site next to public health, along with the Joy Janssen Clinic and Rexall Drug.
Like other organizations and businesses, the medical center has seen workers out sick with COVID during this outbreak. PMC's dashboard showed seven workers infected as of last week.
Hofstetter said only a few had symptoms and the medical center tested all employees and discovered some more positives forcing them to send those workers home.
"It's not just about the illness itself but when you isolate in home you're basically shutting down that service or you're really short-staffing those services so we've had to do that in a couple of different locations," Hofstetter said.
The medical center has also had some temporary workforce help from outside sources during the outbreak.
PMC also received some Cepheid rapid tests from Bartlett Regional Hospital and the Southeast Alaska Regional Health Consortium. Those can provide same day results. However most tests are being sent out to a lab and can take 3-4 days or more.
For people who want to get tested at the medical center, there's asymptomatic testing Monday, Tuesday, Wednesday and Friday from 9 a.m. to noon on the Fram Street side. Travel testing is noon – 4 p.m. Monday through Friday at the emergency room entrance. And for people with symptoms or who need more information call 907-772-5788.
Both vaccinated and unvaccinated people are testing positive. Public health nurse Erin Michael said COVID has spread through all ages in the community. She believes waning protection from vaccines is playing a role in this outbreak, with many people over half a year past their second shot.
"That's why they introduced the boosters and have recommended the boosters and I think that has had an impact, plus the delta variant. When you combine those two things, it's definitely causing a rise in cases," Michael said.
She encourages people to get a booster shot more than six months past the second dose for Pfizer or Moderna or more than two months past the single shot Johnson and Johnson.
Superintendent Erica Kludt-Painter said she hoped the schools would be back to in-person learning after Thanksgiving but that would depend on case numbers. Students have a week-long vacation for Thanksgiving. She said case numbers in the past weeks have climbed.
"Definitely felt the tide shift this week there, certainly in the elementary school with staffing and numbers of cases there connected and then as the week went along similarly in the middle school," Kludt-Painter said. "So far the high school still maintaining pretty low connections and cases there and a little bit more testing there too because of activities. I think as Phil was describing kind of that serial antigen testing that we're doing gets a large segment of our population. That part I think has been pretty good."
As of Saturday, the school dashboard still showed 31 cases with 16 in the elementary school, nine in the middle school and six in the high school. Another 39 students and staff are quarantining.
Meanwhile about ten borough employees have been out sick or quarantining during the outbreak, spread out among departments.
Borough manager Steve Giesbrecht said there's enough of a work force left for curbside garbage collection and to clear streets of the first snowfalls of the season.
Giesbrecht said he'd like to see a drop in active cases before reopening borough buildings to the public.
"I don't want to add to the spread by having our buildings open and then we spread it at the gym, or the library or even here at city hall. So I'll take a look at it probably Monday or Tuesday morning and see if that sticks to opening the following Monday or if we have to extend it," Giesbrecht said.
 The medical center says its treated 23 patients with monoclonal antibodies since November 1st . Health officials ask community members to slow the spread, stay home if sick, wear face coverings indoors and social distance.
Joe Viechnicki spoke with the Petersburg Medical Center's infection preventionist Liz Bacom to learn more about how those antigen tests should be used and when.
People who test positive on a take home kit should notify their own close contacts. Bacom urged people not to dismiss minor symptoms and test for COVID-19 even if vaccinated. There are two different brands being distributed in Petersburg. The medical center has links to videos on how to use both as well as other useful information here.