The U.S. Forest Service says a new recreational cabin on the mountaintop behind Petersburg is open for reservations.
The new Raven's Roost Cabin replaces the old one, which was taken down earlier this year. The new cabin sleeps six to eight people and features a wood table built by students at Petersburg High School. The wood for the cabin was supplied by a sawmill in Hoonah and Petersburg company Rainforest Contracting did the construction work this year.
Paul Olson is the Petersburg Ranger District's cabin and trails program manager and said it opened Thursday, December 16th. It's already booked for some reservations into January.
"Yeah we were sad to see the old cabin go, it definitely had its own character to it and was well loved," Olson said. "Unfortunately the foundation had some issues with it that were making it difficult and we felt like moving that cabin closer and making improvements to the trail, those two things paired together is hopefully a really good combination for the community."
The cabin is around 1800 feet above sea level, at the end of a newly reconstructed three-mile trail that starts at Sandy Beach Park. It is over a mile closer to town from the old site. Rest stops are provided along the way with four stainless steel benches built by local artist Josef Quitslund.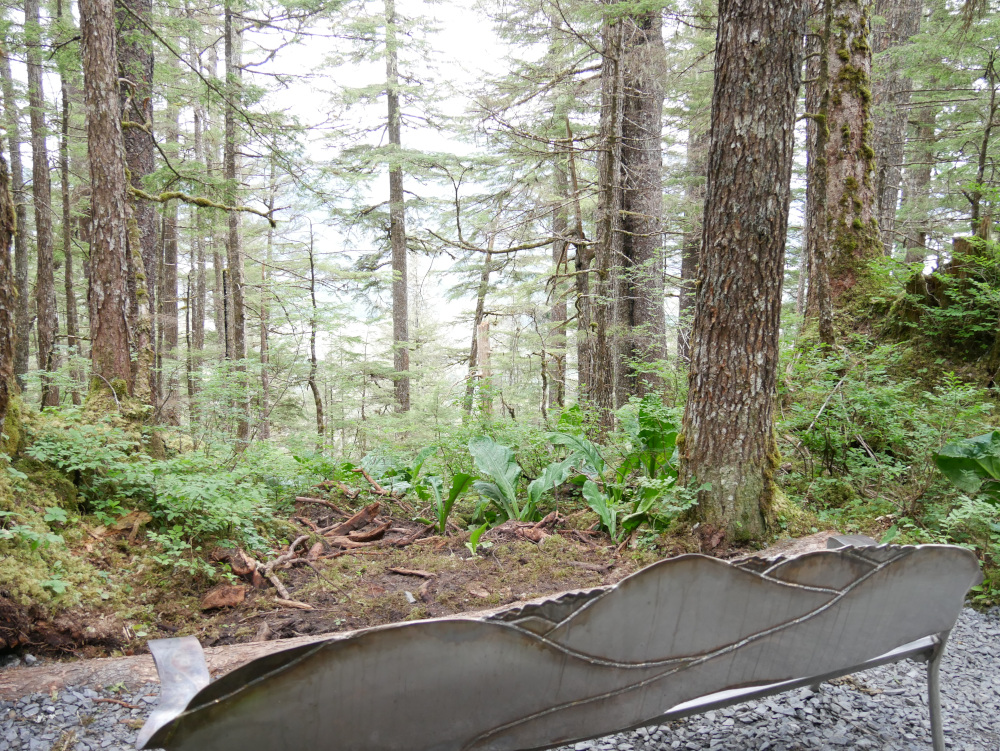 It's open year round and heated with a propane stove, unlike the oil and wood stoves in other recreation cabins around Petersburg. The Forest Service supplies the propane for it.
"It's a propane heater and it's got a timer on it so it'll shut off and the Juneau Ranger District has had these for a number of these on a couple of their cabins," Olson said. "So we thought that would be a good fit for this cabin and we'll see how it goes and we'll appreciate any feedback from the public on how it's working."
Olson said this winter the snow is deep around the cabin, which sits near a small muskeg pond and has views of nearby islands and the coast mountains.
"There's a couple shovels that we provided at the cabin that you're going to have to help out yourself to get to the outhouse and get out the back door," he said. "But there is a front door that is over a covered porch that should remain mostly clear. Yeah we're pretty excited about it and to see how it looks in the summertime too, the views on clear days are amazing."
The cabin can be reserved online. It's 35 dollars a night from late September to late April and 50 dollars a night during the summer months.