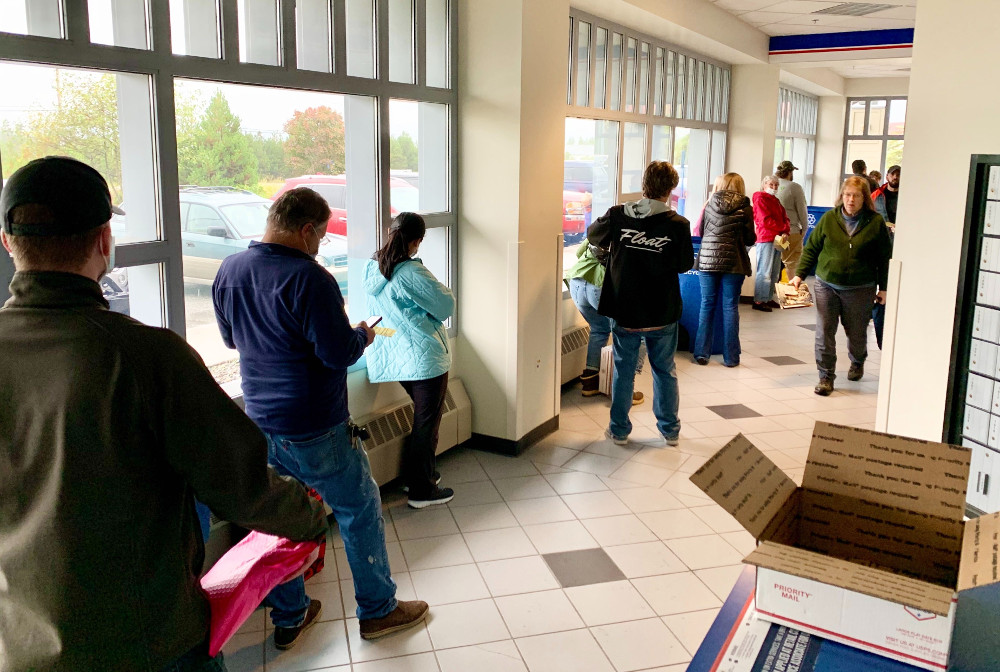 Petersburg's borough assembly last night voted down a resolution asking the Postal Service to offer home delivery of the mail because of long lines at the counter of the local post office.
Reduced hours at the post office counter due to short staffing have meant long wait times for anyone picking up packages, buying stamps or any other service requiring help by a postal employee. A proposed resolution was endorsed by the Chamber of Commerce and cited the difficulty local businesses have had in getting inventory or mailing out goods to other places.
Assembly member Jeff Meucci supported passage of the resolution and reported a wait time of an hour and a half in line Monday.
"The only thing I can compare it to over the last couple of weeks is the (Transportation Security Administration) line down at SeaTac airport. They've got me daisy chained through the post office. I've passed the same person four or five times and I'm looking at seeing if it's still the same day. I get to the front and I'm just relieved to get there. And so yeah I'm going to support this. Anything I think we can do wake somebody up, up the chain, whether it will do any good. We have to, we have to say something."
Petersburg has delivery of mail and packages to post office boxes, but no home delivery. Reduced counter hours have been a problem for more than a year. But it's especially bad leading up to the holidays, with lines stretching throughout the post office for people seeking to pick up or send their packages.
The resolution also noted difficulty for residents receiving medication in the mail and the possibility of COVID spreading among people waiting indoors in line. Local officials have talked to the Postal Service about the issue but the problem persists.
Assembly member Dave Kensinger proposed the resolution as a way to force a response.
"My goal in this is, is to kick this up the chain and we have to start a formalized process if we want to see any improvements and this has been going on for a lot longer than a year. And I don't know I'm welcome to any ideas that anybody has on anybody we can call, anybody we can contact but, boy we've been down that rabbit hole and we've come up with zip."
But others on the assembly thought home delivery would create other problems for mail delivery or do not think home delivery will solve the bottleneck for packages at the post office. Vice mayor Jeigh Stanton Gregor said he'd rather send a resolution asking the postal service to hire more workers.
"It's still two separate issues. Home delivery doesn't solve the staffing issue. We order a lot of stuff, so I'm up there a lot. I see postmaster (Kim) Aulbach running to and fro, her staff running to and fro. Fill ins come, fill ins go and we've had a staffing shortage for a long time now. We have a resolution before us at another meeting, I'll be all about more or less a lot of the language in there and request for more staffing because they're only open at the window from 1-5 because there's not enough people to do it."
Counter hours in the week leading up to Christmas are noon to 5:30 p.m. weekdays.
The resolution only had two votes in support, Kensinger and Meucci and it failed. Stanton-Gregor was joined by Chelsea Tremblay and Bob Lynn voting no. Mayor Mark Jensen and assembly member Tom Fine-Walsh were not at the meeting.